The facts: Hurricane Maria's effect on Puerto Rico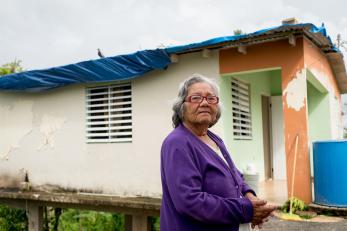 September 09, 2020 • UPDATED September 14, 2020
On the morning of Wednesday, September 20, 2017, Hurricane Maria struck Puerto Rico with sustained winds of 155 mph, uprooting trees, downing weather stations and mobile phone towers, and ripping wooden and tin roofs off homes. Electricity was cut off to 100 per cent of the island, and access to clean water and food became limited for most. The powerful Category 4 storm devastated the island and plunged all of its 3.4 million residents into a desperate humanitarian crisis.
Puerto Rico, officially the Commonwealth of Puerto Rico, is an island territory of the United States, located in the northeast Caribbean Sea. It's known for its white-sand beaches, the historic city of Old San Juan, and El Yunque National Forest. The archipelago had already been facing a recession for over a decade before Maria hit. Almost half its residents lived below the poverty line — by far the highest poverty rate of any U.S. state or territory — and the unemployment rate was more than double the national level.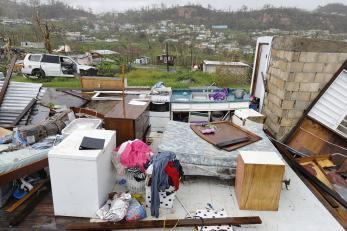 The effects of the hurricane — the worst storm to strike the island in over 80 years — caused as much as £73.4 billion in damages. About 80 per cent of the island's crop value was wiped out by Maria, representing a £607 million loss in agricultural yields — a devastating blow to an island with high poverty and already-fragile food security.
Around 130,000 Puerto Ricans, who are U.S. citizens, have left home between July 2017 and July 2018 — many as a direct result of Maria's devastation. Most Puerto Ricans, though, are committed to staying to recover, no matter how long it takes. But three years after the storm, they still need a lot of support with essentials and with the hard, long-term work of recovery.
Read more about Mercy Corps' initial response to Hurricane Maria ▸
Thanks to generous support from a variety of corporate partners including Bacardi, BlackRock, Google.org, the Miami Foundation and Walmart, Mercy Corps is continuing to support families in Puerto Rico to recover from the aftermath of Hurricane Maria and prepare for future disasters.
Three years into Hurricane Maria recovery, here's what's happening with Puerto Rico now.
---
What is Puerto Rico like in 2020?
Three years after Hurricane Maria, thousands of Puerto Rico's residents are still recovering from the storm, even as the peak of the 2020 hurricane season begins. Although power has been restored and access to clean water has greatly improved, Puerto Ricans are still recovering from the destruction and trauma of the hurricane.
Day-long power outages still happen from time to time, especially in rural areas. Some homes still have tarps instead of roofs. Collapsed utility poles and uprooted trees are common. The continued challenges have driven hundreds of thousands of Puerto Ricans from the island entirely.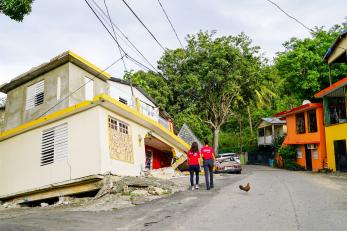 More disasters have hit Puerto Rico since Hurricane Maria, prolonging the island's recovery. On January 7, 2020, a 6.4 magnitude earthquake struck Puerto Rico. One person was killed, hundreds were left seeking temporary shelter and some 250,000 people lacked access to clean water. Puerto Rico's Governor declared a state of emergency and activated Puerto Rico's National Guard.
Additionally, predictions from the National Oceanic and Atmospheric Administration, 2020 will have an above-normal Atlantic hurricane season — a season that has already affected communities across Puerto Rico. On July 30, 2020, Tropical Storm Isaias knocked out power and caused flooding on the island. Heavy rains in communities, already weakened by the earthquake and subsequent aftershock, caused homes to collapse. The storm also left some 150,000 without water and cut power to more than 400,000 homes, businesses and hospitals. "Everyone is in a constant state of emergency," said Marieli Grant, a Mercy Corps team member based in San Juan.
The pandemic is yet another crisis for Puerto Rico. The Centers for Disease Control and Prevention has warned that the risk for transmission of COVID-19 is high and is advising against any non-essential travel to the island. The threat of infection is slowing the recovery of tourism-based companies and creating new challenges for future disasters. A recent spike in confirmed cases caused many Puerto Ricans to be wary of seeking shelter during Tropical Storm Isaias.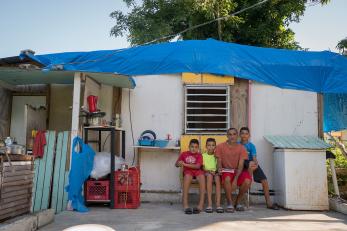 What effect is COVID-19 having on Puerto Rico?
As Puerto Rico continues its recovery from the devastation of Hurricane Maria, the pandemic presents a new crisis for communities across the island. The toll of COVID-19 on public health has intensified since June 2020. As of mid August 2020, new reported cases have climbed to an average of more than 600 per day.
Hurricane Maria forced many children in Puerto Rico to deal with the consequences of a sustained break in their education, along with the stress of recovering from a natural disaster. Now, COVID-19 is causing a new strain for the island's education system. As of July 2020, schools in Puerto Rico will be offering only virtual classes to keep students safe, delaying in-person classes until September.
The pandemic has also dealt a devastating blow to Puerto Rico's economy, which has been already battered by hurricanes and earthquakes over the past few years. Tourism has traditionally been an important source of income for small- and mid-sized businesses, but lockdowns and the threat of infection have caused an almost total drop-off to the industry. The Centers for Disease Control and Prevention currently advises against any non-essential travel to Puerto Rico, stating that the risk of COVID-19 transmission is high.
To help micro and small businesses overcome the economic effects of COVID-19, our teams are providing technical training and financial support. The programme provides webinars on how to build a resilient business and how to strengthen marketing strategies to increase sales. Of the participating micro businesses, 10 will be selected to receive a cash transfer to help grow their business.
As an above-normal hurricane season looms this year, COVID-19 poses a terrible threat to the people of Puerto Rico.
"The Caribbean faces the nightmare scenario of a major hurricane hitting in the middle of an uncontained pandemic. Skyrocketing demand for health supplies has stretched supply chains. Difficulty accessing items like hygiene products and medical supplies will hurt much needed preparations for hurricane response. In the event of a major storm, supply chains would almost certainly be further limited by hurricane damage. This will threaten the lives of people who need medical care and equipment to fight COVID-19, and the lives of people with injuries and health crises caused or made worse by a hurricane."

-  Erynn Carter, Mercy Corps' Senior Director for Humanitarian Response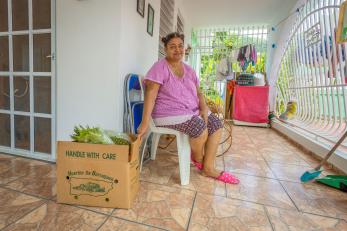 The health and safety of community members is our highest priority, which is why we're partnering with local organisations to distribute food to families. To ensure communities are prepared for the event of a disaster, our teams are working with community centres on adapting their emergency plans for COVID-19. We're also working to help keep people safe from infection, providing cash grants for local awareness campaigns on how to stop the spread of the virus. Tailored for their specific communities, the campaigns include a sing-along video for children to follow when they wash their hands as well as social media posts that promote social distancing and good hygiene practices.
How did Hurricane Maria affect Puerto Rico?
The effects of the storm have undoubtedly been felt most by the people themselves. The storm left thousands of families without homes and destroyed some communities entirely. In August 2018, the Puerto Rican government raised the official death toll to an estimated 2,975 people — 46 times higher than the original count of 64 deaths, released in December 2017.
For months after the initial disaster, most families and businesses remained without power, mobile phone reception was limited, and clean water, food, medicine and fuel were all in very short supply. According to the New England Journal of Medicine, households went 84 days without power, 68 days without water, and 41 days without phone reception, on average.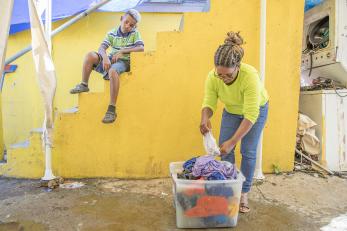 Unable to meet their basic needs, hundreds of thousands of Puerto Ricans left altogether in the immediate aftermath, and the lasting effects of the damage are expected to drive an additional 80,000 people off the island by 2024.
Today, many homes remain completely abandoned. As of July 2020, tens of thousands of homes in Puerto Rico remain uninhabitable by modern standards. There are still many families living under the shelter of temporary blue tarps. Others are just beginning the slow process of reconstruction, as rebuilding materials are expensive and have been in short supply.
While most people have regained access to basic essentials at this point, the road to recovery is long, and many residents still need help.
"Many families are traumatised and lack proper resources to prepare for the next hurricane season"

- Karla Peña, Director for Mercy Corps in Puerto Rico
Who was most affected by Hurricane Maria?
The storm disproportionately affected Puerto Rico's poorest residents, who have fewer resources on hand to help them recover and rebuild. Many of these people live in more rural communities and the hard-to-reach areas of the mountains. They were the last to regain access to water or see their electricity restored.
Mercy Corps is focused on providing assistance to these vulnerable and underserved populations, who are most likely to be missed in broader relief efforts. This includes the elderly — many of whom depend on welfare or social security — along with people with disabilities and those living in remote rural areas, like the mountain towns of Las Marias and Maricao.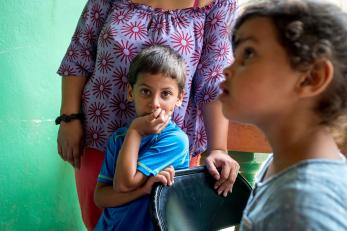 Children and young people are particularly vulnerable to the psychological impacts of disaster like Hurricane Maria. Research shows nearly half of Puerto Rican children's homes were damaged by the storm, while 30 per cent feared for their lives or the lives of their loved ones, and around one quarter helped rescue others. It will take time and support for Puerto Rico's children to fully overcome what they experienced during Hurricane Maria.
Many young people depend on the resources they find at school to help them overcome crisis-induced stress, but Hurricane Maria disrupted the lives of some 350,000 public school students. It took nearly five weeks before the first public schools began to reopen after the storm, though most were still operating without power.
While the pandemic is keeping schools from offering in-person classes, the majority of Puerto Rico's public schools have reopened since Hurricane Maria. Some schools have been converted into community centres and shelters, requiring students to relocate and find alternate routes to resume their studies. And economic trouble exacerbated by the storm has forced the closure of 265 more — roughly a quarter of all of the island's public schools, affecting an estimated 60,000 students.
Many students have left the island since Maria hit, and the student population is expected to continue declining as more families flee high unemployment and poor public services made worse by storm damage. Those who remain will continue dealing with the consequences of a sustained break in their education, along with the stress of recovering from a natural disaster.
How has Puerto Rico recovered after Hurricane Maria?
Three years have passed since Hurricane Maria tore through Puerto Rico. While clear evidence of the storm remains, life for many on the Caribbean island has gradually returned to a semblance of normal.
Basic infrastructure, like the power grid and water systems, have been restored to most of the population — but the repairs have been slow. It wasn't until August 2018 — nearly a year after the storm — that Puerto Rico Electric Power Authority (PREPA) announced that 100 per cent of customers have power restored. People living in Yabucoa, the first town to be struck by the storm, were some of the last to see the lights come back on. The blackout was the largest blackout in U.S. history.
Access to clean water has greatly improved, though service can be intermittent and there's still some question of quality. For months after the storm, even where water service had been restored, most communities still had a "boil water" advisory in place, and people were purchasing bottled water to get the clean water they needed.
Many people lost their livelihoods in the storm and the local economy was devastated, making rebuilding a slow, expensive process. Small- to medium-size businesses — which employ one out of every three workers in Puerto Rico — and farms were especially hard hit, suffering from destruction and decreased tourism. Despite many businesses and roads reopening since Hurricane Maria struck, thousands of small businesses remain closed.
Still, Puerto Ricans worked hard to restore their shops as quickly as possible. Hundreds of farmers, fisherfolk and beekeepers have since jumpstarted their livelihoods with training and supplies from Mercy Corps, which has restored incomes and helped boost recovery of Puerto Rico's economy and market system.
How are people in Puerto Rico preparing for hurricane season this year?
The National Oceanic and Atmospheric Administration is expecting a above-normal Atlantic hurricane season this year — but that still means an estimated 13 to 19 named storms, of which six to ten could become hurricanes. Ensuring people have emergency plans in place is critical to boosting preparedness for future disasters.
Local community centres have become important gathering points where people who have lost their homes seek shelter, receive aid and participate in community events. Thanks to funding from Walmart and The Miami Foundation, we are transforming these centres into resilience hubs that help communities to recover and be better equipped for the next crisis.
The hubs include solar panels that provide access to a basic source of energy that functions off the electrical grid. This will enable community members to keep medications that require refrigeration cold, charge their phones to stay in communication with family members, and access water — even if the power goes out.
We are supplying the hubs with disaster response kits, including two-way radios, flashlights, chainsaws, lighters and more, and facilitating search-and-rescue trainings and the development of community action plans, so community members know what to do to stay safe in the event of an emergency.
Where resilience hubs have additional land, we are also constructing small gardens, so community members can grow their own fresh vegetables to eat, or sell to offset the operational costs of running the community centres.
In the event of a disaster hitting Puerto Rico during the pandemic, we're working closely with 17 community centres to adapt their emergency plans to keep people safe from infection. We're providing training on how to maintain their water storage, energy equipment and community gardens in case of disaster, including how to ensure safe health and hygiene strategies in the event of an interruption to the water supply.
How is Mercy Corps helping?
In the immediate aftermath of the hurricane, we partnered with World Central Kitchen, a nonprofit founded by celebrity chef José Andrés, to deliver more than 25,000 meals to hard-hit communities.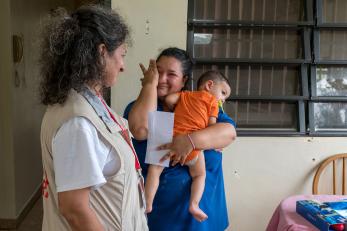 Together with local organisations, we distributed nearly £233,000 in emergency cash so people could buy what they needed most — items like water, food and other essential supplies. Cash is a fast and flexible way to help people after crisis and supports local markets as they recover from the effects of Hurricane Maria.
Get the quick facts about the value of cash aid ▸
We also distributed 5,000 solar lanterns and 2,500 water filters to help thousands of families survive the storm's immediate aftermath. Having solar lights and water filters, combined with training in their proper use, means that families are also better prepared for future storms.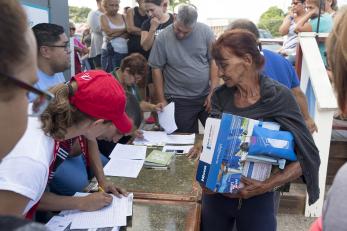 While addressing immediate needs, we have also been working with people to rebuild their agricultural livelihoods. We've supported hundreds of farmers, fisherfolk and beekeepers with supplies and training to learn new techniques and recover their enterprises for the long-term.
Additionally, with financial support from Bacardi, Google.org and other partners, Mercy Corps has launched an economic recovery programme focused on bringing tourists back to the island. We're providing businesses with tailored support that will help them build their businesses back stronger. That support includes cash grants, technical assistance and business training.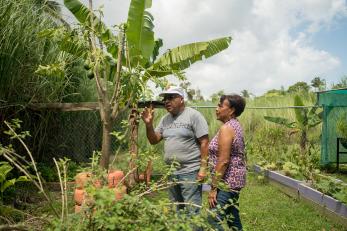 Tourist areas also require rehabilitation. Improving those sites, along with building and promoting businesses, will bring in much-needed income. We're partnering with government associations and local organisations to let people know that their favourite restaurants, bars, activity centres and beaches are open for business again.
"Local economies are the best engine for strong, long-term recovery after disasters," says Jeronimo Candela, Director of Mercy Corps in Puerto Rico. "Small business owners have worked hard to reopen their shops as quickly as possible after the storm and are eager to have people explore the various attractions the island has to offer. Puerto Rico is open for business."
Help us provide support to families recovering from disaster in Puerto Rico and around the world.
Turn your knowledge into action by setting up a personal fundraising page.