How a goat can change a girl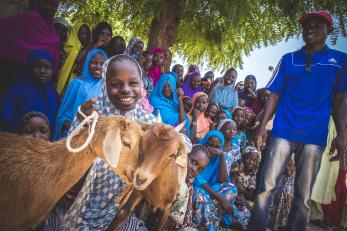 October 06, 2017
With one hand on the rope, Fatsuma gently guides a goat through rows of small, mud huts in her village, the pair softly kicking up dust from the sun-baked land.
Barefoot children shriek and race along beside her. Their mothers, draped in bright, patterned boubous, crouch over cast iron pots, plumes of smoke filling the hot, still air.
When she reaches her yard, Fatsuma leads the goat inside and closes the thatched gate behind her. As the eldest daughter in her family, she and her twin sister, Aichatou, are charged with helping their mother run their household. Right now it's lunchtime.
Before preparing a fire, Fatsuma grabs an armful of long grass and leaves it for the goat to feed on. Livestock are vital to daily life here in Fatsuma's village in rural Niger, and goats are everywhere. This particular goat, though, is special.
This goat is hers.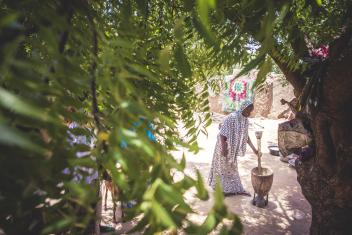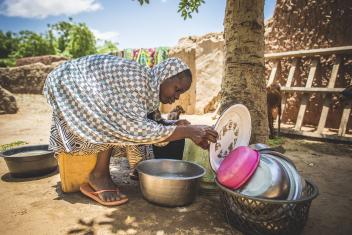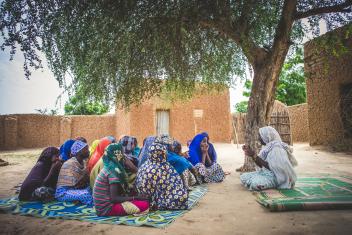 At 14 years old, Fatsuma could follow the familiar path for girls her age in Niger. She could get married. She could start having babies. She could go her whole life without learning how to support herself, let alone a family. She could never build her own future.
She could. But thanks in part to this goat, she won't.
In the Mercy Corps girls group in her village, Fatsuma gets the chance to think differently about what her life can be. Since she isn't in school anymore—the average girl in Niger goes to school for just over one year—these weekly meetings are her place to acquire knowledge, learn about her body and find opportunity.
As part of their involvement in the group, each girl gets a turn to take home one of the group's goats to raise until it has a kid. Fatsuma and Aichatou each received a goat to tend to on the same day, which they are now the sole caretakers for. When their goats have babies, they'll keep them and pass the adult goats to another member of the group.
"We are very happy," Fatsuma says.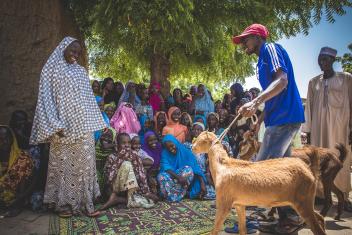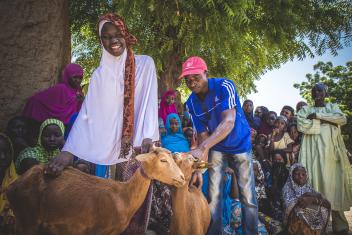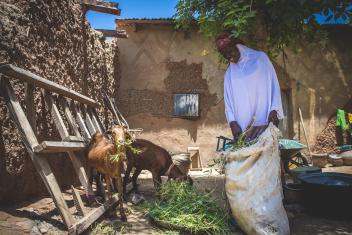 In a country where hunger is chronic, poverty is rampant, and opportunity for women is nonexistent, livestock like goats and cattle offer security, providing healthy milk and income to build a stronger life.
For Fatsuma, the responsibility of raising her goat also comes with a sense of empowerment that is often out of reach for girls in Niger: she has the rare opportunity to earn her own money and support her family with something that is all her own.
"We look after the goats well," Fatsuma says, beaming. "We wash them, we give them food and we give them water."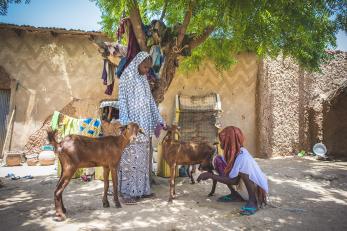 Fatsuma and her twin sister have both chosen to keep their goats' milk for their family; it helps keep the youngest children, like little Sarai, healthy. But should she eventually decide to, Fatsuma could also sell the milk or the goat in the market, and use the money to pay school fees, start a small business or make another investment in her future. The choice, like the goat, is hers alone.
The girls group has changed her daughters for the better, says their mother. They're more joyful, confident and positive. "I'm happy to see them there," she says. "They were taught knowledge. They were shown a way to earn a life."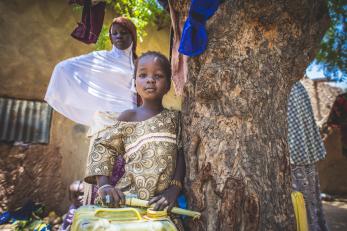 When Fatsuma finishes cooking her family's lunch of beans and millet, she makes a bowl for herself and her eight siblings. As she crouches to eat, she steals a quick glance across the dusty courtyard. The daily feeding, grooming and milking of her goat has added a lot of work to her already long list of regular chores, but Fatsuma doesn't mind. Because this goat—and all the possibility it brings with it—is showing her the way forward.
"I want to be a school teacher," Fatsuma says.