10 photos of resilience in 2019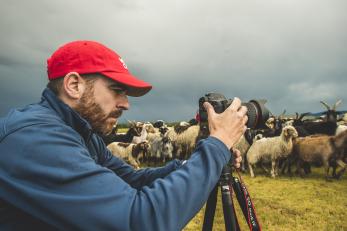 January 03, 2020
In 2019, Mercy Corps helped improve nearly 29 million lives in over 40 countries. In the communities I visited last year, I have seen how our efforts have helped people adapt and thrive amidst today's rising challenges and crises. We continue to evolve and innovate to increase our impact for those who need help, and our top ten photos of the year reflect how we are growing and changing.
From sharing stories of people in need, responding to natural disasters or conflict, to lighthearted moments of laughter and joy, our photography aims to capture the range of emotion in our work and the continuum of resiliency. These photos from 2019 weave together moments that represent the diversity of the world's challenges. They also highlight some of our most crucial, innovative and breakthrough programs in communities around the globe.
Joy prevails in Guatemala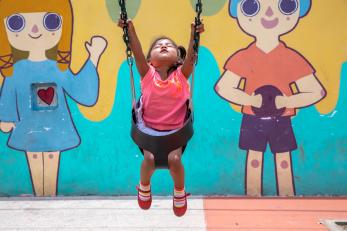 Sofia, 2, plays on a swing in a park Mercy Corps built in her community. These infrastructure projects — playgrounds, exercise areas, community centres — are part of Mercy Corps' CONVIVIMOS program, which is working in Guatemala City's most violent areas to promote cohesion and help people reclaim their communities. The spaces offer families an important neutral territory in places otherwise driven by territory-based gang violence, presenting them the opportunity to experience and feel rooted in their communities in a more positive way.
This is probably my favorite photo of 2019. Sofia's expression of utter bliss demonstrates what a positive escape these playgrounds offer to children in Guatemala City. The bright colours create an uplifting tableau, while the composition is divided into slightly uneven thirds, with happy cartoon children flanking Sofia, building on that theme.
The spirit of community in Ethiopia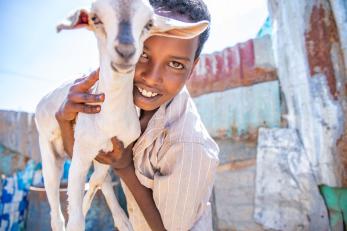 Farhan, 12, holds a goat in front of his family's house. His mother Safiya, 45, is a community leader in Hartasheik, Ethiopia. Mercy Corps trained her and several others to help strengthen women's health and natural resource management efforts in their community. Now the community is connected to health services and protecting the vital land that provides for them.
Who doesn't love baby goats? There were so many photos of the children in this family hugging their goats it was hard to choose just one, but this angle, shooting up at Farhan in a hero pose, shows off his strength and warm smile.
The weight of tragedy in Zimbabwe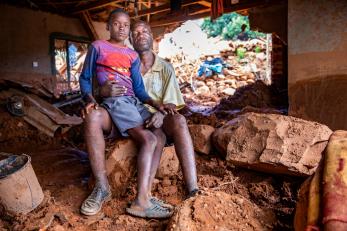 Anthony, 52, and his son Leonard, 15, sit on a boulder inside their damaged home. On March 16th, rains from Cyclone Idai unleashed mudslides from the hills surrounding Ngangu, which crushed the front wall of his home and exited out a side wall, leaving 4 feet of mud and unmovable boulders throughout his home. He and his three sons all survived, but he is concerned about how he will be able to afford to feed them and pay their school fees. Mercy Corps helped the families recovering from Cyclone Idai by distributing jerrycans, water purification tablets, water storage buckets and soap.
When Cyclone Idai struck, I was already on assignment in Ethiopia and quickly pivoted to jump on a plane, get down to Harare and support the emergency response. What I found reinforced my admiration for our field teams — staff were working 20-hour days, sleeping in muddy trucks, with little food or water, and doing anything they could to deliver relief. Anthony and Leonard's expressions of anxiety, resolve and exhaustion really reflect the mood of that time.
Boundless love in the Democratic Republic of Congo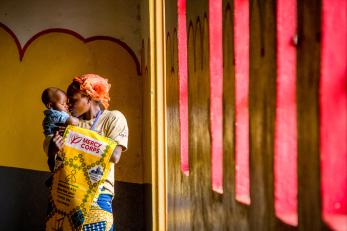 A woman and her son attended a ceremony for the certification of Lead Mothers — women who go door to door in their villages to teach their neighbours to promote important family practices, such as antenatal care and nutrition.
Rudy Nkombo's image bears all the hallmarks of a well-composed photo. The colours, soft light and lines fading into the foreground draw our eyes to the intimate moment between a mother and son, perfectly highlighting the subject matter. Rudy has worked as a photographer, editor and videographer for Mercy Corps in DRC since 2015.
Tenderness and determination in Colombia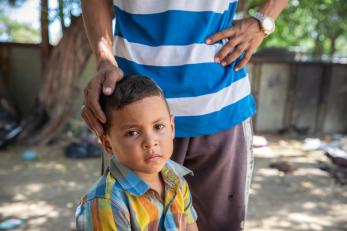 Eduard, 6, with his father Jose, in front of their family's home. Eduard's family withstood the crisis in Venezuela for as long as they could, but when their situation grew desperate they sought safety in Colombia. His mom, Ana Maria was pregnant when the family received an emergency cash disbursement from Mercy Corps, and the money allowed her to get medical care for the birth. Eduard's parents say they would have had no way to go to the hospital without the assistance. Mercy Corps is distributing emergency cash to help vulnerable Venezuelan refugees meet their urgent needs, including food, medicine and shelter.
The intimate gesture of Jose placing his hand on his son Eduard's head suggests a moment of tenderness in the midst of tense and tumultuous times. Eduard's piercing gaze reminds us of what he's been through during his family's cross-border journey. Most of the time we were talking with Jose, his children were on his lap or at his side. The challenges of fleeing oppression had clearly failed to weaken their family bond, and had likely strengthened it.
Sisterly support in Palestine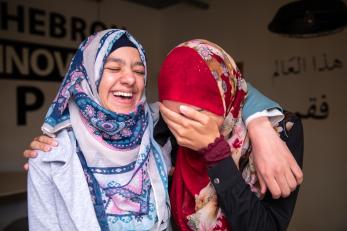 Rawan (left) attends the Mercy Corps coding academy in Hebron. Her sister Orjwan (right) is a graduate. At the Hebron Youth Development Resource Centre, Mercy Corps helps to provide young people with a place to learn key skills for career development, like coding and computer programming. In addition to coding, the centre also provides classes in cooking, photography, dancing and other hobbies. More importantly, it gives young people in Gaza a safe space to go, which is especially important during the summer months.
This lighthearted moment between sisters belies the complex and dangerous situation that surrounds them. Hebron is a hotbed of conflict in the West Bank, but the sisters manage to support each other and find a way to laugh through the challenges it presents. Genuine, intimate interaction is something I strive to capture, and this photograph is a strong example of that.
A portrait of progress in Kenya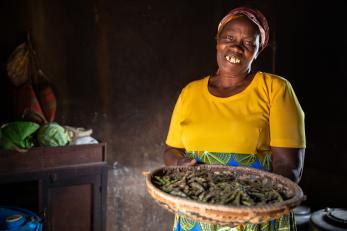 Patricia holds a basket of pigeon peas that she grew on her farm. Like many people in rural Kenya, Patricia relies on rain-fed agriculture to support her family, a livelihood that has become increasingly fragile with the growing effects of climate change. Through the AgriFin program, Mercy Corps and local partners are using a mobile platform to provide comprehensive support that is traditionally unavailable or too expensive for farmers to obtain. This includes soil testing, quality seeds for in-demand cash crops, insurance, input loans, digital learning and commercial markets to sell the crops — all through their mobile phones. Patricia has been using the program for two years and says it has helped her a lot. She got her soil tested, has access to better seeds, and might eventually use the digital lessons on raising poultry to build a business raising chickens.
This image is an example of chiaroscuro, a technique of using strong contrasts between light and dark, usually affecting a whole composition. I shot several portraits of Patricia outside, with her chickens and in her garden, but when she held up this basket of peas, the light was streaming in through the doorway and lighting her but leaving the rest of the room dark, which proved much more dramatic, really highlighting her smile.
A splash of hope in the Bahamas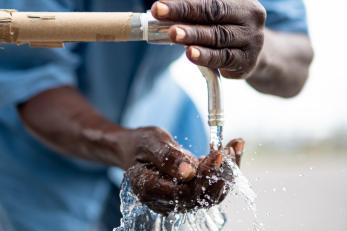 Hurricane Dorian, one of the strongest Atlantic hurricanes on record, hit the Bahamas on September 1 as a Category 5 storm. It left 50 dead, thousands missing and over 2,000 people in need of immediate support. Over 200 wells across Grand Bahama Island were flooded with seawater due to the storm surge, making water from the local aquifer unsafe. That's why we teamed up with Mission Resolve Foundation to provide clean water to communities and a local health clinic in Freeport by installing a water treatment plant. Not only does treating locally-sourced water make it suitable for drinking, cooking, bathing and other uses, it also decreases plastic waste and frees up valuable space on vehicles delivering aid.
In this context, James Brantley of Mission Resolve Foundation deftly illustrates the importance of fresh water through this image. He uses depth of field and blown out background highlights to isolate the water as the key subject, and freezes the splash in a way that truly makes us thirsty.
The generosity of a neighbour in Syria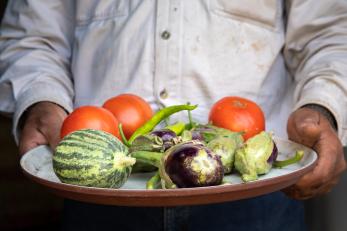 This is not one of the more dramatic photos from Syria you have seen, but it is one of the few recent images we can show you. In some of the more stable pockets of Syria, Mercy Corps has been helping people move toward recovery with training, grants and agricultural supplies to build marketable livelihoods and boost agriculture. This man received a grant for an irrigation system, which enabled him to keep his kitchen garden and grow a higher quantity and diversity of food for his family. He grew so many crops that he regularly had a surplus that he gave to his neighbours for free, because he knew they were struggling and it's in his nature to help people.
During our recent content gathering visit to Northeast Syria, conflict broke out and we were forced to evacuate to Iraq. For security reasons we aren't able to show the faces of those who have been benefitting from our projects in the area, but this image shows the bounty that the man has been able to harvest from his garden and share with his neighbours.
A life-changing bond in Jordan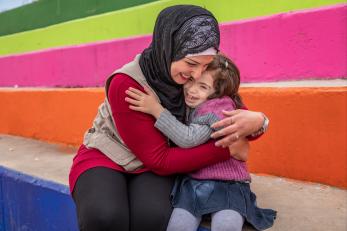 Summayya, 6, is a Jordanian student with Down Syndrome. Because Jordan's school system lacks the resources to support students with disabilities, the majority of school-age children with disabilities are unable to attend school. Summayya's parents tried to enroll her in school multiple times, but were consistently refused, leaving her to sit at home. Through Mercy Corps' inclusive education program, Summayya was able to enroll in a school in Zarqa and receive daily support from Asma, who helps her in the classroom. Asma also works with her in one-on-one sessions and in large group activities meant to build acceptance and inclusivity. Since starting school, Asma says Summayya is behaving better, is better able to express herself, has made friends, has improved her physical coordination and is learning her shapes and numbers. Summayya wants to be a doctor when she grows up.
This photo demonstrates a close personal connection, positivity, bright colours and dynamic composition. At Mercy Corps, we believe in building bright, bold and connected futures, and that is all encapsulated here.