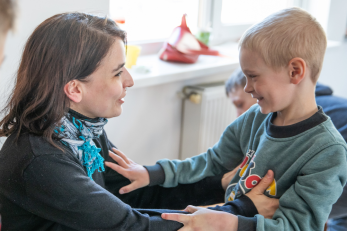 Join us to celebrate #GivingTuesday as we come to together to support the communities around the world cope, adapt and thrive.
A gift to Mercy Corps doesn't just help provide life-saving aid in the midst of a disaster. It opens the way to a brighter future to families facing extraordinary hardship, building a journey to a future of possibilities for communities all over the world.
Mercy Corps has partnered with more than 65 organisations in Ukraine, Poland, and Romania to meet urgent humanitarian needs. We have reached more than 88,000 people in the region with critical humanitarian assistance, providing food, medicine, and shelter. By the end of 2022, we aim to reach at least 500,000 people living in and around Ukraine with our support.
Beyond Ukraine's borders, the economic impacts of the war have rippled far beyond its borders. Rising food prices, threats of famine, devastating floods and storms are exacerbating existing humanitarian crises in countries like Africa and the Middle East.
Together we can make a difference
By making a donation you can help us provide urgent humanitarian aid today as well as the long-term support needed to help communities and families rebuild lives and face future challenges stronger.
All over the world, Mercy Corps works alongside communities to help families determined to survive disasters, conflict, and climate change.
Your #GivingTuesay gift today can help us meet the immediate needs of people facing crises like the war in Ukraine, and in more than 40 countries across the globe, working together to build a better world.