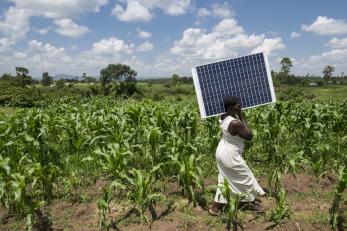 The increased frequency of extreme weather events like hurricanes, wildfires and drought are evidence of a rapidly changing climate — and the most at risk from these effects are families and communities already facing conflict and poverty. Mercy Corps is helping families prepare for and respond to natural disasters to build stronger, more resilient futures.
Make a donation today to help provide urgently needed relief including emergency cash, food, clean water, and long-term support to families and communities affected by extreme weather events and other disasters around the world.
How your support can make a difference to people's lives:
£25

can help purchase seeds for a farmer, providing them with an opportunity to grow a new plot and feed even more people in their communities.

£50

can help provide one month's worth of food for a displaced family.

£100

 can help train a farmer on improved agricultural techniques, supporting them as they strive to grow a stronger, healthier future for themselves.
Mercy Corps teams are already on the ground where help is most needed. We work in more than 40 countries to help people prepare for, protect against, and recover from crisis. Your gift today can help support farmers threatened by flooding and other extreme weather events, families fleeing violence in Syria and Yemen, survivors of natural disasters in places like Indonesia and Zimbabwe — and so much more.