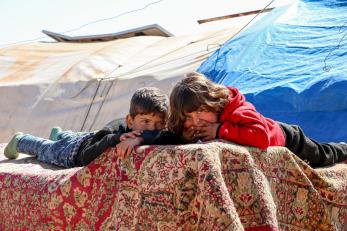 The refugee crisis is a human crisis: Behind the statistics are people filled with unique life experiences and dreams for the future. They are mothers longing to return home, fathers yearning to work again, children searching for a childhood.
As the COVID-19 pandemic spreads globally, refugees in Syria, Colombia, Lebanon and beyond face the reality that the camps and settlements where they've taken refuge are not safe. In overcrowded areas, it's nearly impossible to safely distance from others, even people who are clearly sick.
Vulnerable refugee communities across the world are at risk and need our support to prepare and protect themselves against a deadly outbreak. 
We are currently responding to urgent humanitarian needs in more than 40 countries around the globe, including Syria, Somalia, Yemen and beyond. Give now to help our teams respond around the world and provide a lifeline for people during their most desperate time of need.
With your donation you can help people triumph over adversity and build stronger communities from within, now, and for years to come.