Crisis Analysis in Sudan: Supporting Understanding of a Changed Context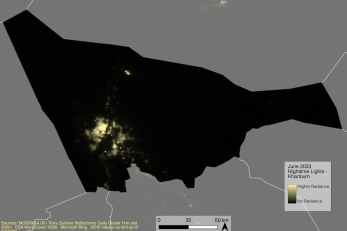 October 22, 2023 • UPDATED October 23, 2023
Download the crisis analysis briefing paper ▸
Download the crisis analysis briefing paper ▸
Download the crisis analysis briefing paper ▸
Mercy Corps has been working in Sudan since 2004, supporting hundreds of thousands of Sudanese, displaced households, and refugees from neighboring countries. On 15 April 2023 fierce fighting broke out, compounding the crisis across the country and drastically changing the operating context. This required rapid adaptation and pivoting of Mercy Corp's existing emergency response, WASH, peacebuilding, agriculture and climate adaptation programming.
To support these efforts, Mercy Corps Global Crisis Analysis and Mercy Corps Sudan worked with Dr. Matthew Sterling Benson, social and economic historian of the Sudans, and Raga Makawi, research and editor, on a series of crisis analysis briefing papers. These papers aim to analyze changes in Sudan's political economy, the complex dynamics between parties to the conflict, civil society and Sudanese civilians, and the implications for humanitarian actors.
The papers cover the following topics:
Paper 1: Conflict and Food Insecurity in Sudan – Key Risks and Locally Led Responses
This paper identifies three critical risks that may significantly worsen food security outcomes over the next months: deteriorating agricultural livelihoods, contested subnational institutions, and national institutional confusion and competition.
Approaches that centre the role of local actors are critical to overcoming these challenges. This includes learning from the Syria Civil Society Support Room (CSSR), to consider establishing a forum that would facilitate coordination between international NGOs and Sudan's civic groups.
Paper 2: Humanitarian Action within a War Economy
This paper analyses the impact of Sudan's war economy on humanitarian actors in Sudan. Risks to humanitarian actors include armed groups aiming to coopt international and regional financing, including for humanitarian assistance.
Key players in Sudan's conflict also continue to control extensive business networks and financial institutions.
The paper advances a conflict-sensitive approach to mitigating these kinds of risks, considering close collaboration with in-country civic groups and exploring a range of cash programming modalities.
Paper 3: Fragmented Rule and Governance in Sudan
This paper outlines the dynamics of Sudan's historically fragmented rule and governance, considering both factious military and paramilitary groups, as well as Sudanese state institutions and civil society.
As the conflict continues, institutions and territory may become further divided, leading to significant coordination, access and bureaucratic challenges. It is essential to prioritise existing local humanitarian action, taking care to work with institutions that centre the interests of local communities.