Digital Technology and the Future of Work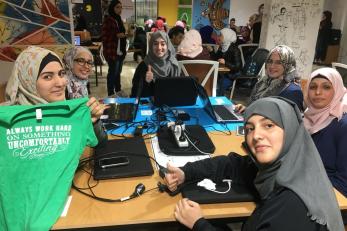 June 10, 2020 • UPDATED September 10, 2021
At Mercy Corps, we long have recognised that digital technology is a catalyst for employment, and a key component of the future of work for young people. We also recognise that we are uniquely positioned to leverage digital technology in our youth employment work across the globe.
That vision focuses on leveraging technology to support self-employment and entrepreneurship - and especially on-demand or gig jobs - in the places where we work. These jobs range from a handyperson doing household maintenance in Nairobi, to a childcare or home healthcare provider in Amman, to a freelance graphic designer in Gaza.
This document summarises what Mercy Corps brings to the table. This includes our understanding of local context grounded in the deep knowledge of our field teams, our openness to innovate within labor markets stemming from 10+ years as leaders in market development, and our embrace of digital solutions supported by our Technology, Innovations and Ventures teams. All built upon our extensive expertise in youth engagement and employment. Together, these elements enable Mercy Corps to better incorporate digital technology into our programmes.
Our vision on leveraging digital technology will prove even more relevant in the coming months and years as businesses try to pivot and adapt to the context and challenges created by the COVID‑19 pandemic.