Establishing Resilient Livelihood Systems for Better Nutrition
Lessons and Insights from USAID Nawiri Programme in Turkana and Samburu Counties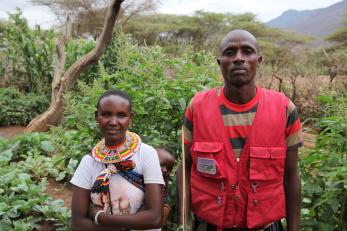 October 24, 2023 • UPDATED October 30, 2023
The document brings to attention the importance of robust livelihood systems in advancing nutrition promotion efforts. It emphasises the significance of supporting households in adjusting their livelihoods to ensure economic sustainability and achieving positive household nutrition outcomes in the face of various shocks and stresses.
Subsequently, it highlights essential factors influencing the establishment of resilient livelihoods. These include the integration of production to meet both household consumption and generate income for purchasing food, the ability of livelihood streams to adapt to shocks and stresses, and the commendable practice of diversifying income sources. Moreover, it underscores the pivotal role of private sector engagement, social behavior change approaches, and government policies in fostering an environment conducive to the well-being of smallholder farmers and businesses.
In conclusion, the document introduces evolving learning questions that will play a crucial role in shaping the ongoing implementation and adaptation of livelihood activities in the efforts to create nutrition resilient households and communities.