Saving Lives and Building Resilience
Evidence on how we can do both as Somalia emerges from drought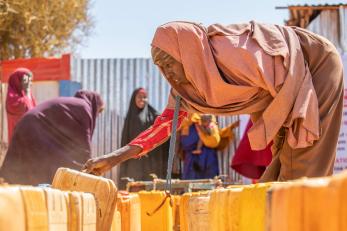 June 20, 2023
Communities in Somalia are facing a deepening humanitarian crisis after two years of intense drought, followed by devastating floods in some parts of the country. This unprecedented drought is the latest in multiple, compounding shocks facing Somalia and the Horn of Africa.
Drought does not have to lead to a humanitarian emergency if appropriate, preventative action is taken. Smarter investments in resilience today will avert a more costly response to future shocks. Despite this, donors and governments continue to respond in Somalia largely via short-term humanitarian funding. While urgent humanitarian response is critical to save lives and prevent a worsening situation, humanitarian response alone will not solve this complex crisis in Somalia.
This research brief draws on evidence and learning on what matters for building resilience, including recent findings on the impact of the current drought and what helps households cope with it. The findings have immediate, actionable implications for donors, governments and organisations implementing humanitarian and longer-term programming in Somalia.
Key Takeaways
Mobilise sufficient funding to scale up immediate responses to provide humanitarian relief. Simultaneously, increase investments in longer-term recovery and resilience to reduce the risk of future hunger crises in Somalia.
Ensure responses strengthen vital sources of resilience that communities rely on to manage major shocks. In Somalia, these include informal social protection, access to capital and markets, and opportunities to diversify livelihood and income sources.
Address key underlying drivers of crises and resulting humanitarian need in Somalia. Specifically, increase longer-term funding and action for climate change adaptation, and advancing peace and good governance.