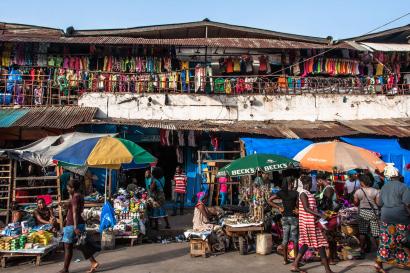 Ema, 30, owns and manages a small grocery store in the Ga East district of Accra. Her shop, called Ema's Supermarket, is cash-only. She has to close her shop to go to the market three times a week, where she buys 100 products (from 10 different wholesalers) to stock her shelves. The business turns over £893 every month, and she makes £133 to support herself and her family of four. She dreams of becoming a bigger supermarket, where everyone in her community comes to buy their regular groceries and essentials.
There are around 60,000 community grocery stores like Ema's in Ghana.
The majority of these shops are informal, unbanked, and cash-only. Shop owners struggle to sustain and grow their businesses. They have no power to negotiate fair prices from wholesalers, and no access to working capital to meet demand during peak periods. While some shops use mobile money, their income is rarely tracked or known by financial service providers. This blind spot exacerbates owners' already limited access to financial services and resources that could improve their efficiency and increase their income.
There is great opportunity for change: With easier access to cheaper products and key financial services, these shop owners can save time and money, grow their businesses, and improve their livelihoods.
Building a digital identity for small shops
Enter Boost SME.
Boost was launched to help small shops grow. Shop owners can use their mobile phones to find and order their stock (via WhatsApp), at the best possible prices, which is delivered at no cost. Boost also extends 20-50% of goods on credit to help shops increase sales.
The majority of these shop owners are women like Ema, who can use the increased income to grow their business or pay for household expenses. From procurement to delivery, Boost utilizes its technology platform to ensure every step of the process is optimised for retailers.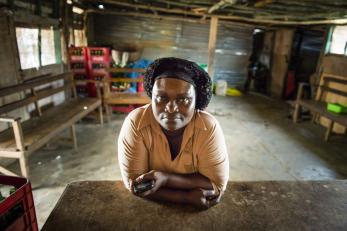 Down the line, Boost will provide a suite of financial services to help entrepreneurs take their operations to the next level, including financial literacy training, inventory financing, insurance and business loans.
Building connections for greater impact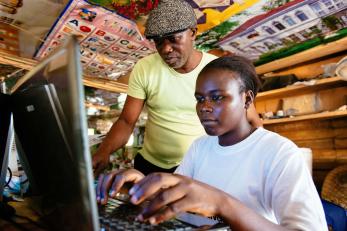 Hundreds of thousands of small businesses in Africa have untapped growth potential. We've seen how access to innovative technology solutions and financial services can be a gamechanger — key in unlocking full productivity and potential.
By going digital with Boost, shop owners will see a ripple effect of positive change: faster turnover, greater revenue, stronger livelihoods, and the creation of more jobs as shops grow.
By supporting Boost, we will build momentum in broadening financial inclusion, empowering female entrepreneurs, and transforming the lives of small business owners throughout Africa — in Ghana, Nigeria and beyond. Investing in Boost will also help us answer the call for safer, more efficient networks of delivery and distribution, able to continue serving local populations during crises like COVID‑19.