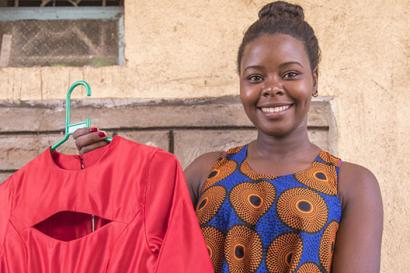 Innovating the future of work for youth in the Middle East and Africa
Catalysed by a generous contribution from Google.org, our Youth Impact Labs identifies and tests creative, technology-enabled solutions to tackle global youth unemployment, accelerating job creation so every young person has the opportunity for dignified, purposeful work. Focusing on vulnerable youth ages 15-35, Youth Impact Labs operates in two strategic regional hubs, serving the Middle East and East Africa. Youth Impact Labs focuses on the three interconnected elements of the labor market system:
Supply: Preparing job seekers for market opportunities.
Demand: Creating work opportunities by engaging employers and supporting job creation platforms.
Ecosystem: Creating an enabling environment that facilitates safe, equitable and decent work opportunities.
Partnership Criteria
Youth Impact Labs seeks strong, innovative companies and social enterprises ready to create high-impact, scalable employment opportunities across various markets. Below is the criteria we use to select partners:
Impact: The solution creates substantial work opportunities for youth.
Scalability: The business model is designed for scale and has the human and technical resources required to fuel and manage scale.
Sustainability: The innovation has a viable revenue model and ability to acquire customer/users.
Technology: The innovation leverages technology to enhance work opportunities for youth.
Relevance: Business model aligns with Youth Impact Labs' goals.
Interested in staying connected to our work?
Learn more about the work Youth Impact Labs is doing.
Partners in Kenya
Agro Supply is an agricultural inputs provider that has developed a mobile layaway platform that enables farmers to save money for farm inputs using their mobile phones.
FixChap is a gig work platform through which clients can book repair requests and get connected instantly to verified handymen within their locations.
GetBoda is an on-demand logistics company that has developed a software to optimise logistics services for businesses thereby increasing income earned by riders and making deliveries efficient for micro-traders.
Herdy is an ecommerce platform and demand logistic network that provides first mile solutions to farmers and last mile fulfillment to consumers. Herdy has provided access to market to over 80 farmers by connecting them to over 800 households.
Lynk uses technology to reimagine employment opportunities in the informal sector, Lynk is currently connecting 300 casual labour professionals to households and businesses in over 70 categories, ranging from plumbers to furniture makers and nannies.
Moringa is a multi-disciplinary learning accelerator providing young Africans with digital and professional skills training, Moringa transforms higher education with outcomes-driven curriculum throughout Africa, and enables its graduates to be globally competitive.
Rio Fish is a fish farm aggregator that aims to provide end-to-end tech solutions for the aquaculture value chain spanning input supply, farm management and access to market.
Sky.Garden is a SaaS mobile commerce platform for African retailers that enables retailers to sell online by providing WebShops, marketing platform, and delivery infrastructure. Sky Garden currently has 5000 traders and has fulfilled over 18,000 orders to date.
Taskmoby is a gig work platform that connects verified service providers efficiently with customers.
Virtualcity is a technology firm that develops and solutions to digitise Agricultural value chains by focusing on end-to-end automation of supply chains.
Partners in Jordan
3oun is an app-driven marketplace for maintenance and repair services, 3oun is responsible for bringing the shared-economy concept to Jordan. The spectrum of services provided through 3oun is wide and inclusive; it covers almost every maintenance and repair service relevant to household and commercial operations. 3oun workers face marketing challenges, including the ability to reach potential clients efficiently and lost income-generating opportunities due to a lack of critical soft skills. 3oun works with its members to fill these gaps, generate a sustainable income, and maintain a good base of loyal clients.
Bayt.com is the largest job site in the Middle East, Bayt.com is collaborating with Mercy Corps to create a new online job seeker's platform that will connect Jordanian blue-collar workers with job vacancies and help employers improve the recruitment process to find quality candidates.
Bilforon is a start-up that utilises a mobile app to connect home cooks with clients and costumers all over Jordan. Bilforon trains their cooks in areas related to quality assurance, product packaging, product presentation, and customer service. Currently, Bilforon has over 150 cooks, 97% of which are women, and aims to add 24-28 cooks each month. 70% of Bilforon cooks make more than 1,000 USD per month via the platform.
Carers is an early stage start-up connecting nurses and babysitters with households. Carers closes an important gap in the Jordanian market, which is particularly relevant to female employment. Carers works with a wide spectrum of care providers that includes migrants, college students, unemployed female breadwinners, aspiring nurses who want to enrich their careers, and fresh graduates who are stuck in the "waithood" period. As with other recipients of the project's support, Carers provides uniquely appropriate work opportunities for individuals who have other commitments that prevent them from taking-on full-time work.
Connect to Fit is the first online fitness guide and cash-collection provider in the MENA and Asia regions. Connect to Fit enables fitness businesses to connect to individuals to provide an array of services, including: gym membership, personal training, and nutrition expertise.
Instatoot is an ambitious Jordanian start-up that connects young tutors to students. Historically Instatoot has provided its services offline, which allowed the start-up to build a strong network. Recently, they have launched their digital platform, utilising an innovative technology to broaden their market reach and efficiency. Instatoot is particularly focused on youth and migrant service-providers, as both groups are particularly susceptible to the "waithood" period, during which fresh graduates or professionals displaced from their careers suffer from poor hiring markets.
iPARK is a collaboration between Mercy Corps and iPARK, Generation Impact is a social impact incubator that includes both physical space and a platform for start-ups and small and medium-sized enterprises to build a support network. Participants generate innovative solutions for critical local and global challenges that also create youth employment opportunities, and solutions for environmental challenges facing Jordan.
LinaGas provides mobile apps that enable the delivery process of oil & gas products to benefit both customers and distributors, and improve their quality of life. LinaGas works with vulnerable drivers who find huge challenges in using technology. LinaGas provides them with training to enhance their skills and make them proficient in using the application.
Mrayti is a start-up that helps to connect beauticians with in-home customers, allowing them to access demand that would have been difficult to reach otherwise. Mrayti provides facilitation services to help female stylists overcome many security, cultural and logistical concerns prohibiting their access to decent sources of income.
Salalem is a learning innovation company focused on creating technology solutions to learning related problems. Salalem aims to make learning easier through online courses.
Sharqi established by a Syrian refugee, Sharqi Shop provides artisans with all the support they need to access the international market.
Learn more about the work Youth Impact Labs is doing on our Medium page.
Resources
Operating digital gig platforms in different regulatory environments
This comparative assessment report explores the regulatory environments for digital gig work platforms in Kenya, Tanzania and Ethiopia. It focuses on, labor policies, taxation, consumer protection, licensing, digital infrastructure and investment restrictions.
COVID-19 Survival Toolkit
As a result of the COVID-19 pandemic, business owners running small outfits and start-ups need to think and act fast. To help with this, this resource pack is meant to help entrepreneurs in key fundamentals that affect the operations of businesses including managing supply chains and fulfillment, managing remote staff, cash flow management and legal obligations such as leases and wages.
Towards a Digital Workforce
Learn more about how the gig economy is gradually changing the nature of how Kenya's workforce accesses jobs, hence offering new revenue streams, creating more stability and formalising work conditions.
Digitizing Agribusiness Value Chains
The lessons we learned when re-designing how farmers and traders interact with digital platforms.
Why Start-ups
A look into how small companies can effectively build customer value.
Competing in a Digital Age
Learn how educators and employers in Kenya and Uganda can help young people develop IT skills and get relevant jobs in this growing industry.