COP26: time for climate action
Mercy Corps team members across the world are #CallingCOP, urging world leaders to commit to climate adaptation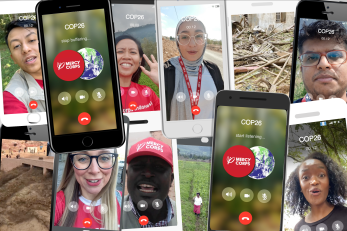 November 12, 2021
"I think you need to take me off mute..."
As world leaders flock to Glasgow for COP26, discussions about how we can shape a zero-carbon future are high on the agenda. However, it is too late to focus solely on reducing emissions. Across the world, communities urgently need help to adapt to the changing climate.
In places where Mercy Corps works, we see the human toll of the climate crisis.Flash flooding in Nepal is displacing entire communities; conflict is on the rise in Nigeria over dwindling natural resources; and young farmers in Guatemala are being forced to migrate in search of better opportunities.
These are just a few of the ways that climate change is disrupting communities today – and they are all issues that our teams are working hard to address, in order to protect lives and livelihoods. Though our work in peace building, agriculture, disaster risk reduction and more, we've been able to turn things around for people living in some of the world's most fragile places.
It isn't an impossible task; we know what needs to happen.
COP26 is the perfect moment to commit to increased funding and support for climate adaptation. Much more can-and must-be done to help those already affected by climate change.
Mercy Corps has had a presence in Scotland since1996, and we're excited to welcome the international community to this wonderful country. However, the most important voices are those of the communities in crisis. Throughout COP26 we'll be hearing stories from our team members across five continents, and we urge the international community to answer their call.
#CallingCOP from Jordan - support communities affected by flooding
"We cannot just wait for things to get better - and we won't."
Shorouq is one of our Project Team Leaders in Jordan, which is among the world's most water-scarce countries. There is drought for most of the year, but when the rains do eventually arrive, they fall harder than ever. The effect on cities can be devastating, with flash floods threatening lives and livelihoods. 


Working with the Zurich Flood Resilience Alliance, Shorouq and her team are partnering with officials to promote and support flood prevention efforts in Jordan. Actions like these cost far less than responding to floods - so there's no time to waste.
#CallingCOP from Nigeria - build peace where climate change is causing conflict
"Peacebuilding works!"
Tog is a conflict management specialist in Nigeria. As natural resources dwindle due to climate change, farmers and pastoralists are in dispute over access to land for growing crops and grazing livestock. Sometimes, it leads to violence. Tog and his team are training communities in peacebuilding skills that help them resolve their differences peacefully.
The issues of conflict and climate are intrinsically linked; if we are to create a more peaceful world, increased support is needed for mediation efforts that bring communities together in search of common solutions.
#CallingCOP from Guatemala - help young farmers plant roots at home
"The good news is that we know what to do!" 
Denilson works in our Guatemala team, and every day sees how climate change impacts his generation. It's getting harder for farmers, and fewer young people see farming as a viable way of life. Many have been forced to migrate out of the rural areas, and seek better opportunities in cities.
By connecting farmers with the tools, training and support they need to adapt to the new conditions, our team in Guatemala has given young farmers the chance to remain in the communities they call home.
Climate change is exacerbating migration around the world - but we can prevent it by bringing stability and prosperity back to affected communities.
#CallingCOP from Nepal - strengthen communities against the risk of flooding
"In the blink of an eye, those who rely on the land are left with nowhere to live." 
Sajan works in Nepal, where devastating flloods are literally washing away entire communities. Families are displaced, and the crops they rely on are destroyed.
Sajan's team works closely with farmers to increase their resilience to flooding. Through the simple solution of growing sugar cane along riverbanks, we can keep communities safe - as well as providing them with an additional source of income.
#CallingCOP from Indonesia - prevent disasters before they happen
"We really need to talk about what's happening here." 
Piva is a member of our Emergency Response Team in Indonesia. With natural disasters on the rise due to climate change, she and her colleagues stand ready to provide lifesaving aid to those affected.
By installing early-warning systems, we've been able to anticipate crises before they happen, ensuring that communities have the time and resources they need to prepare for disasters and minimise the levels of loss and damage.
Storms and flooding is only getting worse; but if communities are given the support they need to adapt, they don't have to lose everything.
#CallingCOP from Kenya - support smallholder farmers using technology
"Farmers are changing things up!"
Gift works in Kenya, where climate change has affected the growing seasons. Farmers are faced with immense challenges to grow the food they need to provide for their family.
Though our Agrifin programme, we're connecting farmers to resources - from insurance and advice to pricing information and potential customers - that will help them get the most out of their land, even as the conditions change.
It's a solution that can be scaled up around the world, bringing more security and prosperity to the smallholder farmers that feed 80% of the world's population.
#CallingCOP from Scotland - put affected communities at the heart of the response
"It's time for action - not just blethering!"
Mags works in our Edinburgh office, and like all of us has been excited to welcome COP26 delegates to Scotland for this potentially game-changing summit.
While we are proud of our Scottish connection, it's important to remember that locally-led solutions must be adopted in order to achieve lasting change.
As COP26 draws to a close, we urge the international community to consider the next steps of climate adaptation, and ensure that it is the communities most affected by climate change that decide where we go from here.
Stand for those most at risk of climate change