Our response to Hurricane Matthew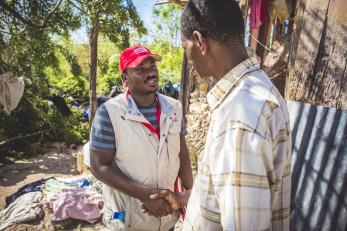 October 24, 2016
"The people here have just been pushed down by one thing after another," Jessica Pearl, Mercy Corps' country director in Haiti, told The New York Times Tuesday, October 4, as Hurricane Matthew barreled into the country.
The storm made landfall with 145-mile-per-hour winds and heavy rain, causing flooding and severe damage to homes and fields.
Haiti is the poorest country in the northern hemisphere, and many families are still recovering from the devastating 2010 earthquake that killed hundreds of thousands of people and displaced nearly 2.3 million more. Around 60,000 people are still living in displacement camps.
Hurricane Matthew is said to be the worst humanitarian disaster to strike Haiti since that crisis. 
Our team is on the ground working to meet families' urgent needs and lay the groundwork for recovery. Learn more about our emergency response and long-term plans below.
Destruction in Haiti
Blocked or flooded roads, limited communications and washed-out bridges made many communities inaccessible in the days after the disaster.
Weeks later, we've seen widespread destruction to roads and buildings, and water and electricity shortages have been reported. The storm also wiped out crops and livestock, which the majority of Haitians depend on to survive.
In Arcahaie, one of our program areas, approximately 80 percent of banana crops were destroyed by winds and seawater flooding. These crops supported some 20,000 families.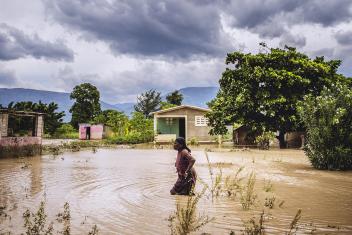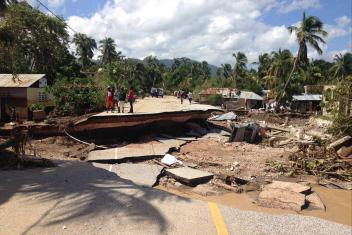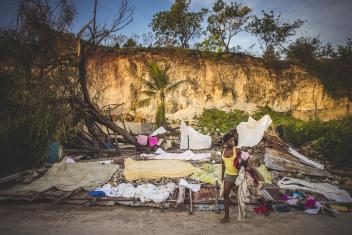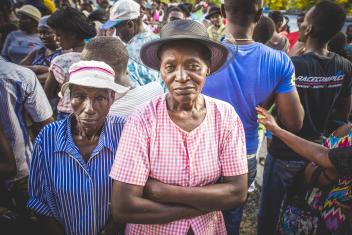 The majority of Haitians rely solely on farming for food and income, and they have been hit hard: Hurricane Matthew came on the heels of the country's worst drought in 50 years. Even before the hurricane, many people had not yet fully recovered and lacked access to the food they needed to survive.
Additionally, with many families lacking access to clean water in the aftermath of the storm, the spread of cholera is a huge concern. The country has already experienced high rates of the waterborne illness this year — and the significant flooding and rain brought by Hurricane Matthew significantly increase the risk of it spreading.
According to the United Nations Office for the Coordination of Humanitarian Affairs (UNOCHA), the storm killed over 500 people, and 750,000 are in urgent need of humanitarian assistance. More than 1,400 suspected cholera cases have already been reported.
Our emergency response
We are distributing shelter kits to people in Nippes, in the heavily-damaged southern peninsula. According to UNOCHA, more than 175,000 people are displaced from their homes across Haiti.
Our team has been traveling by foot, crossing river beds and climbing hills to distribute the kits to those who need them most. Each kit includes temporary shelter supplies so families can protect themselves while they work to rebuild their homes: a tarp, sheets, a blanket, a mosquito net and a lantern with a solar charger.
Many people we've helped told us they lost everything in the hurricane.
"All I have left is my birth certificate," one woman said.
We are also establishing water points in communities that have lost access to clean water, and distributing materials to promote cholera awareness and prevention. 
Looking ahead
Weeks after Hurricane Matthew struck Haiti, one thing is clear: the people of Haiti need help now more than ever. 
Of the 750,000 people in severe need of assistance, 315,000 are children. More than half of the families we have reached so far have children under the age of 5.
We will continue to provide urgently-needed supplies to help families in Nippes get back on their feet, and working swiftly to prevent the spread of cholera in vulnerable communities.
We also plan to distribute cash to people where it is needed most, allowing families to prioritize their individual needs while supporting the recovery of entire communities by infusing funds into their local economies.
In addition to the destruction in the south, all the coastal areas in the northwest, many of which are agricultural communities, suffered intense damage — and the winter planting season is quickly approaching. 
"Responding to the devastation in the south continues to be our most immediate priority," Pearl said. "In the longer term we're also very concerned about the loss of crops and other sources of food and income for Haitians throughout the country."
It's critical farming families, many of whom also lost everything, receive assistance in time to plant their crops and restore some form of income, or the problems will become much more entrenched.
We will provide financial assistance to help farmers in the mountains north of Port-au-Prince recoup damaged crops and livestock, so they can stabilize their livelihoods once and for all and begin to rebuild for the long-term.
"We need to get people help before the December planting season, or families will continue to struggle to know where their next meal is coming from."
Help us provide even more support to the people who need us around the world.