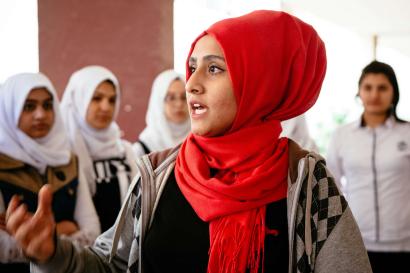 Weak governance is one of the biggest roadblocks to effective, lasting development. It can ignite conflict, inhibit economic growth, perpetuate gender inequality, alienate youth, and increase environmental degradation.
To support communities grappling with complex and intensifying problems — from conflict and famine to failed economies and climate change — we must tackle the governance barriers that underpin them. Transforming unjust systems, empowering communities, and forging a just peaceful future in the countries where we work requires a comprehensive good governance approach.
The COVID‑19 pandemic and its secondary impacts have only further emphasised the critical role of good governance to ensure survival, recovery, and resilience.
Across the globe, Mercy Corps is working with governments and informal governance institutions on all levels to better serve their constituents and foster growth in their communities. In 2020, our work reached over 4 million people.
Good governance means investing in community leaders, ensuring that they serve their constituents well. It means harnessing the collective abilities of these communities and increasing citizen participation in the decisions that affect their lives. Finally, it means protecting and expanding spaces for dialogue and trust-building opportunities across divides.
When we integrate this approach into a variety of programmes, we see more effective, community-led outcomes, ensuring we make sustainable progress towards peace, prosperity, and justice.
For more technical details on our governance programmes, please watch the video below and download our approach document.