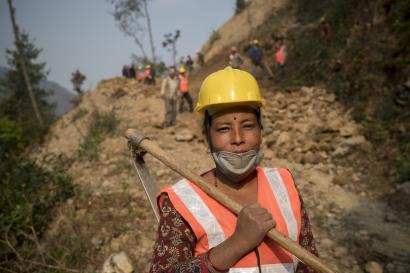 In communities across the world, intense change is disrupting growth and threatening livelihoods. More and more, complicated problems ranging from the climate crisis to increasing urbanisation are testing the limits of these communities.
When their systems — like agriculture or government — begin to break down, it's the most vulnerable people who face the toughest hardships.
Even with such difficult and distinct challenges, Mercy Corps sees possibility. We believe in a future where people have the capacity to learn, cope and adapt in the face of recurrent crises and have the resources and support to transform their communities for good.
That's why Mercy Corps has developed our resilience approach. Through analysis, learning and action, we get a deeper understanding of the systems that people rely on. We conduct assessments from the community level to the regional level to determine their needs.
From there, we develop a vision for building resilience in that area, identifying what needs to change or improve in the face of adversity. Once programmes begin, we start evaluating the results, defining what works and refining them to work even better. 
Through planning, learning and adapting, we can create long-term, positive change.
For more technical details on our resilience approach, please download our approach document.