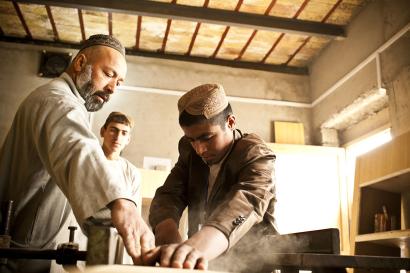 Since 1986, Mercy Corps has been working to improve the quality of life in Afghanistan by strengthening opportunities for sustainable and equitable livelihoods. Last year, we reached over 370,000 people across the country.
The context
Decades of ongoing conflict, political instability, recurrent natural disasters, and economic chaos have left Afghanistan one of the world's poorest and unstable nations. For the second year in a row, Afghanistan was named the least peaceful country in the world in 2020 and is one of the most deadly conflicts for civilians. 18.4 million people—just under half of the population—are in need of humanitarian assistance.
Nearly 300,000 Afghans were internally displaced by conflict in 2020 alone, on top of the 3 million who were previously displaced. The combination of conflict with repeated displacement, poverty, and the wide-ranging consequences of under-investment in services has left many families in need of emergency assistance.
Regional impacts of COVID‑19 on the economy have driven the largest number of returning migrants on record. Nearly 866,000 undocumented Afghan migrants returned from Iran and Pakistan in 2020 — all of whom have minimal assets and need humanitarian assistance to cope and rebuild a life in Afghanistan. High levels of internal displacement and cross-border returns coupled with the fact that Afghanistan has one of the fastest growing, and youngest, populations in the world has put additional strain on already limited resources, work opportunities, and basic services.
With one of the fastest growing populations in the world and a depleting natural resource base, Afghanistan continues to struggle to produce enough food to feed its population. The drought and food crisis is one of the worst suffered in Afghanistan in recent decades, as 11 million people, or 36% of the population, are grappling with food shortages. Only 12% of land area is suitable for growing crops, and decades of conflict and resource extraction based on exploitation for short-term gains have devastated natural resources.
Afghanistan has the third highest youth bulge worldwide—more than two-thirds of the population, 27.5 million, are under 25 years of age and nearly half are younger than 15. 17% of Afghan youth are unemployed, and each year, 400,000 Afghan youth are in need of a job. The jobs that are available often don't pay well enough to pull people out of poverty. Ensuring that decent jobs are available remains one of Afghanistan's biggest challenges.
Our impact
Since 1986, we have partnered with communities to build resilience to economic, political, social, and environmental shocks. Today, we focus on four priority areas:
As Afghanistan continues to face the COVID‑19 pandemic, we are taking the necessary precautions so we are able to continue supporting communities safely while actively working to prevent the spread of the deadly virus.
Agricultural development
Mercy Corps is working to strengthen the agricultural sector and increase food production in Afghanistan. We work with farmers and rural businesses to adopt more sustainable practices, rehabilitate economic infrastructure like roads and storage facilities, and create connections with markets so they can increase their income, grow, and create jobs.
Job skills for young people
We help young people improve their employability and address the shortage of skilled workers by providing vocational training in jobs that are in demand. We facilitate both technical and business development skills, coupled with post-training support to help individuals set-up businesses or find employment opportunities.
After 10 years working in the technical and vocational education and training sector in Afghanistan, Mercy Corps has graduated 35,092 participants (37% female) in 38 skills, supporting increased employment and income generation for young people.
Natural resource management
Mercy Corps helped strengthen the institutional capability of 12 water user associations (WUA) in Northern Afghanistan. The WUAs are tasked with rehabilitating existing yet dysfunctional or inefficient small to medium sized irrigation systems, managing water equitably through plans and irrigation service fees, and promoting efficient use of limited water resources to improve agricultural productivity. Wheat growing farmers, and by extension their families, have achieved a higher annual income due to improved irrigation management, 5,000 temporary and seasonal jobs have been created, and more than 10,000 hectares of agricultural land have been irrigated.
In order to address resource constraints in communities and promote stability, we work with local government ministries and communities to identify infrastructure projects that meet the most critical needs in water, housing, education, health, energy, and municipal services.
Affordable renewable energy
Mercy Corps is focused on opportunities to pioneer renewable energy for households and small businesses across Afghanistan, including cold storage facilities, water distribution centres, and hospitals. Access to consistent and clean energy supports economic growth and better access to critical services with minimal impact to the environment. Our team has installed over 300 solar systems countrywide and is working to integrate solar technologies into our other programmes.
Our unique and innovative lease-to-own model makes the high upfront cost of social systems affordable and provides customers with reliable electric power at an effective monthly cost equal to, or less than, what they were previously paying for dirty, unreliable power sources.
Help us build a more equitable world.
See all the ways you can fundraise for change.