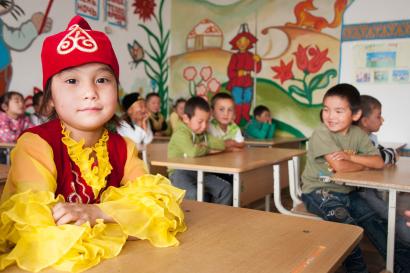 Mercy Corps has been working in Kyrgyzstan since 1994, adapting to the political and economic conditions to meet the needs of Kyrgyz citizens in times of both civil conflict and peace. Last year, we reached over 250,000 people across the country.
The context
Kyrgyzstan became an independent country in 1991 with the breakup of the Soviet Union. More than two-thirds of the population live in the mountainous countryside, where agriculture is the main source of income. Despite significant economic development over the last decade, more than 20% of the population lives in poverty.
Kyrgyzstan has a rich nomadic history, and pastures continue to play an important role in the culture and economy. Pasture lands comprise 48% of its territory and agriculture supports 23% of its population. However, the country is dealing with severe levels of pasture degradation. Compounding these challenges, Kyrgyzstan is one of the most vulnerable countries to climate change in Europe and Central Asia, experiencing altered rain patterns and more frequent heat waves. The human cost of these environmental issues includes undernutrition and stunting which remain serious problems.
The Kyrgyz Republic is not able to produce enough food to feed its citizens, leading to a high dependence on imports which are typically higher in price and lower in quality. Some families spend up to 70% of their income on food, and yet 18% of Kyrgyz children are malnourished and 12% experience stunted growth. Anemia rates are also high, disproportionately affecting young women and children. Currently over 43% of children and 38% of young women are anemic.
Our impact
Since 1994, Mercy Corps has been working to build healthy, financially sustainable communities. As Kyrgyzstan continues to face COVID‑19, we are adapting our programmes so that we can continue to safely support communities. Today, we focus on three priority areas:
Improving child nutrition
Mercy Corps provides schools with rice, lentils, peas, and cooking oil to support healthy meals in kindergartens and primary schools across the country. We also invest in rehabilitating school kitchens by providing modern equipment and grants for infrastructure repairs. All supplies and labour are sourced locally, creating income-generating opportunities for small businesses in the community. For the newly hired cooks, Mercy Corps organizes professional training in partnership with local training centres.
 
We also help schools start and operate orchards to both provide nutritious meals for students and supplement school income by selling surplus harvest. To ensure sustainability beyond our programme, we provide financial and technical support including comprehensive agricultural training for members of school administration and local communities as well as tools and other agricultural inputs so they have the resources they need to maintain the orchards. We also provide schools with dehydrators as a way to preserve the fruits and vegetables for consumption during the winter months when harvests are low.
Increasing access to hygiene and sanitation
Nutrition and health go hand in hand with good hygiene and sanitation practices. That's why Mercy Corps is installing modern handwashing facilities and latrines in schools as well as partnering with the Ministry of Health to conduct informational campaigns on the importance of handwashing.
Driving agricultural development
We are creating innovative tools to better manage pasture land through use of satellite imagery. We are collaborating with government agencies, pasture committees, and other organizations to create access to satellite data, and train partners on how to use it. Satellite data makes it possible to better understand the conditions of Kyrgyzstan's pastures. We compare the current condition of pastures to historical data, illustrating to herders and decision makers how much better or worse pasture conditions have become, and informing national policies and strategies.
Join us in building a more equitable world.
Use your voice and urge Congress to take action.