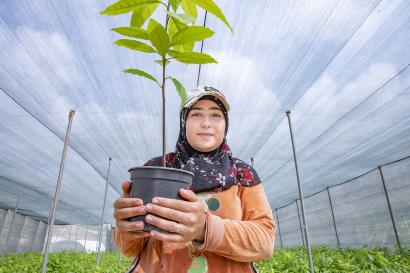 Mercy Corps has been working in Lebanon since 1993, helping refugees and vulnerable Lebanese meet their urgent needs while also strengthening their resilience so they can better adapt and cope with future challenges. We reached over 150,000 people across the country in the past year.
The context
With multiple overlapping emergencies, Lebanon is currently facing its worst crisis since the 1975-1990 civil war. While Lebanon has had a long history of complex interconnected challenges, it hit a tipping point in October 2019 when currency reserves dried up, banks closed, the economy crashed, and over a million people across the country rose up to protest and demand change.
A confluence of crises has battered the country since — the resignation of multiple prime ministers, wrangling over a replacement government, a countrywide uprising and protest movement, a growing economic and financial crisis, the COVID‑19 pandemic, and the massive explosion at the Port of Beirut.
Today, nearly half of the population is in need of humanitarian assistance, of which 1.5 million are Syrian refugees, 1.25 million are Lebanese, and over a quarter of a million are Palestinian refugees. The explosion that decimated the Port of Beirut and surrounding neighbourhoods in August 2020 hit at the worst possible time for Lebanon. Amid rising COVID‑19 cases and an already volatile political and economic situation, it added yet another setback that deeply affected people's ability to cope.
The Lebanese economy has been in freefall since late 2019, nearly wiping out the middle class and pushing over half of the Lebanese population into poverty, with nine out of 10 Syrian refugees in Lebanon living in extreme poverty. For those still employed, salaries are worth a fraction of what they once were. And soaring prices mean that many can't afford basic food items. 46% of Lebanese families and 65% of Syrians have had to reduce their food consumption.
The youth unemployment rate is more than double the national rate, and women's participation in the workforce is significantly lower than men (29% vs. 70%). Marginalised areas in the country also suffer from higher unemployment rates, with refugees suffering from numerous additional barriers to employment.
Businesses that haven't already been forced to shutter are struggling to survive. Many are unable to keep up with skyrocketing import costs or accurately price products and services. Yet, they are critical to the local economy. Micro, small, and medium-sized businesses make up 95% of all formal businesses and employ over 50% of the workforce. They also serve as a lifeline for local communities, providing jobs, income, and stability.
The rising competition for survival is fueling tensions between Lebanese and refugee communities. Since the start of the Syria crisis 10 years ago, Lebanon has become home to the largest number of Syrian refugees per capita in the world. This has put additional strain on the country's already fragile infrastructure and social makeup.
Widespread protests have been ongoing since October 2019 and continue in a handful of cities across Lebanon. Demonstrators are demanding a wholesale change in their government with free and fair elections, and that the entire existing political elite be removed as a starting point for reforms. The spiralling economic crisis and political gridlock have people fed up.
Our impact
Since 1993, we've been working to promote peace, stability, and growth by addressing root causes of conflict and poverty. We are currently focused on the following two areas:
We've adapted our programmes in light of the COVID‑19 pandemic so we can continue to deliver our programmes safely, while also directly addressing both the immediate and long-term effects of the pandemic.
Economic opportunities
Mercy Corps is working to reduce barriers that are preventing many, especially women and youth, from accessing work opportunities and earning an income. We provide skills training, connect individuals with mentors, and link them to apprenticeships to get on-the-job experience. In addition to earning income, we help Lebanese and Syrians learn how to manage their money and save for the future, and when possible, link them to appropriate financial products like bank accounts.
We are also helping micro and small business owners in Beirut and across the country cope with and adapt amid multiple crises. We provide business owners with cash grants to help them repair their shops, stock their shelves, pay rent and wages, and cover their families' essential needs while sales are slow. We also link them to business development services and provide them with technical or in-kind support when needed. Our goal is to help businesses get back on their feet, become more resilient to future challenges, and eventually grow.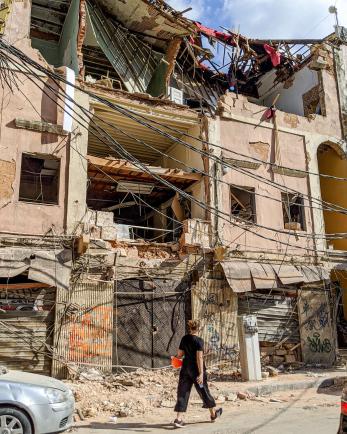 Good governance and social stability
Mercy Corps is working to reduce tensions and strengthen relationships within communities, between communities, and with local government. We help bring groups together like women and youth in order to provide them with a safe space to discuss and work on shared challenges. We also seek to strengthen relations across social divides including nationality, religion, political affiliation, and gender by bringing together diverse groups through community councils and events. Throughout, we provide training in mediation and conflict resolution to help foster positive dialogues and address sources of tensions.
We are also working with local government, the private sector, and community members to improve processes for participatory local development. This means that local government is more responsive, accountable, transparent, and equitable in the way they deliver services, and community members have the skills to meaningfully participate in local decision-making. We are also training key municipality staff and community leaders in local resource management and conflict resolution to help mitigate resource-based tensions and defuse conflicts.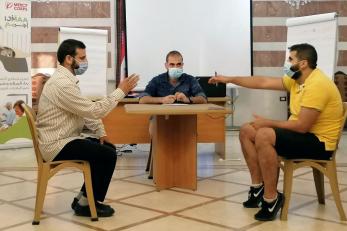 Help us build a more equitable world.
See all the ways you can fundraise for change.