Palestine (West Bank/Gaza)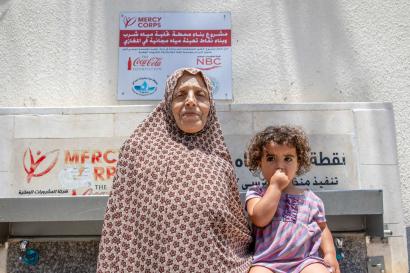 Since 1986, Mercy Corps has helped Palestinians in the West Bank and Gaza access critical services and become more economically self-sufficient.
The context
The escalation of conflict that began on October 7, 2023, has sharply exacerbated the humanitarian crisis in the region. "We call for an urgent and immediate cessation of hostilities and dialogue to seek a peaceful resolution," said Uma Kandalaeva, Mercy Corps Director for Palestine. "All parties must meet their international obligations and protect civilians and civilian infrastructure as mandated by international humanitarian law."
Mercy Corps—in common with other humanitarian organizations—is not currently able to safely operate in Gaza. We are working to restart our humanitarian programs in Gaza and Mercy Corps team members there are committed to significantly ramping up much needed lifesaving aid as soon as it is safe to do so.
Palestine's long-standing humanitarian crisis remains among the world's most challenging places to deliver humanitarian assistance. Today, more than 2 million Palestinians are in need of humanitarian aid. High levels of food insecurity, poverty, and chronic unemployment are some of the challenges that Palestinians face.
Our impact
For more than three decades, Mercy Corps has worked in the West Bank and Gaza, meeting critical humanitarian needs. Our programs support Palestinian communities by:
Helping communities cope with crisis
Increasing economic opportunities
Helping communities cope with crisis
Mercy Corps is committed to finding solutions that give people more options and resources to meet their immediate needs, become more self-reliant, and be more resilient to future challenges. In Gaza, Mercy Corps recently built a desalination plant to provide access to clean water for 20,000 residents.
Increasing economic opportunities
Launched in collaboration with Google for Startups in 2011, Gaza Sky Geeks prepares young Palestinians to work in the global tech sector by training coders, linking freelancers to international markets, and creating a pipeline of early stage startup companies that can compete regionally.
Mercy Corps also helps to build the resilience of businesses in the West Bank. Through collaboration with local business associations, Mercy Corps provides training for small businesses to find new markets for their products to grow—with a focus on agribusiness and technology sectors.
Join us in building a more equitable world.