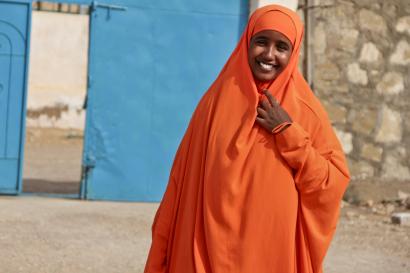 Mercy Corps has been working in Somalia since 2005, building peaceful and prosperous communities. In 2020, our work reached nearly 750,000 people across the country.
The context
Somalia remains one of the most complex and long-standing humanitarian crises in the world. After the collapse of the central government of Somalia in 1991, a large-scale civil war erupted all over the country and has been ongoing for decades. One disaster sometimes comes on the heels of a previous one, putting unprepared communities on the brink of catastrophe. Climate shocks, armed conflict, and violence are key drivers of humanitarian needs and human rights violations. However, last year brought additional shocks — namely floods, desert locust infestations, and the COVID‑19 pandemic — contributing to the deteriorating humanitarian situation. It is estimated that nearly one half of the total population, or 5.9 million people, require humanitarian assistance.
Conflict remains at the centre of the crisis with chronic levels of insecurity and violence taking a heavy toll on civilians for decades, affecting livelihoods and hampering economic progress and development. Opportunities for youth to access education, skills training, work opportunities, and wellness are far and few between. For young women, the situation is more challenging due to the cultural role of women, early marriage, and inequitable power dynamics.
Climate change is also a major contributor to displacement and food insecurity. Flooding displaced over 900,000 people in 2020 alone, and destroyed agricultural land and key infrastructure. During the same time, Somalia experienced a devastating desert locust invasion, impacting crops and pasture land. Some 2.7 million people are unable to meet their daily food needs, and approximately 840,000 children are malnourished, including 134,000 who are already acutely malnourished.
Our impact
Since 2005, Mercy Corps has been providing urgent relief to millions of Somalis. In response to COVID‑19, we've adapted our programmes in order to continue reaching communities with lifesaving support. We have also introduced new programming to prevent the spread of the virus. Today, we are focused on the following five areas:
Humanitarian response and resilience
We help communities prepare for and respond to crises. We address immediate needs like food, clean water, sanitation, and shelter. We also support communities to create disaster preparedness plans and increase their awareness on current threats, including COVID‑19, through radio campaigns.
Quality basic services
Our programmes are providing long-term access to water sources by improving the functionality of wells and rehabilitating boreholes, some of which are solar-powered, enabling people to collect water at all hours of the day. Local water management committees ensure ongoing maintenance and operation of water facilities. We also distribute hygiene items like soap and women's sanitary products, and promote healthy practices that contribute to improved nutrition.
We help internally displaced youth access safe spaces to learn and school supplies to help them study. We provide teacher training to promote student-centred learning and ensure all children are receiving a high-quality education. In addition, we work with the Ministry of Education to develop and review critical educational policies and guidelines, and to develop strategies to promote girl's education and teacher training programmes.
Inclusive economic growth
We develop and manage savings groups, particularly for internally displaced youth and women. These groups not only provide access to cash when needed, but also teach members about raising and managing finances which can be used to start up small businesses. We also provide training in marketable skills such as masonry, electrical, plumbing, mobile phone repair, computer technology, and tailoring, and then place participants in apprenticeships to get on-the-job experience.
Youth civic and economic engagement
Mercy Corps works with youth to provide solutions to chronic poverty and unemployment, including vocational skills and training, creating links to employers, and supporting start-up businesses. We promote youth leadership through youth-led hygiene promotion and COVID‑19 awareness campaigns, and ensure that they have a seat at the table in community-related decisions. Our approach starts with listening to youth voices and hearing their concerns, and then tailoring solutions based on their needs.
Participation, trust, and accountability
Mercy Corps works to increase participation, trust, and accountability between communities and their government. We strengthen the capacity of formal and informal government structures through context-specific training and promote local community participation, especially of minority groups, in all processes of governance.
Help us build a more equitable world.
See all the ways you can fundraise for change.