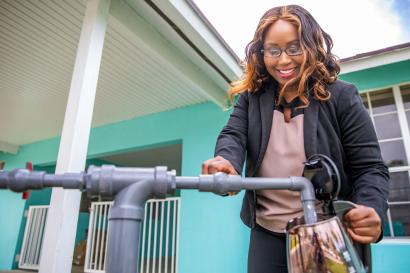 In September 2019, Mercy Corps responded to Hurricane Dorian — one of the most powerful Atlantic hurricanes on record. Since then, we have been focused on meeting the urgent needs of individuals while helping small businesses rebuild and recover.
The context
The Bahamas is comprised of 700 islands sprinkled over 100,000 square miles of ocean. The archipelago is home to nearly 400,000 people. In September of 2019, category 5 Hurricane Dorian pummeled The Bahamas for more than 48 hours devastating much of Abaco and Grand Bahama islands, two locations where the eye of the storm made landfall. It was one of the strongest Atlantic hurricanes on record and the strongest hurricane to have ever hit The Bahamas.
Hurricane Dorian caused about $3.4 billion in damages, equal to one-quarter of The Bahamas' GDP. Rebuilding efforts on the islands of Abaco and Grand Bahama are slow and in some areas haven't even started.
On the island of Grand Bahama, 50% of Freeport businesses and all businesses on the east of the island shuttered. Many of them did not have insurance to cover flooding, making it difficult for business owners to repair the significant damage that was caused.
During the hurricane, the aquifer that feeds the more than 200 wells from which Grand Bahamians draw water was contaminated with salt water due to the high storm surge and extensive flooding. The Grand Bahama Port Authority advised residents not to use tap water to drink, make ice, wash dishes, brush teeth or prepare food until restoration efforts to flush the aquifer of salt water are complete. Some residents still do not have safe drinking water flowing through their pipes.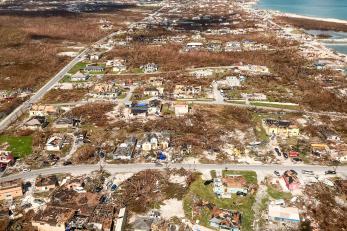 Our impact
Since responding to the urgent needs after Hurricane Dorian made landfall in September 2019, we have been providing clean drinking water for communities and helping small businesses and entrepreneurs reopen their doors and increase sales.
Emergency response
We're on the ground during emergencies, working quickly to meet the urgent needs of survivors and giving people the resources they need to build back even stronger. In the immediate aftermath of Hurricane Dorian, we distributed emergency kits to nearly 1,000 families that included solar chargers and lights, hygiene and baby supplies and shelter materials such as tarps and rope. We also distributed over 600 solar lanterns equipped with USB chargers so that people could charge essential devices, given the extensive electrical blackouts.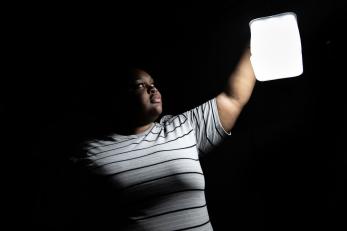 Safe drinking water
We delivered 1,500,000 gallons of safe drinking water from a water treatment system to health facilities, businesses and individuals on Grand Bahama. The system used reverse osmosis to filter out the salts and other contaminants. The end result is safe drinking water that meets standards set by the World Health Organization.
About 20,000 people — almost 40% of the island's population — received water either through our 20 community tap stands or benefitted from the water we're providing three healthcare facilities. Providing communities with safe drinking and cooking water means they don't need to purchase bottled water, cutting both costs and plastic waste.
In August 2020, Mercy Corps handed over the management of the water treatment system and distribution network to the local utility company who will continue to distribute clean water to those in need until potable water is flowing to all households on the island.
Economic recovery
We support micro, small and medium-sized businesses on Grand Bahama and Abaco get back up and running. Hurricane Dorian affected about 2,500 small and medium-sized businesses in The Bahamas. Our economic recovery programme will support more than 200 businesses — almost 10% of those affected — with grants to help them reopen as well as trainings focused on business skills like financial planning and marketing, as well as disaster preparedness and business continuity to help business owners increase their chance for long-term success and become better prepared for future disasters. Businesses also gain access to free mentors through MicroMentor, Mercy Corps' global online mentoring platform.
Our team
The Bahamas team is made up of 15 members, 12 of which are Bahamians with an intimate understanding of the issues facing their country. The team consists of technical experts and managers who are located on New Providence and Grand Bahama islands.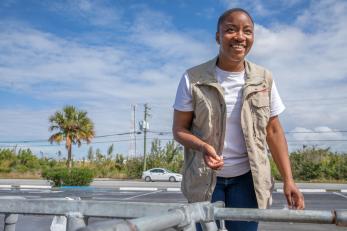 Help us build a more equitable world.
See all the ways you can fundraise for change.