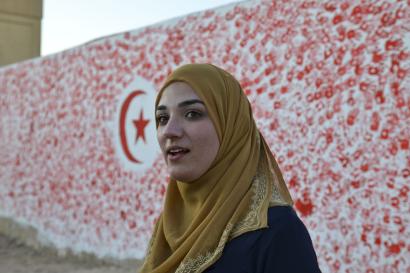 Mercy Corps has been working in Tunisia since 2011, helping young Tunisians build a better future. Last year, we reached nearly 8,500 people across the country.
The context
The revolution in Tunisia sparked the 2011 Arab Awakening, a dynamic historical moment that is transforming the entire region. Young Tunisians played a pivotal role in the uprisings but have since grown disillusioned and unsatisfied. While there are certainly accomplishments to celebrate, many of the issues that sparked the initial protests still exist today. Unemployment is higher than it was in 2010 and poverty is still widespread, especially in rural areas. Because of the lack of economic opportunities for young people, Tunisia has experienced high rates of outward migration. The compounding impact of COVID‑19 on the economy and quality of life has only made a fragile situation worse.
The progress made towards a more democratic society in recent years has included a revitalisation of Tunisian civil society, with the number of civil society organisations increasing tenfold in the initial aftermath of the Arab Spring. Over the last decade, these organisations have been involved in a multitude of arenas, including electoral support, women's rights, youth empowerment, education, political party training, justice reform, national reconciliation, and human rights. Despite this progress, training and support is needed to further develop and improve basic organisational operations and accountability.
Our impact
Since 2011, we have worked to build strong communities that have opportunities to pursue their full potential. We place a particular focus on youth, women, and other marginalised social groups. As Tunisia continues to face COVID‑19, we are adapting our programmes so that we can continue to safely work with communities. We have also introduced new programming to prevent the spread of the virus. Today, we focus on two priority areas.
Strengthening governance and civic engagement
Mercy Corps is working to rebuild trust between youth and the local government. We are building the capacity of civil society organisations so they can successfully engage youth in local decision-making and economic opportunities. We also help women and young people advocate for public policy change that enables the protection and management of natural resources, and creates an environment that supports employment and training opportunities. We do this by connecting decision-makers with marginalised individuals, where together they can discuss and elevate the needs of the local community.
Increasing economic opportunity
Because there are limited job opportunities in the formal sector, Mercy Corps focuses on supporting young entrepreneurs to start and grow their own businesses, particularly ones that protect natural resources and cultural heritage. We support a co-working space which not only builds community among entrepreneurs, but also provides business training and customised support. We also connect entrepreneurs with mentors through our global platform, MicroMentor.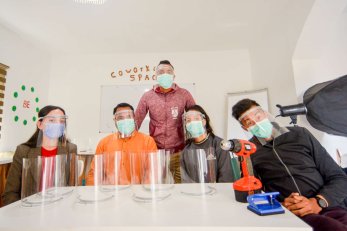 Help us build a more equitable world.
See all the ways you can fundraise for change.