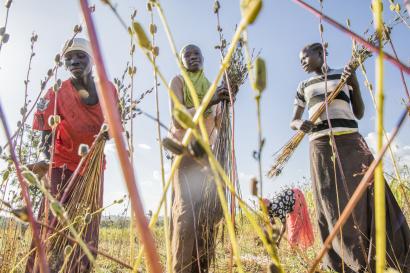 We have been working in Uganda since 2006 and have helped millions of Ugandans and refugees alike build a path to a stronger tomorrow. Our programmes focus on helping people adapt their livelihoods in the face of climate change, supporting small businesses, improving agriculture production, bettering public health systems and empowering women and girls. In 2017, our services reached 1.2 million Ugandans and refugees.
The context
After a generation of conflict and instability, including multiple civil wars, Uganda is a stable country with a population of 41.5 million people.
Although Uganda is in a state of stability, some of its neighbours are not. Because of ongoing violence and conflict in South Sudan and Democratic Republic of Congo, Uganda is now the second-largest refugee-hosting country on the planet, after Lebanon. Almost 1.1 million refugees have fled their home countries to seek refuge in Uganda.
The growing population is putting an increasing strain on already limited resources. Basic necessities like food and clean drinking water are out of reach for far too many Ugandans and refugees. One out of every four people in Uganda is malnourished and one out of every three children under the age of five is stunted due to malnourishment.
A majority of Ugandans, seven out of every 10, make a living in the agricultural sector. The increasing consequences of climate change are making it more difficult for Ugandan farmers to make a living. Many farmers across Uganda are reporting lower yields, which is contributing to mass malnutrition. Unequal access to quality seeds and tools are disproportionately impacting poorer Ugandan communities, leading to an even higher risk of malnutrition and stunted growth.
Despite these challenges, the people of Uganda are resilient and welcoming hosts of their South Sudanese and Congolese neighbors. By strengthening the local agricultural economy, assisting refugees, increasing knowledge on health and nutrition and more, we are helping build a stronger tomorrow for all of Uganda.
Our team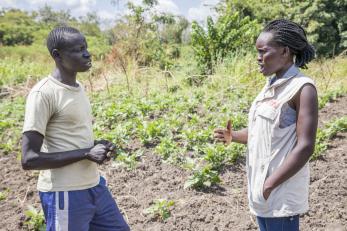 Our Uganda field team is made up of 300 members located on eight different bases across the country and is led by Country Director Iveta Ouvry. 95% of our 300 team members are Ugandan and have a unique and personal understanding of the issues facing their country and individual communities.
The work we're doing in Uganda focuses on supporting both Ugandans and refugees fleeing conflict from neighbouring countries. Our core work is in agricultural development — supporting farmers to increase productivity through climate-smart agriculture techniques. We offer this program to Ugandans and refugees. We also work on maternal-child health and nutrition and with communities to resolve local conflicts in a peaceful way.
Our impact
Since 2006, our work in Uganda has reached millions of people and helped provide support for young people, professional development opportunities for farmers and more. Here are a few of our most recent results:
In 2017, we improved the social and economic well-being of 1.2 million people.
We're empowering more than 8,600 girls near the Kenya-Uganda border to earn their own incomes with life-skills education courses.
In 2017, we provided 44,142 farmer households with improved access to better seeds for addressing climate-related stresses.
Help us build a more equitable world.
See all the ways you can fundraise for change.