Helping communities through a global pandemic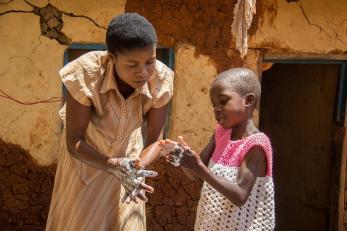 March 26, 2020 • UPDATED April 06, 2020
Around the world, people fleeing conflict, living in poverty or without access to healthcare face the greatest risk from the COVID-19 pandemic. Mercy Corps is already on the ground responding to the immediate needs of communities in the face of the virus and beyond. 
Our teams are in more than 40 countries, helping people and communities prepare for and protect against crisis - in the Americas, Africa, Middle East and Asia.
Our approach to COVID-19
Our priority is the safety of our team members, partners and the communities we serve. We're actively helping communities to prepare for and protect against the coronavirus outbreak, providing safe, reliable information and support to vulnerable and often overlooked people, and positioning to ensure ongoing delivery of our lifesaving work. 
We are also issuing an urgent call for £20 million ($25 million USD) to protect the ongoing delivery of lifesaving aid and to meet the needs of tens of millions of vulnerable people around the world whose lives and livelihoods are most threatened by the COVID-19 pandemic. Mercy Corps' COVID-19 Resilience Fund will protect the most vulnerable and at risk against COVID-19, meet the immediate needs of families and communities, and help the world's most vulnerable prepare for the economic shock of the virus.
What we're doing to stop the spread and help people now
In the communities and refugee camps where we work, COVID-19 is threatening the already fragile markets, food security and healthcare systems that people rely on. In countries like the Democratic Republic of Congo, Lebanon and Yemen, we're already working to help communities protect themselves against the spread of infectious disease. Last year, we reached more than 7.7 million people with clean water or other essential support for sanitation and hygiene.
Beyond sanitation and hygiene programming, Mercy Corps is also connecting people and communities to the timely information and resources that can make all the difference during this pandemic. For example, the Signpost app (created through a partnership with IRC) is providing vulnerable populations in Italy with up-to-date information on COVID-19 and guidance to support services.
Here's more of the work we're doing right now around the world:
In the Middle East
We are working to adapt our existing programmes and identify emerging needs to support vulnerable communities through this crisis. 
Our team in Jordan is increasing access to water stations and youth centres, and providing critical distance-training and education for children with disabilities and young people through online videos. 
Our Gaza Sky Geeks programme in Palestine continues to connect young people to new employment opportunities, while they leverage their community network to share accurate and up-to-date information about COVID-19 response and health promotion.
In Syria, teams are rapidly working to reduce the risk of spread by sharing up-to-date information on COVID-19 alongside delivery of still-needed basic essentials to people fleeing conflict. We're supplying our water and sanitation programming to conflict-affected areas in Northeast Syria. Additionally, we're boosting our messaging about hygiene, COVID-19, stigmatisation that sometimes happens with infection and how families can access local systems.
We're providing critical assistance in Iraq to support vulnerable families, including those whose livelihoods have been disrupted by government-imposed lockdowns — essential to stopping the spread of the virus. For displaced populations, we're providing water and sanitation programming that includes water trucking, solid waste management services and repairing water facilities in many public health centres.
In Lebanon, we're partnering with other humanitarian agencies, including UNICEF, to promote hygiene awareness. Teams are also distributing hygiene kits to informal Syrian refugee settlements.
In the Americas
Our teams are sharing information to stop the spread of COVID-19 and support the small businesses facing immense challenges of the pandemic.
In the United States, we're providing online guidance and consultations for entrepreneurs and small businesses. We're also pausing any repayments for the loans we've given to local small businesses. 
Mercy Corps teams in the Bahamas continue to produce and distribute clean drinking water through a water treatment plant running reverse osmosis machines — a critical resource we began providing in the wake of Hurricane Dorian. We are also helping micro-, small- and medium-sized businesses recover and get back on their feet after the hurricane through grants and additional mentoring support.
We're holding myth-busting sessions for our team in Haiti to help contain the spread of the virus.
In Africa
Mercy Corps is continuing to provide the urgent support communities rely on and ramping up efforts to contain the virus and prepare vulnerable people.
For our teams in Ethiopia, we are distributing preparedness kits, screening them for fever and providing information on handwashing techniques.
In Asia
We're working closely with local governments to increase awareness of the virus in communities as well as running COVID-19 training sessions with our teams in Pakistan, Afghanistan and Tajikistan.
How we can help communities rebuild after the crisis
We're committed to working with our humanitarian community through this pandemic. And we will be there to help rebuild. 
Across the globe, we're ready to draw on our experience of helping small businesses and communities survive and recover from the economic impact of crisis. 
Despite the new challenges presented by the COVID-19 pandemic, we are dedicated to continuing to deliver the lifesaving assistance that more than 28 million people around the world rely on.
Help vulnerable communities across the world survive crisis.