The facts: The crisis in Sudan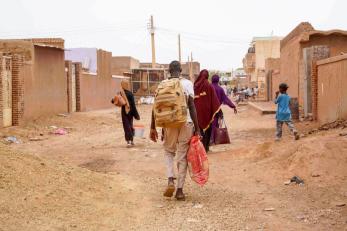 May 02, 2023
Sudan is facing renewed violence, displacement and an unprecedented need for humanitarian aid. The fierce fighting that began on April 15, 2023 has compounded the crisis across the country. According to the United Nations, since the fighting over 100,000 people have fled the country, and 300,000 people are displaced inside Sudan.
"Although it is too early to fully assess the humanitarian implications, the country's humanitarian needs are already at an all-time high," said Allison Huggins, Mercy Corps' Deputy Regional Director for Africa. "Before this latest escalation in violence, an estimated 15.8 million people—roughly one-third of the country's population—already required humanitarian assistance due to ongoing conflict, the climate crisis, disease outbreaks, and economic decline. If violence continues, we will face an even worse humanitarian disaster."
Since 2004, Mercy Corps has worked in Sudan to support hundreds of thousands of Sudanese, displaced households, and refugees from nearby countries.
Learn more about the current crisis and Mercy Corps' work in Sudan.
When did the crisis in Sudan begin?
In 2021, a coup in Sudan ended a civilian transitional government that had been established following the ouster of former President Omar al-Bashir in 2019. The political transition was supposed to result in elections of civilian parties by the end of 2023.
However, the power struggle between the Sudanese army and a paramilitary group called Rapid Support Forces reached a critical point on April 15, 2023, when clashes broke out across Sudan. The capital city of Khartoum is experiencing extensive violence due to the conflict, with fighting in many surrounding areas as well. More than 100,000 people have fled Sudan so far, and 300,000 are internally displaced due to the current crisis, according to the U.N.
How is the conflict affecting people in Sudan?
Hundreds of people have been killed and over 4,000 injured since the fighting began on April 15, 2023. The ongoing fighting in Khartoum and other regions has left many of the city's 5 million residents sheltering in their homes with limited access to electricity, food, or water, medicine, or fuel.  
According to the U.N., millions of people in Khartoum cannot access healthcare due to the closure of a majority of the city's health facilities, with only 16% of the facilities operating. It is estimated that 50,000 acutely malnourished children can no longer receive treatment due to the conflict. Transportation costs have reportedly spiked so that many are unable to afford to leave violent areas.
Even before the current conflict, Sudan hosts 1.1 million refugees—one of the largest refugee populations in Africa. There are another 3 million people who are internally displaced, the majority of them in Darfur, a region plagued by a volatile security situation for nearly two decades. If the violence continues, we will almost certainly confront an even larger humanitarian crisis due to mass displacement. UNHCR reports that more than 73,000 people have already arrived into neighbouring countries, and aid organisations are preparing for the possibility that over 800,000 people may flee the fighting in Sudan.
The growing refugee crisis will have a significant impact on Sudan's neighbours, many of which are already hosting refugees and facing high levels of humanitarian need, and the broader region. "This conflict would not only have catastrophic consequences for Sudan but also for neighbouring countries," said Allison Huggins in The New York Times. "Any prolonged period of insecurity would have far-reaching consequences for the region, impacting the economy and the growing refugee population."
What was the situation in Sudan like before the current crisis?
Even before the ongoing conflict, an estimated 15.8 million people—about one-third of the population—were expected to need humanitarian aid in 2023. The number of children in Sudan who are malnourished was already rising at an alarming rate. About 4 million children under five and pregnant or breastfeeding women will be acutely malnourished in 2023 and need lifesaving nutrition services.
Decades of conflict, limited investment in agricultural production, and climate shocks have resulted in cyclical food insecurity in many communities. Sudan depends on local agriculture for food security, but is hindered by floods and desertification. In Khartoum, refugees and people living in poverty face the highest rates of food insecurity in the country.
The World Bank reports that record-setting floods in 2020 and 2022 resulted in billions of dollars in estimated damages, further compounding Sudan's economic crisis of rapid inflation and increasing food prices.
What is Mercy Corps' experience working in Sudan?
Since 2004, Mercy Corps has worked in Sudan to support hundreds of thousands of Sudanese, displaced households, and refugees from nearby countries.
Prior to this current escalation, Mercy Corps operated in South Darfur, North Kordofan, South Kordofan, Gedaref, and Khartoum states. Our programmes in Sudan span humanitarian, development, and peacebuilding. In 2022, Mercy Corps directly reached over 437,000 people through emergency response, water, sanitation, and hygiene, peacebuilding, agriculture, and climate adaptation programming. Our programmes promoting food security and economic recovery support more than 30,000 smallholder farmers. Our peacebuilding work promotes an active role for women in preventing and mitigating violence and conflict.
Currently, all humanitarian operations in Sudan are severely hampered. Mercy Corps is closely monitoring the volatile security context in Sudan to ensure the safety of our staff in the country and to prepare to meet urgent needs when it is safe to do so. Mercy Corps is committed to the people of Sudan, and to assisting communities to effectively manage conflict and disasters, bolster recovery, and build secure, just, productive, and dignified lives. Mercy Corps anticipates the greatest needs in the weeks and months ahead to be food, shelter, water, and other basic necessities for people who have been displaced by fighting.
Join us in building a more equitable world.