The facts: The crisis in Ukraine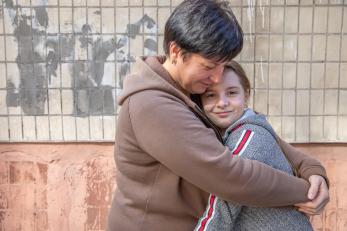 March 01, 2022 • UPDATED December 07, 2022
As 2023 approaches, we will near the one-year mark of the war in Ukraine. Millions of people have fled or are internally displaced—and thousands more have lost their lives.
Mercy Corps has been on the ground in Ukraine, Romania, and Poland since late February 2022, working quickly to meet evolving humanitarian needs and supporting local partners to help provide lifesaving services to thousands of people.
Overall insecurity and lack of access have hampered humanitarian operations across the region. Despite significant challenges, Mercy Corps continues to expand our team, our local partnerships, and our impact. As 2022 draws to a close, Mercy Corps and our partners have reached approximately 100,000 people in Ukraine and surrounding regions affected by the war.
Here's what we know, and what we're doing to help.
How are Ukrainians being affected by the crisis?
It's estimated that 17.7 million people need humanitarian assistance, making this the fastest growing refugee crisis in Europe since World War II. The U.N. reports over 15,500 confirmed civilian casualties with actual numbers likely being much higher.
It's reported that more than 7.8 million Ukrainians have left the country as refugees and at least 7 million are internally displaced. This amounts to one-third of the Ukrainian population. Inside Ukraine, millions of people trapped in temporarily occupied territories are unable to meet their basic needs, including access to food, water, medicines, and electricity.
Unfortunately, these numbers are likely to continue to grow. The UNHCR data portal offers the latest statistics.
What humanitarian assistance is needed?
The most critical needs so far include accompanied evacuations, temporary shelter, the delivery of food and household items to those unable or unwilling to travel, and providing access to information so that people can make informed decisions about their next steps. 
What is Mercy Corps doing to help?
Mercy Corps is on the ground in Ukraine and surrounding regions, funding and working alongside local organisations that know their communities best. Learn more in our recent article: Local partners are vital to supporting millions affected by Ukraine war ▸
Delivering essential supplies in collaboration with local organisations
In Ukraine, partner organisations across the country have provided accompanied evacuations for over 18,000 people from occupied territories, distributed food in hosting centres for displaced people, and supported every stage of evacuees' journey to safety. In addition to evacuation support, Mercy Corps is working with more than 30 partner organisations to provide shelter, food and non-food items, and transportation across the country.
After six months of conflict, shelter continues to be a critical need for people on the move. We helped provide housing to 300 internally displaced people who arrived in Dnipro from the Donetsk, Luhansk, and Kharkiv regions. One of our local partners converted a concert hall, hotel, and office building into shelters for women, children, and the elderly. Initially, this housing was intended as short-term, but because of housing shortages and the challenge of making longer-term arrangements due to the unpredictable nature of the war, many displaced families stayed for weeks.
In Poland, Mercy Corps has provided financial support to organisations who have brought essential services to 52,000 Ukrainians and third-country nationals. Mercy Corps takes care in selecting partners that provide support to the most at-risk groups and groups susceptible to exclusion, such as Ukraine's Roma community, people who are LGBTQ, and people with disabilities, to ensure that anyone seeking safety is able to access assistance. With funding provided by Mercy Corps, Fundacja w Strone Dialogu, an organisation based in Krakow that has been implementing initiatives supporting Roma communities in Poland for over 20 years, purchased car seats for children, provided translation assistance, and arranged transport and accommodation for members of the Ukrainian Roma Community. Mercy Corps partners have also provided basic reception services including transport from border crossing stations, accommodation, legal assistance, and hot meals.
In Romania, Mercy Corps has invested in several partner organisations that are supporting humanitarian efforts, delivering essential supplies such as food and hygiene products to displaced people and returnees within Ukraine. At centres near the Romanian border, our partners hosted more than 4,500 people. As winter nears, we are focusing on providing cold-weather necessities. 
Starting in December 2022, Mercy Corp plans to prioritize refugee support in Ukraine, Poland, and Moldova only. We are continuing to assess our presence in the region to address the evolving needs. 
Emergency cash assistance
Cash assistance is the most effective way to cover basic needs in the areas where markets are available or in the process of recovery. In Ukraine, Mercy Corps has delivered cash aid to newly resettled in Kyiv from conflict-affected regions—prioritising single-headed households, families with children, and people with disabilities. In Poland, Mercy Corps provided cash distribution in and around Warsaw to Ukrainians who fled to Poland at the beginning of the conflict. Cash recipients included women and children evacuated from the Azovstal Steel Plant in Mariupol and African students and their families who are often excluded from support offered to Ukrainians.
Recently, Mercy Corps delivered a new cycle of cash assistance to over 7,700 households, with more than $10 million in supplementary cash going to people facing challenges as winter sets in. This enables families to pay the rent, purchase blankets and warm clothes, or whatever they need most.
Connecting people to information
Mercy Corps has funded organisations in Poland that compile trusted information, such as how to access legal support, shelter, and other services, for newly arrived refugees and third-country nationals fleeing Ukraine into Poland. Culture Lab, an organisation that is usually engaged in strengthening social ties using understanding and trust, created a nationwide database of institutions that actively help refugees from Ukraine. This resource is for institutions and refugees alike, pairing service providers with service seekers and with institutional donors.
Mercy Corps has enabled Fundacja lnicjatywa Dom Otwarty (FIDO) who created a multilingual information platform within a day from the start of the war. Another initiative Mercy Corps supports is developing a portal dedicated to providing information for refugees arriving and staying in the Lubuskie Region in Poland. 
In Ukraine, Mercy Corps is hiring staff to support an initiative for Ukrainians displaced within and outside of Ukraine through Signpost, a platform developed to provide access to critical information in a time of crisis, such as legal rights, documentation, accommodation, transportation, medical care, and more. Mercy Corps has focused on information services for refugees in other contexts, including the European refugee crisis in 2015. Signpost is a global partnership between IRC and Mercy Corps and supports teams in 16 countries. It has reached 2 million people.
What effect will the Ukraine crisis have on other humanitarian crises?
Ukraine is one of the world's leading exporters of wheat, corn, and sunflower oil, including for the World Food Program. Any impact on grain harvests affects many other economies.
A Mercy Corps report highlights the impact of the war in Ukraine on agriculture, food security, energy, and transportation in six Middle East countries (Yemen, Syria, Lebanon, Palestine, Jordan, and Iraq), warning that communities across the region are likely to face heightened rates of food insecurity, deepening dependence on aid, and political destabilisation if there is little or no intervention to combat soaring food and fuel prices. 
The greater Horn of Africa, stretching from southern Ethiopia to northern Kenya and Somalia, is experiencing its worst drought in four decades, causing a food shortage of epic proportions. Now the war in Ukraine is driving this crisis to the brink by raising the price of grains, fuel, and fertiliser. Learn more about the drought in Somalia and Kenya ▸
It is essential that current international attention on Ukraine recognises the devastating secondary impact this conflict is having on many countries already suffering from the effects of climate change, war, and economic collapse.
What is the experience like for Ukrainian refugees?
As the war wages on across Ukraine, families have been torn apart. Across the region, we learned the stories of families who found shelter at some of our partner organisations. We've shared their stories and photos, highlighting the work of our local partners, in a new article on our website: In search of refuge: Ukraine war displaces millions ▸
Mercy Corps CEO Tjada D'Oyen McKenna  provides an update on the situation at the border between Poland and Ukraine in the following video:
A 38-year-old Ukrainian woman who managed to escape Kyiv shared this with us:
"I don't remember what day it is, I don't remember what I'm wearing, and what I ate today. All I remember is that in Kyiv, in the basement of the maternity hospital, my own sister remained, who should have had a planned cesarean, who cannot get her ultrasound done and there is not enough medicine."
Mercy Corps team members observed abandoned strollers — the buses and trains were so crowded that children needed to be carried. People reported being unable to use their wheelchairs or walking aids because of overcrowded transit.
Who is most at risk?
We're particularly concerned about the elderly (making up 1/3 of people in need of assistance) and people with disabilities. Older people are more likely to remain in their home villages, towns, and cities even with conflict ongoing.
We also know that of the Ukranians already displaced from conflict and in need of assistance, a significant percentage (13%) are people with disabilities. The inability of the elderly as well as people with disabilities to leave was a characteristic of the most recent conflict in Ukraine and in other conflicts in the region, including in Chechnya.
The U.N. has already received heartbreaking reports that children and adults with disabilities could not access shelters and have had to stay behind all alone as their families evacuated. The U.N. also warns that people with disabilities living in institutions are at a higher risk of abandonment since staff members are also leaving. There are 2.6 million people with disabilities registered in Ukraine, but the U.N. estimates there are at least 6.6 million.
We've also observed first-hand the challenges third-country nationals are having while trying to cross from Ukraine into Poland. Young students and migrant laborers from Asia and Africa (mostly young, single men) arriving get very little or no reception. They often wait for hours for transport. Many haven't slept or eaten for days, and there is virtually no or very fragmented information for them, including whether they are eligible to stay in Poland, whether they can travel freely with a passport stamp and whether they can go on to other EU countries. We've also heard reports of physical violence against them. That's why we're supporting local organisations in Poland focused on supporting these marginalised groups.
We are deeply concerned by and condemn all discriminatory behaviour. All people have the right to cross international borders during conflict, and every person fleeing Ukraine in search of safety—no matter their race or nationality—should be welcomed. There is never a justification for racism.
What is Mercy Corps' experience working in Ukraine?
Mercy Corps provided humanitarian assistance in Ukraine from 2015-2017 following the 2014 conflict. We provided urgent humanitarian assistance in eastern Ukraine (Luhansk and Donetsk Oblasts) and reached more than 200,000 people. We distributed emergency cash, food, water and sanitation supplies, restored war-damaged homes, and provided small-business development grants and training to help people earn income and support themselves and their families. Here are more details of our work:
We distributed desperately needed food parcels to over 100,000 people in towns in eastern Ukraine as well as urgently needed water and sanitation services. We focused on the most at risk civilians – people who are bedridden, disabled, single parent families, and the elderly, as well as those who do not receive any social benefits or regular income.
We restored war-damaged homes and provided materials or completed house repairs benefiting over 300 households. We worked on a 'one dry-and-warm room' principle to repair houses that have been severely damaged by conflict.
Mercy Corps provided families with emergency cash so families could purchase what they needed.
We provided small-business development grants to help people earn some income and keep the local economy going. These grants included a seven-day business plan training session and eight weeks of mentoring.
Mercy Corps also established and ran a help hotline advertised in newspapers and posters in government and non-government controlled areas. If people required assistance for food, water, and other support, they were able to call the hotline. Mercy Corps community mobilisers then conducted visits to assess details and vulnerability to ensure the right support is provided.
As an impartial and independent aid organisation, Mercy Corps worked in both government-controlled and non-government controlled areas.