The facts: What you need to know about the crisis in Yemen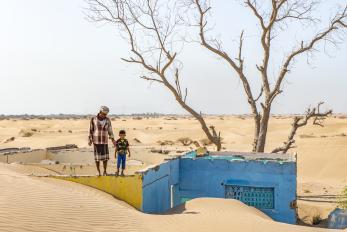 January 21, 2020 • UPDATED July 17, 2020
The crisis in Yemen, caused by prolonged conflict, has led to staggering impacts on human life, basic public services and the economy. More than 3.6 million people have been displaced and approximately 17 million are in desperate need of food.
Almost 100 civilians were killed or injured every week in 2018, and the toll on innocent families is only becoming more severe as escalation in violence has led to increased displacement and death. People are struggling to survive, severe outbreaks of COVID‑19, cholera and other communicable diseases are ongoing, and the risk of famine looms.
Millions of Yemeni people need our help. As of July 2020, more than 24 million people within the country are in need of humanitarian assistance, and the UN's Humanitarian Response Plan for June through December of 2020 is facing a shortfall of more than $2 billion for humanitarian response.
This devastating humanitarian crisis has, for years, gone largely unnoticed. But the world can't afford inaction any longer — too many lives are at risk.
Mercy Corps is there to connect communities with desperately needed resources, but our work is only possible with your knowledge and support. Learn more about the crisis and find out how you can help.
---
Yemen at a glance
Yemen is a country in the Middle East located on the southern end of the Arabian Peninsula. It's bordered on two sides by water — the Red Sea and the Gulf of Aden — and by Saudi Arabia to the north and Oman to the east. It is the poorest country in the Middle East, with a total population of 30.5 million.
What is happening in Yemen?
Since 2014, ongoing conflict between government and nongovernment forces has produced a severe humanitarian crisis. The clashes have destroyed public infrastructure and services, like hospitals and schools, blocked access to basic supplies and forced 3.6 million people from their homes. Over 24 million people — around 80 per cent of the country's population — are in desperate need of humanitarian aid, including food, water and medicine.
The violent conflicts in Yemen date back to long before the unification of former North and South Yemen. The countries joined together in 1990 to form the country we know today. Their unification, however, did not put a rest to the fighting and conflicts.
Thirty years later, violence has continued in a clash for control of Yemen. On top of these government and nongovernment clashes, southern Yemen secession supporters also lead an insurgency against both of the other forces.
As violent outbreaks mount across the country, the most substantial byproduct of the violence is the escalating displacement of Yemeni citizens and one of the most severe food, water and medicine crises in the world.
What effect is COVID‑19 having in Yemen?
Yemen has continued to fragment under the strain of conflict and food shortages. The Mercy Corps team is concerned about the spread of COVID‑19 in fragile communities as the number of confirmed cases is seriously under-counted due to the destroyed health infrastructure.
More than 50 per cent of the country's health facilities have either been destroyed or damaged due to the conflict. In May, authorities warned of rampant transmission of COVID‑19 in Aden and banned movement to and from the city, with the exception of the transport of goods.
"A widespread outbreak of COVID‑19 will be catastrophic for Yemenis already living through the worst humanitarian crisis in the world," says Mercy Corps Country Director Steve Claborne. "Only half of Yemen's health centres are operational, and are already struggling to cope with overwhelming numbers of patients suffering from malnutrition, cholera, dengue fever and injuries of war."
While measures are being taken to control the spread, the people of Yemen are already vulnerable to the virus. Approximately 80% of Yemenis are reliant on humanitarian assistance, many with weakened immune systems and a lack of trust in the health system. A large portion of the population are not taking awareness messages transmitted through TV, social media, and from the Ministry of Health via text seriously.
Aid organisations take every precaution to slow transmission, adhering to movement restrictions between governorates and limiting the size of gatherings. This means it takes longer and is more difficult to get critical assistance to those in need.
Funding gaps in excess of $2 billion also put millions of people in the war-torn country at risk of losing access to life-saving aid. A reduction in health services, such as mobile clinics and community water systems, threaten a spike in cholera and an increase in the spread of COVID‑19.
How did the Yemen crisis start?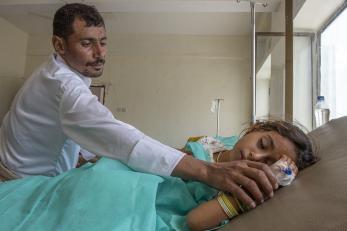 Yemen has been vulnerable for years. Even before the current conflict, around half the population lived below the poverty line, and the country faced chronic instability, weak governance, underdevelopment, unemployment and hunger.
In late 2014, the country's president, Abdrabbuh Mansour Hadi, struggled to remedy his country's challenges, including corruption, unemployment and food insecurity. It was during this time that an armed group called the Houthis moved into the capital city, Sana'a, and took over government institutions. Hadi and other senior government officials fled Yemen after the takeover.
Shortly after, a coalition of a dozen states, led by Saudi Arabia, launched a military campaign to take back Houthi-held areas and restore power to Hadi's government. The conflict has only heightened since then as each of the warring parties attempts to gain leverage, leading to widespread destruction, displacement and hunger for millions of innocent civilians.
What's happening in Hodeidah, Yemen?
Yemen is being torn in two by civil war and civilians are caught in the middle, struggling against three unimaginable nightmares: hunger, disease and economic collapse.
In the summer of 2018, offensives significantly escalated around the critical port city of Hodeidah, where about 80 per cent of the country's humanitarian aid and commercial imports run through. As a result of the flare-up, our team on the ground reported the number of people fleeing the violence increased five-fold and acute malnutrition doubled in just one month.
Hodeidah has since remained a hotbed of violence, with ongoing fighting constraining delivery of desperately-needed humanitarian supplies, trapping civilians on the front lines and forcing hundreds of thousands of others to run for their lives.
Across the country, millions from active conflict zones, like Hodeidah, have fled to rural areas of Yemen where they do not have any source of food or income. People forced from their homes by violence are without the basic necessities to survive both the terrible conditions and the spread of disease.
On December 13, 2018, following discussions on a range of issues at peace talks in Sweden, Yemen's warring parties announced they had agreed to a cease-fire.
The deal signed in December remained stalled for months afterwards, fuelling continued risk to families, humanitarian access and basic supplies. In May 2019, parties to the conflict announced they would withdraw troops from in and around Hodeidah, in the first practical execution of the ceasefire, but renewed attacks were reported shortly afterwards.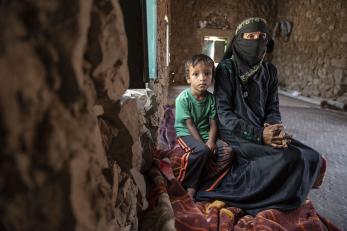 Is there famine in Yemen?
In 2020 the Famine Early Warning Systems Network,, which measures food security in countries around the world, has found that over half of Yemen's population is facing crisis-levels or worse of food insecurity and that a famine could be declared by December if conditions continue to deteriorate. For a famine to be declared, at least 20 per cent of a region's population has to experience extreme food shortages, with significant numbers of deaths due to starvation.
Yemen has been on the brink of famine for years and conditions have progressively deteriorated, particularly as conflict continues, peoples' savings have dwindled after years without income and humanitarian access remains threatened. Currently, the majority of the country does not have enough to eat and it is expected that, in the absence of aid, millions of people will face a growing crisis and higher levels of hunger.
How bad is the hunger crisis in Yemen?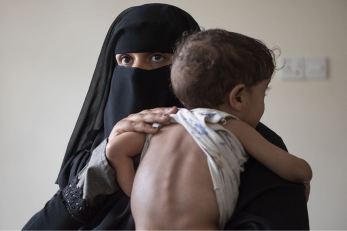 The situation is dire. Yemen imports 90 per cent of its food supply but, because of the conflict, many of Yemen's sea ports have been closed, and goods can't get in easily.
The food that is available is too expensive for families to purchase — the economy is in shambles and many people have lost their sources of income.
Many of the goods included in Mercy Corps' humanitarian food basket — including flour, canned beans, sugar and vegetable oil — have soared in price. For example, wheat flour is nearly 120 per cent more expensive than it was in 2015, before the crisis.
The situation in Yemen is currently the worst humanitarian crisis on earth. In 2019, Yemen experienced one of the world's worst food crises, and it is expected to remain one of the most severe. Access to food is so limited that approximately 17 million people don't have enough to eat, and there is a heightened risk of famine due to prolonged and severe food access constraints of the collapsing economy and COVID‑19.
In these conditions, children and pregnant and nursing mothers are particularly vulnerable. The World Food Program reports nearly 3.2 million women and children are acutely malnourished. And according to UNICEF, the number of malnourished children could rise to 2.4 million due to hunger and aid shortages related to COVID‑19.
In what other ways have people been impacted?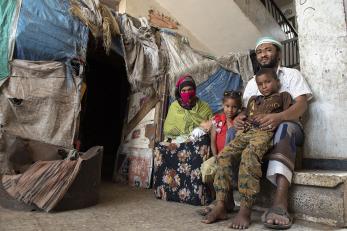 The obstruction of imports means other essentials, like fuel and medical supplies, are also severely limited and cannot be distributed.
More than 20.5 million people lack access to clean water and sanitation, because pumps and treatment facilities have been damaged, and there isn't enough fuel to run the water system. This has exacerbated the risk of disease — an unprecedented cholera epidemic that the country is still recovering from, at one point reaching an estimated 50,000 suspected cases every week.
Outbreaks of dengue fever, influenza and measles have also been reported this year. Yet, more than half of the country's health facilities have been damaged or destroyed, and limited medicine imports are making it over the border.
As COVID‑19 spreads through communities in Yemen, funding shortfalls are taking an enormous toll on delivering life-saving access to clean water and soap. This puts millions at an extreme risk of contracting disease and losing an essential resource for survival.
As of October 2019, more than 12,000 civilians have been killed since 2015, and much of Yemen's critical infrastructure, like the power grid, communication towers, and hospitals has been impaired or demolished. And the economy is on the verge of collapse. Many companies in Yemen have closed — including the central bank, which was shuttered for months in 2018 over a shortage of funds — and millions of people have lost their jobs.
The situation is so disastrous that, in 2017, the United Nations said a child under the age of five was dying every 10 minutes from preventable causes, including hunger, disease and violence. Conditions for families have only deteriorated since then.
How are people surviving in Yemen?
Put simply: families are suffering. About 36,000 people have fled to other countries for safety, but millions more are trapped, unable to leave the country and instead are displaced inside Yemen and living in crowded, derelict shelters or damaged homes.
And with few ways to meet their basic needs, families have told us they've resorted to reducing the number of meals they eat, limiting portion sizes and eating lower-quality food. FEWSNET, the famine early-warning system, classifies nearly the entire country as either in crisis or emergency levels of food insecurity, the phases right before famine when people start to employ these negative coping strategies — skipping meals, selling assets — just to survive.
How is Mercy Corps helping?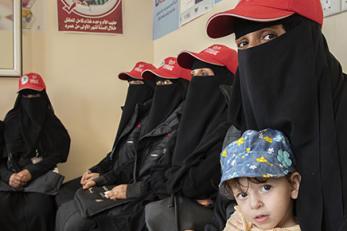 We've been helping people in Yemen meet their urgent needs and build better lives since 2010. And now, we're focused on relieving the intense suffering of innocent people caught in the crossfire of this conflict during a deadly pandemic.
In an emergency setting, this is critical to helping people stay healthy and stopping the spread of cholera and COVID‑19. Mercy Corps has also provided essential support to families and small businesses in Yemen, boosting recovery and community resilience.
Authorities in both the north and south are banning large public gatherings, so Mercy Corps teams have changed the way we distribute aid, requiring hand washing and ensuring social distancing while people wait their turn.
We continue to provide food vouchers to the most vulnerable people. We have also added COVID‑19 prevention messages in our training for community health volunteers.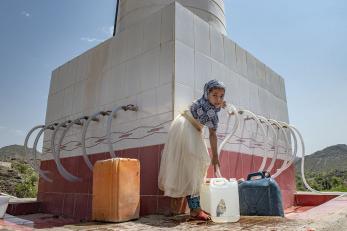 We've helped rehabilitate water infrastructure, including water systems, dams and wells. By improving access to water and sanitation in schools and health facilities, as well as providing nutrition and hygiene education, people can keep themselves as healthy as possible.
These rehabilitation projects have also provided people with short-term employment, helping them to make money to feed their families.
This work happens in parts of Yemen that have been deeply affected by the violence. In 2019, we reached more than 1.2 million people with assistance. We continue to work where we safely can, but operations have been severely hampered by ongoing clashes on the ground and airstrikes that both damage infrastructure and risk the lives of Mercy Corps' staff and the people our teams are helping.
Help us provide even more support to Yemeni families and people in crisis around the world.
Mobilise your community to help Yemenis in need.