Message in the music
From combating xenophobia to misinformation, bringing awareness through songs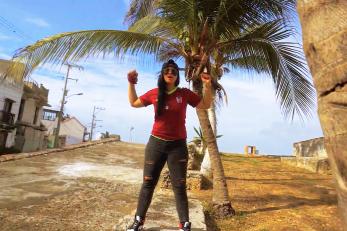 August 02, 2021
A mother wakes with her child at dawn. She feeds her child breakfast before setting off to find work. She earns enough as a street vendor to make ends meet and finally returns home to her child. This is the story woven into Yanka's recent music video, "Mi País," a song about combating xenophobia and underscoring the plight of ordinary Venezuelan migrants trying to make a new life in Colombia—like the mother and her child.
It is not worth it to judge because everyone has their own struggles. The world turns and you don't know where you are going to end up. Help your brother, and surely, life will pay you back.

‑Lyric excerpt from "Mi País" by Yanka
Yanka and her sister fled Venezuela five years ago, joining the 5.4 million refugees and migrants who have left their home country due to an economic collapse and political instability. Nearly 1.8 million Venezuelans have arrived in neighbouring Colombia hoping to rebuild the lives they left behind. Since Colombians themselves face internal displacement due to violence from armed conflict and drug trafficking, there are tensions between Colombians and Venezuelans over limited resources.
A part of Mercy Corps programming in Colombia supports both Venezuelan migrants and vulnerable Colombians by providing emergency cash assistance and access to health care. Along with direct services, the Colombia team collaborates with local governments to bring social awareness campaigns to life. Working with the Cartagena mayor's office, our Colombia team helped Yanka produce a love song for her community, their struggles, and how they wished to build solidarity with their new neighbours. "I know that music can reach people's hearts," Yanka said about how she hopes the song can reach listeners and draw attention to issues that Venezuelan migrants face.
Yanka raps and sings as she makes her way through a vibrant Cartagena featuring Venezuelan food vendors, street performers, and small shop owners in their daily lives. With the city as the backdrop, Yanka confidently raps over the melodic beat, "I say to the countries that receive migrants, to respect their rights and never mistreat them."
An ocean away, Mercy Corps' team in Nigeria led a campaign to push against rampant misinformation on social media. Mercy Corps partnered with African Radio Drama Association to call out the dangers of misinformation and how to not spread it. For more than a decade, conflicts in northeast and northwest Nigeria have displaced more than 2 million people, internally and to countries at their borders, engendering insecurity and a weak economy. Hate speech and rumours have spread easily on social media, fuelling more conflict and inciting violence. Our team believed that if social media was the problem, it could also be the solution, so they created a campaign featuring influencers and artists speaking out.
"Music, as we know, is a strong tool of communication," said performer Fresh Emir. "Looking at the society where I grew up in northern Nigeria and the kind of things happening around me, I felt there were issues that needed to be addressed. I was also aware that only a few artists sing songs to address issues affecting humanity, so I decided to leverage on that to pass on my messages." Mercy Corps enlisted Fresh Emir to write "Jita Jita" (which means "rumours" in Hausa, the common language in northern Nigeria) to connect with younger people in the communities since they were most plugged into social media.
"With fake news, war can be started. In the process, I, you, or her can lose a loved one," Fresh Emir says in "Jita Jita," reminding listeners of the real risk in sharing unverified stories online. Although misinformation is not a new tactic to lead people astray, rumours and hate speech can potentially grow rapidly online and offline. A popular song like "Jita Jita," with over 100,000 views on YouTube and steady airplay on the radio, is a timely reminder to listeners to step back from their cell phones and think before they click "share."
With a hypnotic beat, smooth flow, and compelling lyrics, a catchy song can reach people who may otherwise not be receptive to the message in the music. From combating xenophobia to misinformation, Mercy Corps teams are increasing awareness around difficult topics. Whether it's streaming through speakers or broadcasted on radio waves, music offers an accessible way to learn about issues in our communities and sing along to the solutions.
Learn more about the musical artists: 
Yanka - YouTube, Instagram, and Facebook
Fresh Emir - YouTube, Instagram, and Facebook
Join us in building a more equitable world.