Solar power transforms healthcare in rural Kenya
Mercy Corps' Energy 4 Impact delivers reliable electricity to store vaccines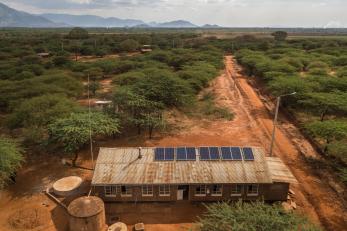 May 26, 2023
Kichangachini, a small health clinic in the remote county of Taita Taveta in Kenya, has become an important rural vaccination hub. In 2020, solar panels were installed to provide steady electricity to refrigerate vaccines for common viruses and diseases, including doses of COVID-19 vaccines supplied by the Health Ministry to serve local communities with limited access to health care.
A local patient, Helen Chari shared, "I've lived in fear of contracting Covid since the onset of the pandemic. I now feel much safer and better prepared to fight the virus should I get exposed." Helen was one of the many patients who have expressed relief at receiving vaccines from her local clinic.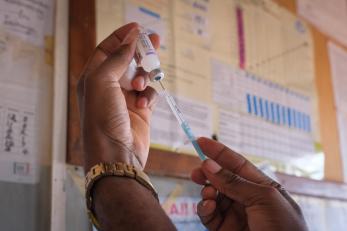 The clinic administers vaccines for common diseases such as tuberculosis, tetanus, measles, polio, pneumococcal infections, and HPV. However, the medical staff at Kichangachini were hampered by a lack of reliable refrigeration. Power outages on the local grid occurred two or three times a month, often for many hours, which could cause the vaccine fridge to be unstable. The clinic relied on a back-up supply of gas canisters to keep the fridge in operation, a comparatively expensive source of energy. Occasionally, the staff was forced to transport the vaccine doses to be stored in another clinic when the gas ran out and until the power was restored.
"It was always very stressful when the power cut out," said Maryann Mwamengi, a nurse and officer in charge at the clinic. "We had to find a local driver with a motorbike to take our vaccines as quickly as possible to a clinic 10 kilometres away. We did everything we could to ensure that valuable doses with the power to save lives would not go needlessly to waste."
Also in Taita Taveta county, the Mata clinic faced similar challenges with cold storage with vaccines. On top of the myriad issues the clinic staff faced, like having to use cell phone flashlights while tending to women in labour or delays in diagnosis because of power outages, they also had to contend with ensuring vaccines were stored properly to avoid spoiling the doses. Once solar panels were installed, Mata staff were better equipped to support their community. "Solar power has not only allowed our clinic to improve diagnosis and treatment, it has enabled us to do more preventative work to stop the spread of common infectious diseases. The store of vaccines in our fridges allows us to provide enhanced vaccinations," said Duncan Mwadime, the clinical officer at Mata dispensary. "Our staff are thrilled that we can now play a greater part in improving the overall health of our community."
Kichangachini and Mata are two of the 54 clinics and health centres electrified by Mercy Corps' energy access platform, Energy 4 Impact. The solar power provides reliable electricity for medical equipment such as centrifuge, microscope, a foetal heartbeat ultrasound tool, oxygen monitors, nebulisers, and heaters—all indispensable for ensuring better and safer outcomes for patients—in addition to the clinic's specialised vaccine fridge. "Inconsistent refrigeration used to make our job harder, but now we can control viruses and diseases in our community more effectively," said Maryann.
Since December 2021, Kichangachini has administered doses to almost 900 patients, in an area with a population of around 2,900 people. Nurses with vaccine carriers also went out into the community to reach patients unable to travel to the clinic because of reduced mobility or lack of funds for transportation. Across the counties of Kwale, Kilifi, Taita Taveta, Turkana, and Isiolo, rural clinics supported by Energy 4 Impact have reached more than 400,000 patients.
Solar power improves health outcomes and saves lives. Rural clinics can provide services to more patients during the day and emergency treatment at night. From more effective treatments because of electric diagnostic machines to helping medical staff carry out safer deliveries on maternity wards, Energy 4 Impact is supporting health in remote Kenyan communities through the power of the sun.
Join us in building a more equitable world.