Scaling West Africa's first female-founded crypto investments platform: Why we invested in Ejara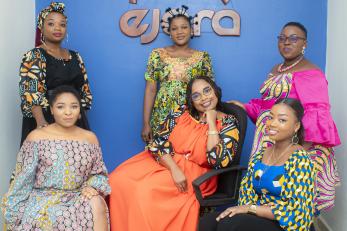 November 10, 2021
Mercy Corps Ventures, the venture capital arm of Mercy Corps, invests in startups building climate resilience and financial resilience for communities across the world. We've supported 30+ ventures to scale and raise over £93 million in follow-on capital. Read on to learn about the role our ventures play in building a world where everyone can prosper.
It's rare to find a tech entrepreneur with a bold, energising vision who is, at the same time, deeply focused on technical execution. Rare to find an entrepreneur able to pinpoint outside-the-box ways to reach potential customers just as well as they know the ins-and-outs of their product. And rarer still for such an entrepreneur to be a woman with a distinguished international tech career… from French speaking Africa… in crypto.
This is Nelly Chatue Diop.
Beyond our deep conviction in Ms. Chatue Diop and the phenomenal team she has assembled around her, we firmly believe in Ejara's mission to leverage the power of blockchain to democratise access to investment and savings products for underserved populations, beginning with their home market in French speaking West Africa. With a massive population, rising mobile utilisation, common currency, and high demand for crypto (due to inflation risk, limited opportunities for savings yield, and low quality payments infrastructure existing today), French speaking West Africa is a market ideally positioned for greater crypto adoption. Ejara has capitalised on this demand, scaling rapidly, while taking a fundamentally different and healthier approach than many other African crypto platforms which encourage "get-rich-quick" day-trading and are laced with scams. By contrast, Ejara emphasises financial education and responsible investing, using one of the first non-custodial wallets in Africa (which Ejara built from scratch to put their users in full control of their assets). Through bite-sized digital training videos, smart use of social media, and creative offline forums to introduce digital financial services to new populations, Ejara is fostering trusted communities and reaching groups historically ignored by financial innovations.
We are thrilled to join a distinguished cohort of co-investors to back Ejara in a historic VC round—the largest raise yet by a female-led startup in this sub-region. MCV is eager to support Ejara as they work to make equitable fintech a reality for underserved Africans, including women (who now account for nearly half of Ejara's users), blue-collar and informal workers, rural savings groups and small-scale agriculturists.
Market need
Francophone Africans suffer from a weak currency, expensive and hard-to-manage bank accounts, and a primary goods export-dependent economy. Despite low rates of financial inclusion (<30% of the population has a bank account in Cameroon, Ivory Coast, Senegal, and Mali compared to 39% in Nigeria and >50% in Kenya and South Africa), mobile ownership in Francophone West African countries is on par with Nigeria or Kenya at ~55%. As a result, businesses and individuals in the CFA currency regions are well positioned to adopt crypto, and have been attracted to it as a cheaper and more efficient alternative for savings and payments. French Africa's population of 430m exceeds Nigeria, Kenya, and South Africa in daily crypto volumes. However, there are no formal mechanisms to obtain meaningful volumes of crypto in local currency—many people are dependent on unreliable peer-to-peer (P2P) transactions and informal channels, such as Facebook, for accessing crypto in local currency. French speaking West Africa is unified by a common currency and has a shared regulatory regime which has been supportive of cryptocurrency and blockchain innovation. This enabling environment along with the previously noted massive demand that is not being efficiently served creates a large greenfield opportunity in the market. With poverty rates hovering around 50%, the expansive crypto market opportunity can only be captured by actors focused on, and capable of, onboarding users across the economic spectrum, including the mass market.
The Ejara solution
Ejara is the first decentralised investment and savings platform to experience regional growth in Francophone Africa. Founded and led by Cameroonian entrepreneur, Nelly Chatue Diop, Ejara's vision is to enable the mass market, including underserved users (e.g., women, urban gig-workers, community savings groups, smallholder farmers, and rural populations) the ability to invest and save in common cryptocurrencies, stablecoins, and tokenised assets. This is done through a simple mobile interface that leverages the benefits of blockchain and crypto to offer lower fees, faster transaction processing, and higher yield than traditional financial services. As a native Cameroonian with an impressive business track record that led her to push against the "glass ceiling" for women in tech, Chatue Diop is keenly focused on reaching female users. Ejara has an industry leading ~40% female user base (3x over crypto averages) with a target for 50% by year.
Furthermore, Ejara's proprietary platform has been custom designed with their end user in mind. Ejara created the first non-custodial wallet in Africa, meaning their users are able to exercise full control over their assets. The wallet is simple to use, lightweight, and in local language, working seamlessly on basic smartphones even in remote settings. More importantly, Ejara provides a range of offline and online financial education and messaging to their users that emphasise the importance of investment and savings, appropriate risk taking, and responsible usage of crypto and blockchain solutions.
From Nelly: "Our vision is to create a world where Africans are no longer consumers of technology but rather shareholders. Over the last 10 years, we have experienced one of the best bull markets in the stock market history and in Francophone Africa, there is no way to capture this excess growth to which we collectively contribute. Ejara is the breakthrough that allows any African to enter the globalised world of investment from their favorite tool, their cell phone, for as little as $8."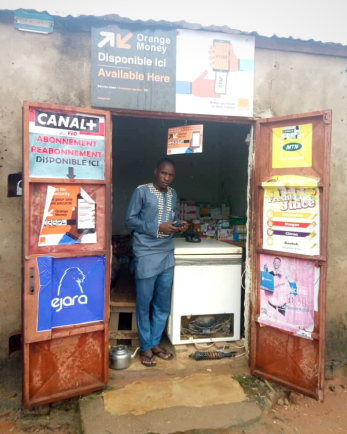 Investment rationale
Ejara has a first-mover advantage in an attractive Francophone market and a strong ethical foundation and mission which aligns with our emerging thesis around equitable fintech and financial resilience. On top of this, we've been drawn to the company for their excellent scaling potential, leadership in education and engagement to facilitate an enabling and healthy crypto environment in the region, and their deep commitment to serve the financially excluded:
Quick to scale: Since launching less than a year ago, Ejara has grown transaction volumes 47% per month, is acquiring users at a 25% MoM growth rate, and has activities in 8 markets (covering all of the leading countries in Francophone West Africa)—all through word of mouth and viral marketing with zero spend marketing to date
Enabling environment: Ejara was certified as a financial investment consulting company by regional regulator, Cosumaf, and has been at the forefront of advising around crypto policy and opportunities to enable French Africa to best leverage the potential of the emerging tech while avoiding its pitfalls
Impact driven: Ejara has a strong impact-driven mission to serve the long tail of the mass market by reaching financially excluded and low income populations. The founder emphasises financial education via online content and training in community settings, which is quickly building user trust, improving retention, and increasing virality of the product
We believe Ejara can be catalytic in creating first time access to digital savings and investment products for under-reached segments by harnessing the power of DeFi and adapting it to a financially excluded user base to facilitate saving, investment, and potentially other financial products not previously available. We are excited to back this phenomenal team in a watershed transaction—the largest VC round raised by an African female entrepreneur in French speaking Africa to date—and a signal and symbol of more to come from the region's and continent's rising profile of exceptional female entrepreneurs!
Ready to donate cryptocurrency?