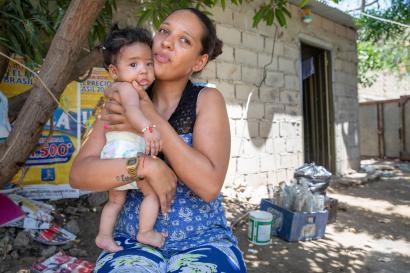 Since our work in Colombia began in 2006, we have been able to connect tens of thousands of Colombians and Venezuelan refugees with the goods and services they need most. In 2019, we reached more than 146,000 people across the country.
 
The context
Colombia has a population of 50 million people — around 10 percent of those people are in need of immediate humanitarian assistance. The people of Colombia have been living with conflict since the 1960s, with non-government actors, drug traffickers and the military fighting for control.
Despite a 2016 peace agreement with one armed group, violence, displacement and instability continue. Some 5.5 million Colombians remain internally displaced. Many come from marginalised, rural, indigenous and Afro-Colombian populations and are unable to meet even their most basic needs.
Entangled in armed conflict, violence and displacement is the drug trade. The Government of Colombia, with strong engagement from the United States, continues to battle high levels of coca production to stem the flow of cocaine from the country.
Along with its own internal conflict, Colombia has been feeling the impact of the Venezuela crisis, as refugees continue to cross the border seeking safety, food, medicine and job opportunities. More than 4.5 million people have fled economic, social and institutional turmoil in Venezuela since 2016. Colombia has received the greatest number: The country currently hosts more than 1.8 million Venezuelan migrants and refugees.
Economic opportunities for Colombians where migrants settle were already scarce. Growing competition for jobs and resources is exacerbating numerous challenges that their communities are already facing.
In spite of these challenges, the people of Colombia are optimistic and hopeful for a brighter, more stable future.
Our impact
Since 2006, we have been working to provide immediate cash assistance to refugees and displaced populations, help children and young people heal from extreme stress, and empower farmers to improve their livelihoods. Our work is concentrated in three areas:
Now, as Colombia faces the COVID‑19 pandemic, we are adapting our programmes so that we can still safely deliver assistance and protect the communities we serve. We are also developing further programming to support communities with a wide range of services, including access to reliable information, hygiene kits, protective gear, and other essential items to prevent the spread of the virus.
Emergency response
We provide emergency cash assistance to Venezuelan migrants and refugees and vulnerable Colombians affected by the strain of Venezuelan migration. Alongside other leading organisations, we'll reach nearly 90,000 people with emergency cash over the course of 18 months. After just four months, we have already reached more than 31,400 people with approximately $830,000 USD. People use this money to pay for food, water, hygiene items, shelter, and other essentials.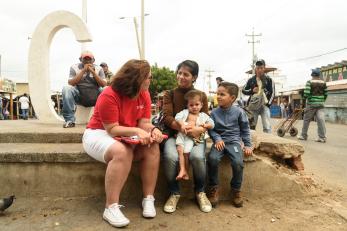 We're also providing medical support for people by paying for prescriptions at local pharmacies, x-rays, doctor visits and other medical services in the department of La Guajira. Medications are used to treat conditions including respiratory illness, diarrhea, malnutrition of children under the age of five, eye and ear infections as well as high-risk pregnancies.
In partnership with NetHope and other responding organisations, we have imported and installed WiFi connectivity in shelters, migration and feeding centers, and educational facilities. This equipment is helping 115,000 people access the internet and critical information services.
Agriculture and land titling
In rural Colombia, we help farmers secure formal titles to their land and move toward legal crops and livelihoods.
We work with local partners to solve territorial disputes, bringing conflict resolution methods to farmers, Afro-Colombians, and indigenous communities who lack secure land tenure and live in areas heavily affected by conflict. In our mediation programmes, we focus on fostering women leaders who can acquire land titles and resolve conflicts. We use technology to help determine land boundaries and inform decisions on the use of land and natural resources. As families resolve conflicts and acquire formal land rights, they are able to increase their agricultural productivity and build healthier communities.
We also teach farmers how to implement more sustainable farming practices. We connect them to technical assistance, training, and loans needed to enhance the quality and commercialisation of their crops and boost their income. We focus specifically on empowering women and youth, especially around small business development and overall economic empowerment.
Youth protection
We protect the rights of children and youth victims of conflict, abuse and violence — paying particular attention to psychosocial care and critical thinking to help children and youth forge the pathway to a healthy, productive future. Our alternative education models help close the cycle of violence. We build protective networks among teachers, parents and government institutions at the local and national levels. We also teach former child soldiers income generation and leadership skills so they can put violence behind them and play a positive role in society.
We have provided education and skills building to more than 62,000 children and teens in conflict zones of Colombia.
Help us build a more equitable world.
See all the ways you can fundraise for change.