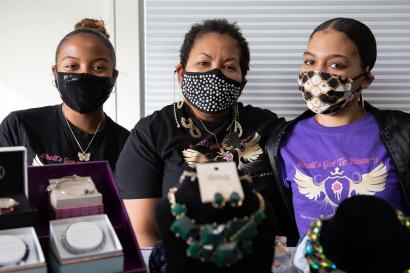 Around the world, including in the United States, Mercy Corps partners with communities to create innovative solutions that empower people to overcome adversity in the face of crisis, inequality, and hardship. Our U.S. programmes are based in the Pacific Northwest, where Mercy Corps was originally founded, and Puerto Rico, where we've been rebuilding since Hurricane Maria.
The Pacific Northwest
Small business support through Mercy Corps Northwest
Mercy Corps has been serving communities in the Pacific Northwest since 1998. Our work is currently focused on supporting small businesses and helping underserved populations build stronger lives. In 2020, we reached over 27,000 people through our work.
Across Oregon and Washington, Mercy Corps supports economically disadvantaged entrepreneurs and small business owners in overcoming barriers to start and maintain a business. A large barrier to breaking the cycle of poverty is immediate access to financial support and the ability to leverage self-employment as a means to generate income. That's why Mercy Corps is focused on providing business education, grants, and microloans to meet people where they are, regardless of their background or financial situation—prioritising women and communities of colour.
This work has been even more critical as small businesses across the Pacific Northwest have experienced devastating losses due to COVID‑19. Since April 2020, Mercy Corps Northwest distributed more than £2.9 million in grants to over 650 small business owners in Oregon and Washington and offered over 1,000 entrepreneurs access to free business education. This support was focused on those most impacted by the pandemic including undocumented, Black, and women entrepreneurs.
Find out more about Mercy Corps Northwest ▸
The Community Investment Trust
Owning real estate is one of the major drivers of wealth in the United States. But for many, it's not a possibility. Predatory lending, historic redlining, and gentrification contribute to the increasing wealth gap, leaving communities of colour and the economically disadvantaged behind. Mercy Corps' Community Investment Trust is on a mission to bridge this gap and make it possible for all people to own assets where they live.
Started in Portland, Oregon, the Community Investment Trust provides residents in low-income areas and communities of colours with affordable real estate investment opportunities so they can build long-term financial stability while investing in their communities. First, we facilitate "Moving from Owing to Owning" classes to help residents change their mindset and begin to see themselves as investors. Then, unlike other financial education programmes, we immediately offer an opportunity to take action toward building wealth. Neighbourhood members can invest £7-£70 per month in a local commercial building. In return, they receive a yearly dividend and a share price increase based on the value of the property and the paydown of debt.
Most of our investors are women, people of colour, refugees/immigrants, and first-time investors. Our model is helping communities who have long been shut out of the financial system to "buy back the block" and build wealth where they live. We hope to expand the Community Investment Trust to neighbourhoods across the United States.
Learn more about the Community Investment Trust ▸
Puerto Rico
Mercy Corps started working in Puerto Rico in 2017 when Category 4 Hurricane Maria plunged all 3.4 million residents into a desperate humanitarian crisis. The entire island lost electricity, and access to food and clean water became limited for most. It took almost one year for the power to be restored for everyone, making it the largest blackout in U.S. history.
While parts of the island are still recovering from the trauma and destruction caused by the 2017 storms, 2020 brought several additional emergencies: strong seismic activity, drought, and of course, the COVID‑19 pandemic.
Mercy Corps has been helping to improve community resilience so that when these kinds of shocks occur again, the most vulnerable Puerto Ricans have the skills and resources they need to cope and recover quicker. Last year we reached over 45,000 people through our work.
We helped transform 17 local community centeres into resilience hubs, equipping them with the skills and resources they need to help their community disaster strikes. Each hub has a different combination of solar energy, potable water storage, communication systems, emergency kits, and disaster preparedness training. These resilience hubs now operate independently of Mercy Corps and are prepared to support more than 100,000 individuals in vulnerable communities in the event of a disaster. They have also played a critical role in spreading COVID‑19 prevention messages among communities.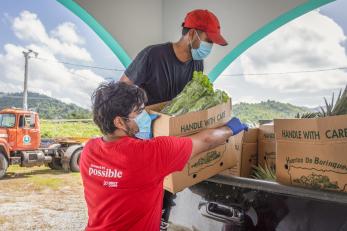 We have also been supporting farmers, fisherfolk, and small businesses to build back stronger, survive through the pandemic, and be better prepared for future disasters. We provided cash assistance to Puerto Ricans in industries that were most affected by the multiple crises, so they could cover operating costs and support their families when sales were slow. In our experience, the local economy is the best engine for strong, long-term recovery after disasters.
Lastly, in collaboration with local health and media organisations, Mercy Corps is delivering tailored communications campaigns to debunk common misconceptions about the COVID‑19 vaccine, fill information voids, and increase vaccine acceptance. We are doing this by monitoring and analysing conversations on popular social media networks as well as through in-person listening sessions in more remote communities. Based on what we learn, we tailor our information campaigns to address local concerns.
Help us build a more equitable world.
See all the ways you can fundraise for change.