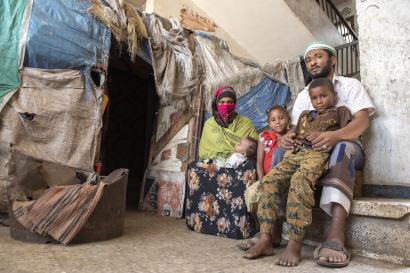 Since 2010, Mercy Corps has been providing urgent life-saving assistance while also working to address longer term needs. Last year we reached over 1.1 million people across Yemen.
The context
Yemen is experiencing the largest man-made humanitarian crisis in the world. Even before the current conflict began in 2015, around half the population lived below the poverty line, and the country faced chronic instability, weak governance, unemployment and hunger. Today, 66%, or 20 million people, are in need of humanitarian assistance and nearly half of the population suffers from extreme levels of hunger.
Over the last six years, the conflict has destroyed towns and cities across Yemen, displacing millions of people and disrupting the flow of the economy.
High unemployment rates and a sharp drop in money being sent home from family members abroad because of the COVID‑19 pandemic are greatly impacting people's ability to afford basic necessities. Food prices have skyrocketed as the value of Yemen's currency continues to depreciate. So while food is available in the markets, most families can't afford to buy it.
Small businesses have been hit the hardest. Many were forced to shut down because they didn't have the cash on hand to repair physical damages or keep sufficient stock, especially with the spike in prices. Plus, the majority of businesses haven't been able to secure a loan since the war began in 2015. Those who have been able to stay afloat are operating at reduced capacity and struggle to make enough to support their families, let alone reinvest in their businesses.
In these conditions, children and pregnant and nursing mothers are particularly vulnerable. Nearly 3.5 million women and children are acutely malnourished. The latest numbers mark a stark 16% increase in the last year among children under five.
COVID‑19 continues to spread, but the true scale of the outbreak is unknown. Meanwhile, each rainy season marks a wave of cholera, dengue and malaria. The country's health facilities, operating at only 50%, struggle to meet the overwhelming need — the other half were destroyed or significantly damaged from the war.
More than 15 million people lack access to clean water and sanitation, heightening the risk of water-borne illnesses and now, COVID‑19. Water pumps and treatment facilities have been damaged from the war, and there isn't enough fuel to run the water system. Climate change also plays a role. Flooding is becoming more frequent and has the potential to contaminate what water sources are available.
Safety, health, nutrition and livelihoods are at stake in Yemen, which is why we're providing support to the families most affected. Together we can help them meet the needs of today while building a stronger tomorrow.
Our impact
Since 2010, we've been helping people in Yemen access food, clean water, health services and work opportunities so they can be more resilient in the face of future challenges. We are focused on:
As Yemen continues to face the COVID‑19 pandemic, we are taking the necessary precautions so we are able to continue supporting communities safely. We are also sharing prevention messages as part of all our programmes.
Providing humanitarian assistance
Mercy Corps is providing food for the most vulnerable families through vouchers. These vouchers are redeemed for a basket of essential food items including wheat flour, canned beans, sugar and vegetable oil. In the Taiz governorate, we provide food vouchers to more than 32,000 families a month, most of whom have fled here from other places in an attempt to keep their families safe. Some families have been here since the beginning of the war without being able to work or have a source of income.
We are also supporting health facilities to treat cases of severely malnourished children, provide health and nutrition services for pregnant and nursing mothers, and share guidance on how to stay safe during the COVID‑19 pandemic. To ensure we are reaching the most in need, we support mobile clinics and a network of community health workers who conduct door-to-door outreach.
We are also helping to rehabilitate health care facilities that have been damaged in the war or neglected due to lack of resources.
Improving access to water, sanitation and health services
We are rehabilitating water infrastructure, including water systems, dams and wells. Previously many women and children were walking hours to fetch water each day. Now it comes directly to their village. These rehabilitation projects also provide people with short-term work opportunities, helping them earn money during a time of very high unemployment.
 
Our network of community health workers conduct door-to-door and public awareness campaigns in Aden and Taiz governorates to promote good hygiene practices related to COVID‑19, cholera and other common diseases. Together, we are helping people have the knowledge and resources they need to keep themselves and their families as healthy as possible.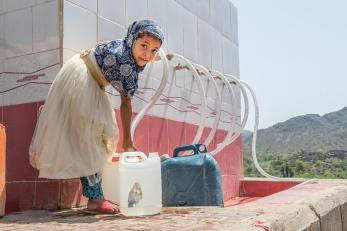 Increasing opportunities for income generation
Yemen's economy has been devastated by six years of civil war, leaving millions of families dependent on humanitarian assistance. While that assistance remains critical, Mercy Corps is committed to investing in the local economy. 
We provide business continuity training, mentoring services and small cash grants so entrepreneurs can revive old businesses or launch new ones. We are also helping people, particularly youth, gain the skills they need to find work. 
When small businesses are given the opportunity to thrive, they hire locally, positively impacting their community and jumpstarting the economy.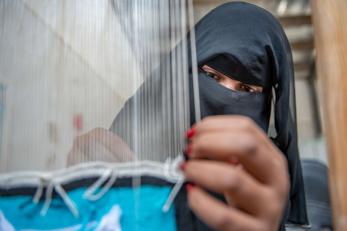 Help us build a more equitable world.
See all the ways you can fundraise for change.