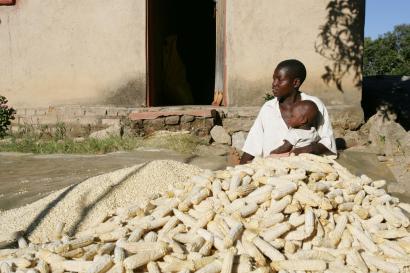 Our response to Cyclone Idai
Cyclone Idai struck Mozambique, Malawi and Zimbabwe in mid-March 2019 with reported deaths of hundreds of people across southern Africa, with thousands more affected. We're responding in Zimbabwe, where this is the first cyclone to hit the country in over a decade.
"Yesterday Mercy Corps reached more than 1,600 people in Chipinge district, Manicaland province, with emergency water, hygiene and sanitation supplies. In the aftermath of a natural disaster of this scale, we know we must do everything we can to prevent the spread of disease and more deaths," says Mildred Makore, Mercy Corps Director of Programmes in Zimbabwe.
"Our teams are still striving to reach Chimanimani, which is the district most cut off from relief efforts. There is no power, and hospitals have run out of fuel to operate backup generators. Time is of the essence as we race to reach people affected.
"Manicaland province is dominated by rugged mountains so getting to affected communities is not straightforward. With bridges destroyed, we have to rely on air support to transport our urgent relief the final mile."
The context
Zimbabwe struggles with severe unemployment, diminishing access to health and education services and a steady decline in purchasing power. Once the breadbasket of southern Africa, it is now food-insecure and lacks the critical infrastructure and support mechanisms needed to help its most vulnerable citizens and stimulate economic growth.
The context
Agriculture & Food: Reducing dependence on food aid by providing training, lowering barriers to credit, and supporting market-oriented community development approaches.
Children & Youth: Supporting children with disabilities and reducing barriers to their participation in mainstream economic activities.
Innovations: Using mobile technology to provide farmers with agronomic extension information, financial and market services.
Water: Improving access to quality drinking water and sanitation services and environmental hygiene at community and household levels.
Help us build a more equitable world.
See all the ways you can fundraise for change.