Small farmers, smart tech, and finding solutions in the face of climate change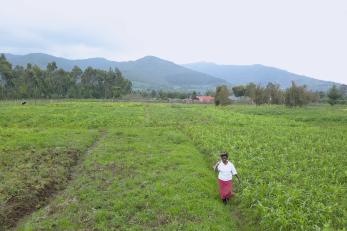 July 14, 2021
Brian Mouti learned all he knew about farming from his parents. In 2016, he began farming on his own and faced severe challenges from recurring droughts. From his small homestead, where he lives with his wife and son, he wrestled with what could be done for the small plot of farmland he rents just downhill from his home. His two-acre farm is in the village of Kapsita, at the base of the Mau forest in Kenya's Nakuru County, where most farms rely solely on rainwater to irrigate their crops. Rainfall is increasingly uncertain because of climate change, leading to precarious dry seasons. Although he was raised on a farm, nothing could have prepared Brian for the harsh consequences of climate change.
"Is it going to rain, or will we experience drought?" Brian said. "There's that much unpredictability when it comes to the climate." Eighty percent of the population in Sub-Saharan Africa and Asia rely on food grown by smallholder farmers like Brian. Yet these farmers struggle to maintain a viable livelihood as climate change drives frequent weather shocks, like extreme temperatures, drought, flooding, and land degradation. Opportunities to get ahead—save, invest, expand—are limited or non-existent. Farmers are now struggling under a global pandemic and the largest desert locust invasion in 70 years. Another challenge they face is the lack of access to financial services, current technology, and vital supplies like high-quality seeds and fertiliser.
Mercy Corps' AgriFin programme partners with organisations to help farmers like Brian with products and services to grow sustainable farms for the long term. Since 2012, we've collaborated with 150 organisations across eight countries reaching six million smallholder farmers. By performing extensive research with smallholder farmers, we understand their specific needs and find the best partners to serve them. AgriFin works with companies like tech start-ups and financial institutions to design, test, and scale products and services that can transform agriculture for small farmers. Through AgriFin, farmers receive the services and support they need most, including inputs like seeds, access to markets, and financing.
It's stories like Brian's that drive home how AgriFin can help smallholder farmers access the right tools. Since our team is based in Nairobi, also known as the "Silicon Savannah," we're able to partner with organisations in the region to create sustainable solutions. In Brian's case, he needed access to an affordable and reliable way to keep his crops watered despite impending droughts. One of AgriFin's partners, a company called SunCulture, had the answer—a solar-powered water pump. During the dry season, Brian spent four hours a day drawing water from a borehole and carrying it back in buckets to irrigate his crops. With the solar-powered water pump he can water all of his crops in 30 minutes. The time saved enabled Brian to expand and diversify his farm by growing more varied crops that meet seasonal demand. With AgriFin's support, SunCulture fine-tuned their water pumps based on product testing, set up flexible payment terms for its customers, and expanded its distribution to reach more vulnerable farmers.
Digital technology that many of us take for granted can offer breakthroughs for smallholder farmers. SunCulture's solar pump links wirelessly to mobile phones to provide updates on weather conditions, pump supply levels, and energy usage. As an AgriFin partner, we helped SunCulture to expand outside of Kenya by arranging trusted collaborations with our partners in the other countries where we work. SunCulture now offers their solar irrigation system and technology to farmers in Zambia, Tanzania, Uganda, and Ethiopia to help them grow more food and ensure greater food security while facing climate change.
Connecting with women farmers
Of the six million farmers we've reached, 40% of them are women. Women farmers are more affected by climate change because they have access to fewer resources to be productive. They have less access to water, land, and receive less information about the impact of climate change. Over the last six years we've focused on helping farmers increase productivity and income, but it's becoming more difficult to hold onto those gains due to climate change. What AgriFin does to help build climate resilience must also work for women because they make up 51% of Africa's farmers.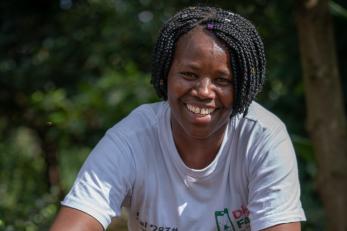 Despite the obstacles that women farmers may face, Norah Chepkirui has found a place in her community as an advisor. Inspired by her brother, she decided to also become a farmer. She lives in a remote farmstead with her three children and extended family in Bomet County, Kenya. She is a single mother and a student of agriculture. Once Norah began farming herself, she realised she had a natural aptitude to share her skills with others in her community. Initially, she worked as a volunteer training farmers through NGOs. "Those seminars built my passion for working with farmers," she said.
Her knack for connecting with her farming community made her a perfect candidate to work with another AgriFin partner, DigiFarm, as a field agent. The mobile platform offers one-stop access to vendors selling supplies, educational content for best farming practices and financial literacy, and potential buyers for their crops. AgriFin contributed to DigiFarm's development by providing market research, building a business model, assisting with partnership deals, and supporting field agents like Norah.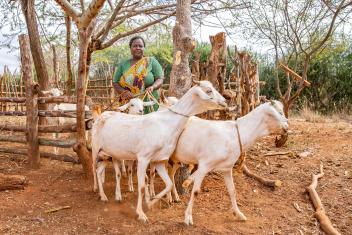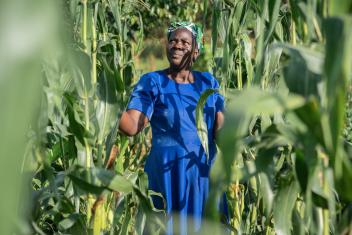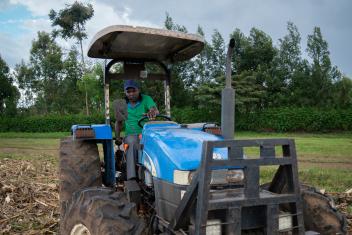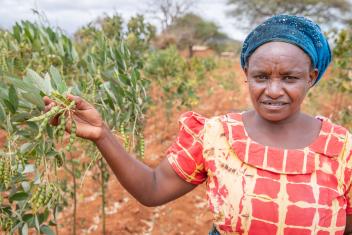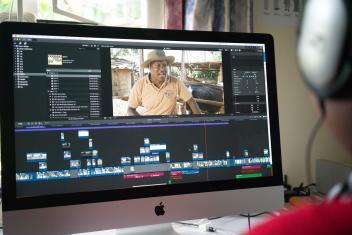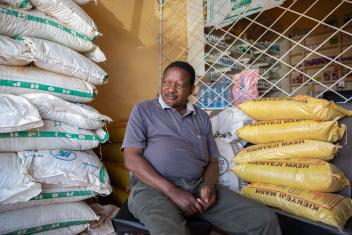 One of the key lessons we've learned after a decade of programming is that the technology itself will only get us so far in reaching farmers. We must also support people who can engage with farmers to get the most out of digital platforms created by our partners. As a field agent, Norah offers a human connection to technology that may be new or intimidating to some people in her community. She introduces farmers to the DigiFarm platform and trains them throughout the agricultural cycle, helping them access high-quality seeds and collect produce for the market through the app. Additionally, DigiFarm field agents earn a fee for every person they register and Norah has recruited enough farmers to pay her children's school fees.
Although Norah loves her work as a field agent, it can be difficult navigating gender norms and traditions. Regardless of her level of experience, not everyone is open to accepting direction from a woman. But farmers' attitudes change when they see improvements in their crop health and yields due to Norah's advice. She often conducts demonstrations on best farming practices on her own farm. "You can't just say, 'Do as I say but not as I do,'" she said. "You have to prove to people your product by demonstrating yourself."
It's invaluable to have field agents like Norah to reach women farmers with services and products that can increase and stabilise their livelihoods. We've helped our partners integrate feedback from women farmers to ensure their needs are met. For example, the lack of time and mobility can limit a woman's ability to sell her harvest. In order to solve this issue, we support our partners in coordinating and strategising how to collect crops directly from women's farms and deliver them to market. Women farmers who have used services and products by our partners have told us they've increased their learning, confidence, and decision-making power on the farm and in the household. 
Growing smarter with partnerships
Looking forward to the future of AgriFin, we're very excited about our partnership with NASA to connect farmers with satellite data. State-of-the-art imagery and analysis will help farmers manage their crops and adapt to climate change. Working with NASA will bring satellite-to-soil data, providing insights into weather, soil moisture, water availability, the best crops for each field and the right time to plant. There's a huge distance between observational data gathered from space and practical tools for the farmer—but we're up for the challenge.
It's our partnerships that power AgriFin to make a meaningful impact in the lives of smallholder farmers. We are committed to working alongside farmers to design solutions for their most urgent needs. Together, we'll take millions more farmers from subsistence to sustainable agriculture.