One year of war: Communities cope amidst a crisis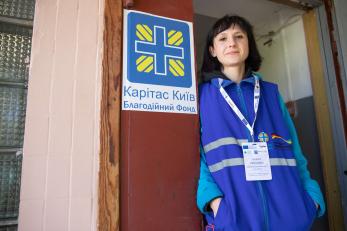 February 14, 2023
As the world marks one year since the full-scale invasion in Ukraine, the war continues to injure and kill thousands, tear families apart, and displace millions in search of safety. According to the U.N., nearly 8 million people have fled Ukraine and approximately 6.5 million people are displaced within the country. More people remain in conflict-affected areas without access to food, water, medical care, heating, and electricity.
The ongoing conflict has had a devastating impact across the region, creating a dire need for humanitarian aid. Since the attacks began in February 2022, Mercy Corps has been on the ground in Ukraine, Poland, and Romania reaching more than 1.38 million people who have been affected by the conflict. Mercy Corps' response prioritises providing cash aid—delivering more than $12 million in cash aid for people to meet their most urgent needs—and partnering with local organisations that understand their communities' challenges to receive essential supplies and services like legal aid and mental health support.
At the outset of the 2022 invasion, Mercy Corps partners helped evacuate tens of thousands of people. Families have been forced to make the difficult decision of leaving everything they know behind or staying in their homes despite the encroaching danger of violence. Mykola Ivanovych, who has lived in Kyiv since 1966, decided to remain in the capital city even as he witnessed missile strikes from his apartment's balcony. His daughter, grandchildren, and great grandson live in nearby neighbourhoods.
The stress of the war caused his daughter to seek care for mental health issues and his granddaughter required severe dental treatment after nine of her teeth fell out. Mykola received support from a local Mercy Corps partner, Caritas, who distributed cash aid funded by Mercy Corps. Mykola used the money he received to pay for his daughter and granddaughter's health treatments, buy food, and make repairs in his home. When Mykola was asked about his hopes for Ukraine's future, he said, "I want everyone to have peace to stay in this country."
Local partners like Caritas are critical to Mercy Corps support for people affected by the war. Since they have established networks and relationships within the community, local organisations are crucial for ensuring aid is appropriate and effective, especially because situations can evolve quickly in a crisis. Caritas focuses on families, particularly those with children, pregnant women, and elderly adults who have been displaced internally due to the war. Mercy Corps has worked with Caritas to provide more than 1,200 households with cash assistance to help pay for essentials like rent, clothing, and medical treatments. In addition to cash aid, Mercy Corps has partnered with 87 organisations in Ukraine, Poland, Romania, and Moldova to directly provide families with food, supplies, medicine, and mental health support.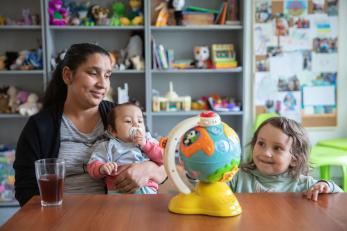 The effects of the war in Ukraine extend beyond its borders, with many people seeking refuge in neighbouring countries. Nadiia Hornak was pregnant when she first fled from Lviv in March 2022. She was alone with her children while her husband stayed in Ukraine. In Warsaw, Poland, she delivered her youngest son and yearned to return home. Nadiia and her children returned to Lviv during a lull in the conflict and reunited with her husband. It was a short-lived reprieve, the violence intensified. Nadiia and her children fled to Warsaw once again in the autumn.
During her first and current stay in Warsaw, Nadiia has received support from Fundacja w Stronę Dialogu, a community centre and local Mercy Corps partner. As a Romani Ukrainian refugee, Nadiia has found community at Fundacja w Stronę Dialogu because of their focus on providing integration services for migrants from marginalised communities who fled Ukraine. Romani refugees from Ukraine face additional barriers on their journey to find safety due to discrimination.
Mercy Corps partners like Fundacja w Stronę Dialogu are vital to reaching people from marginalised communities during an already precarious time. The organisation offers food, medicine, legal aid, language classes, and mental health support. Nadiia has received food, clothing, job seeking assistance, and help with temporary housing as she and her family acclimate to life in Warsaw. "People here are very open and very kind," said Nadiia. "The community is very accepting."
For almost a year, Mercy Corps has supported refugee services in Romania and at the border. The Romanian government has since successfully implemented sustainable support for refugees. Mercy Corps will adapt and shift our focus from Romania to Moldova, where we are setting up offices in the capital city of Chisinau to begin serving communities affected by the war. As the lowest-income country in Europe, Moldova has been in a dire economic situation since 2022, with food and fuel prices skyrocketing. Together, we can help both the host and refugee communities in this ongoing crisis.
Amidst the devastation of conflict, Mercy Corps and our partner organisations and communities are working to create safe spaces for children and families coping with trauma, providing emergency cash distributions so people can meet their needs with greater choice and dignity, and prioritising marginalised groups with limited access to resources. We continue to assess and adapt our efforts across the region, as a source of immediate relief and long-term support for communities on their journeys forward.
Join us in building a more equitable world.