The weather forecasting algorithm building farmer and food system resilience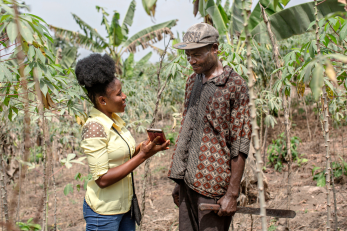 November 17, 2021
Mercy Corps Ventures, the venture capital arm of Mercy Corps, invests in startups building climate resilience and financial resilience for communities across the world. We've supported 30+ ventures to scale and raise over £75 million in follow-on capital. Read on to learn about the role our ventures play in building a world where everyone can prosper.
Exposure to climate shocks and food insecurity is high for those living in the tropics, with many of the most vulnerable at the front lines of both risks. If the needs of these populations are ignored, these pressures will only lead to further food insecurity, conflict, and displacement.
As a team, we've been thinking about these trends and focusing on solutions that increase adaptation and resilience to climate change. We're not alone. The U.N. Secretary-General, António Guterres, has called for "50% of the total share of climate finance to be spent on building resilience and adapting to the effects of a warming world." This thinking has driven some of our recent investments in Topl, Cloud to Street, and Ignitia—solutions that address different risk areas for the people at the heart of global food systems: smallholder farmers.
Market need
Smallholder farming is becoming more and more volatile, and this is especially true for the 500 million farmers that live in tropical regions, which represent 75% of the world's farmland. These farmers, their supporting vendors, and the food systems that depend on them function without weather forecasting tools tailored to their needs, and the impact on the market (low and inconsistent food supply, low yields and loss of income) is significant. This will be magnified by climate change as it intensifies already turbulent weather in the tropics, and as global demand on food systems increases. In Sub-Saharan Africa alone, weather is responsible for 20–80% of all yield loss, which leads to higher price fluctuations for both farmers and consumers. This reality makes access to accurate weather forecasts arguably the most important tool for smallholder farmers to increase their resilience to shocks and help stabilise income, but the science involved to predict a tropical atmosphere is complex. Forecasts have never been accurate and have for a long time been referred to as the "physics of no man's land."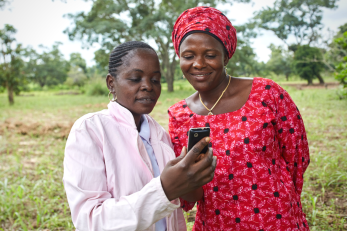 The Ignitia solution
Ignitia has developed highly local and accurate tropical weather forecasts for small farmers and related agricultural businesses, whose critical decisions are guided by the timing of precipitation. Delivered via SMS to subscribers' phones, the Ignitia model is calibrated to tropical weather patterns, as well as the higher degree of geographical specificity, which means that they are able to predict weather twice as accurately for tropical regions as global models. Ignitia's algorithm is its 'secret sauce' because it's focused on rural micro-climate areas of the tropics—a distinct advantage from others in the market—to deliver the most accurate, localised (within 1–3km), real-time (6–48 hours) weather forecasting for rural populations. Ignitia's initial products are Iksa (+), aimed at smallholder farmers, and OJO, targeted at actors in agricultural food systems.
We are going to have to feed a population of 9 billion people by 2050, with dwindling resources, we therefore need to do more with less. By knowing what the weather is going to be with our unique weather forecast for the tropics, we are able to help the farmers double their yields.

Liisa Smits,

Founder & CEO, Ignitia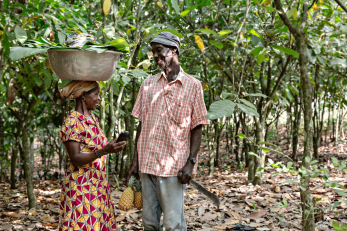 Investment rationale
Small-scale agriculture is often at odds with industrial agriculture, which finds efficiencies by increasing outputs, practicing monoculture, and consolidating land under big agricultural operations. If we're to find incentives to offset the risks of this pattern, investments in solutions like Ignitia's will lead the way. In just four years, Ignitia went from focusing on scientific research to winning and delivering partnerships with large multinationals. In the last two years alone, Ignitia has been able to prove demand and farmers' willingness to pay, which is rare in value-added services. Most compelling, via independent impact analysis, farmers utilising Ignitia's weather forecasts have demonstrated an income improvement from USD1.9/day to USD3.1/day. This depth of impact is very rare in our experience with startups in the digital agtech space.
Their weather forecast service has had a positive effect on recovery of 79% of farmers they worked with who faced a shock in the last two years, and 87% of farmers shared how the Ignitia service had improved their quality of life.
Quotes from farmers using Ignitia products:
"My farm produce is better now because I know better when to apply fertiliser, when to apply pesticides and when to take any step I need on my farming activities because of the weather update Iska weather forecast [Ignitia product] gives. It is really helpful."
"We have seen improvement and differences between the time when we didn't use the forecast and now that we are using the forecast. The quantity of our yields have increased more than before, even the seeds quality have improved. Our plants look good."
Ignitia's vision is to scale and serve 200 million smallholder farmers around the tropical belt by 2030, helping them modernise farming practices, maximise the use of their land and agricultural inputs, and increase their income. Ignitia's industry-leading forecasting science, proven distribution model and validated farmer value proposition position it well to take advantage of the massive market gap globally.
Help us develop creative solutions to crises across the world.