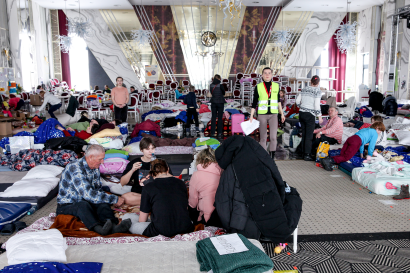 A devastating catastrophe is unfolding in Ukraine and in the region, costing and threatening lives and livelihoods, driving families apart and causing mass displacement.
Mercy Corps is on the ground in Ukraine, Romania, and Poland, working quickly to understand the evolving humanitarian needs as we respond. We are currently funding local organisations that know their community needs best and are already working quickly to provide assistance to refugees and Ukrainians inside the country. Local organisations we're supporting are distributing items like medical supplies and food staples, including into eastern Ukraine, and supporting marginalised groups like third-country nationals and members of Ukraine's Roma community crossing into neighbouring countries.
As our response gets underway, we plan to provide emergency cash assistance and connect people on the move with information, such as where to access basic services, information on safe routes, and legal rights.
We expect the greatest needs to be in eastern Ukraine as intense conflict decimates food supplies, infrastructure and access to water, electricity, healthcare, and all essential services.
More than 3 million people have already fled Ukraine since February 24, making this the fastest growing refugee crisis in Europe since World War II. The United Nations estimates 10 million Ukrainians —a quarter of the population—could be displaced, both inside and outside of the country.
We're particularly concerned about the elderly (making up 1/3 of people in need of assistance) and people with disabilities. Older, vulnerable people are more likely to remain in their home villages, towns, and cities even with conflict ongoing. We know that of the Ukranians already displaced from conflict and in need of assistance, a significant percentage (13%) are people with disabilities.
The inability of the elderly as well as people with disabilities to leave was a characteristic of the most recent conflict in Ukraine and in other conflicts in the region, including in Chechnya. The U.N. has already received heartbreaking reports that children and adults with disabilities could not access shelters and have had to stay behind all alone as their families evacuated. The U.N. also warns that people with disabilities living in institutions are at a higher risk of abandonment since staff members are also leaving. There are 2.6 million persons with disability registered in Ukraine, but the U.N. estimates there are at least 6.6 million.
Stay up-to-date on our emergency response in Ukraine.
Mercy Corps' past work in Ukraine (2015 - 2017)
Mercy Corps provided humanitarian assistance in Ukraine from 2015-2017 following the 2014 conflict. We provided urgent humanitarian assistance in eastern Ukraine (Luhansk and Donetsk Oblasts) and reached more than 200,000 people. We distributed emergency cash, food, water and sanitation supplies, restored war-damaged homes, and provided small-business development grants and training to help people earn income and support themselves and their families. Here are more details of our work:
We distributed desperately needed food parcels to over 100,000 people in towns in eastern Ukraine as well as urgently needed water and sanitation services. We focused on the most vulnerable civilians – people who are bedridden, disabled, single parent families, and the elderly, as well as those who do not receive any social benefits or regular income.
We restored war-damaged homes and provided materials or completed house repairs benefiting over 300 households. We worked on a 'one dry-and-warm room' principle to repair houses that have been severely damaged by conflict.
Mercy Corps provided families with emergency cash so families could purchase what they needed.
We provided small-business development grants to help people earn some income and keep the local economy going. These grants included a seven-day business plan training session and eight weeks of mentoring.
Mercy Corps also established and ran a help hotline advertised in newspapers and posters in government and non-government controlled areas. If people required assistance for food, water, and other support, they were able to call the hotline. Mercy Corps community mobilisers then conducted visits to assess details and vulnerability to ensure the right support is provided.
As an impartial and independent aid organisation, Mercy Corps worked in both government-controlled and non-government controlled areas.
Help us build a more equitable world.
See all the ways you can fundraise for change.