Going the distance to deliver COVID supplies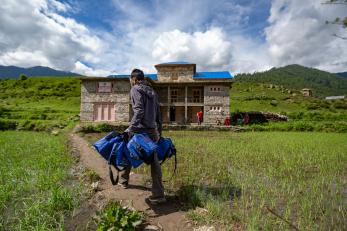 January 13, 2022
Last spring, Nepal faced a crisis as the second wave of COVID‑19 infections spread across the country. Our team had been working with communities since the start of the pandemic by providing healthcare kits to frontline workers during the first lockdown in April 2020—which was critical in preventing COVID‑19 transmission. We also supported students to continue their education when schools were closed, raised awareness on prevention, and boosted freephone hotline numbers to support mental health and report abuse. While everyone across the country was devastated by the outbreak, we knew that communities in the most remote areas would face deeper impact due to lack of awareness and supplies.
In June, we headed out to the far west region to deliver COVID‑19 supplies. I had been raised and lived all my life in the capital city, Kathmandu, and this was my first time venturing to this part of the country. Despite being in the middle of the monsoon season, we only saw scattered green patches in the mountainous district of Mugu. Through the winding and bumpy roads and a trip in an aerial tram across the Karnali river, it took us four days to reach Jumla and Mugu, communities in the remote mountain areas where we have programmes and support for food security and emergency assistance.
Nepal's health system was fragile even before the pandemic. Medical facilities and people were unable to access critical medical supplies because of the lockdown and travel restrictions. Rural communities in the mountains have the least access to care and supplies simply because it's difficult to transport items to these areas. Since we already had a working relationship with local organisations in Jumla and Mugu, with regular visits to support our programmes, we assessed their needs and delivered equipment like oxygen tanks to clinics and personal protective equipment to health workers.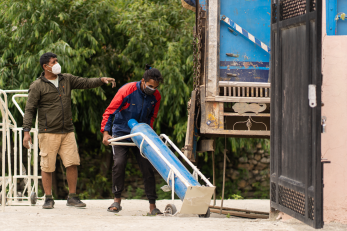 While the six districts in the western provinces where we work are remote, they were not untouched by COVID‑19. There were COVID‑19 cases in about 8% of families by July. Fortunately, more than three-quarters of those affected recovered without hospitalisation. There was a decline in COVID‑19 cases across the country by the summer and we continued to build awareness for prevention and combating misinformation against the vaccine. We're advocating for equitable distribution of vaccines in Nepal so our communities will have another layer of protection.
We remain hopeful for our communities while understanding how difficult the pandemic has been for everyone. As we take on the long journey to recovery, we will ensure our communities in rural and remote areas continue to be supported so they may stay healthy and resilient in the year ahead.
Join us in building a more equitable world.