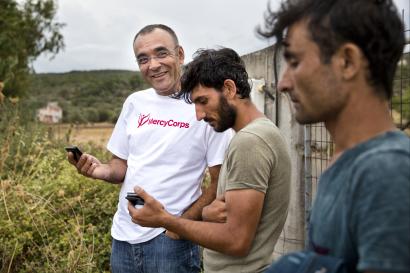 The quickest and easiest way to donate to Mercy Corps is via your mobile phone. Text to donate and your support will help people in crisis around the world.
Text DONATE to 70755 to donate £10 and empower people to survive through crisis, build better lives and transform their communities for good.
When you donate by text, you may receive a call back about our work. We may also contact you in the future about our work and ways in which you can help. Text DONATE NO to 70755 to donate £10 but opt out of further communications from Mercy Corps.
We value your privacy. We will never sell nor share your information and you can update your communication preferences at any time by emailing fundraising-europe@mercycorps.org or calling 0131 662 2377 during office hours.
Thank you for supporting Mercy Corps!
Text Giving Terms and Conditions
You will be charged £10 plus one message at your standard network rate.
Mercy Corps will receive 98% of your donation.
All supporters must obtain permission from the bill payer before donating. If you are under 16 years old you must obtain permission from a parent or guardian to text.
Mercy Corps Europe, Cymba or their sub-contractors, subsidiaries and/or agencies cannot accept any responsibility for any technical failure, malfunction or issue with any mobile telephone network or line, system, server, mobile provider or otherwise which may result in any SMS text being lost or not properly received.
This service is available in England, Wales, Scotland and Northern Ireland only.
If your keyword or short code are invalid, or your text message is received after the campaign or promotion has finished, you may still be charged your standard network message charge; however you will not be charged the advertised amount and you will not be donating to Mercy Corps.