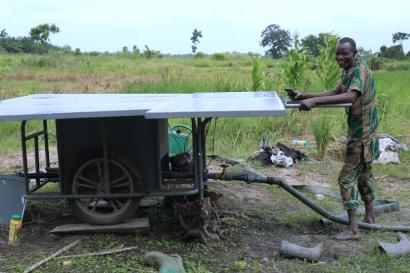 Since 2018, Mercy Corps has been supporting communities in Benin to increase livelihood opportunities and promote resilient food systems.
The context
The Beninese economy is heavily dependent on the agricultural sector, with small- and medium-sized farms accounting for 95% of the country's agricultural production. These households are subsistence farms, growing food for their families and selling the excess. Despite the country's agricultural potential, its yields remain comparatively small, affecting food security of the Beninese population. Climate change exacerbates the situation, leading to excessive droughts, floods, soil degradation, and reduced arable land—displacing thousands, damaging or disrupting harvests, and killing livestock.
Benin also relies heavily on Russia and Ukraine for wheat and fuel imports. Prices for these commodities have skyrocketed since the full-scale invasion of Ukraine in February 2022, causing a need for stronger food subsistence and renewable energy sources. 3.4 million people in Benin were food insecure in 2022, almost twice as much as the number in 2020.
Rural areas in Benin lack access to reliable electricity and modern energy services. The electricity grid is limited and often unstable, resulting in frequent power outages and low electrification rates in rural communities. Many people rely on firewood and charcoal for cooking and heating, which pose health and environmental risks.
Our impact
Through our energy access platform Energy 4 Impact, we are working in Benin to drive agricultural development, economic growth, and climate resilience. Through our programme activities we are making an impact across the areas below:
Promoting resilient food systems
Mercy Corps is promoting climate-smart and climate-resilient agricultural practices among farmers to improve yields and food security. We are helping smallholder women farmers and rural entrepreneurs in off-grid regions of Benin to access clean energy technologies such as biogas, solar irrigation, and solar-powered refrigeration. These energy appliances not only lead to more economic opportunities, they also increase local food and water security and cut down on petroleum products. By providing access to renewable energy, along with training on soil and water management techniques, farmers have boosted their rice production.
Increasing economic opportunities
Mercy Corps and Energy 4 Impact are working to make climate-smart and energy-efficient technologies more accessible to smallholder farmers and small businesses. We also provide business development services to locally owned and managed green technology suppliers so that they can offer clean energy solutions, such as solar-powered electricity, at scale to local communities.
We are promoting renewable energy technologies such as biodigesters in the rural agricultural regions of Benin. This device creates biogas, which can be used for cooking and small appliances, saving time spent on collecting firewood, slowing deforestation, and reducing indoor air pollution. Additionally, biodigesters contribute to soil quality improvement through the production of fertiliser as one of its byproducts. In order to create more sustainable solutions that create lasting change, we ensure local agricultural training programmes have resources on these green energy solutions to provide continued support.
Join us in building a more equitable world.
Use your voice and urge Congress to take action.