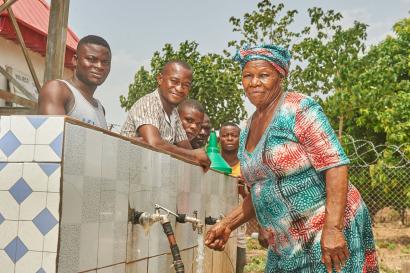 What information do I need to add Mercy Corps to my Will?
In order to remember Mercy Corps in your Will you only need a few details. Your solicitor can advise you on specific wording to make your wishes for your gift clear. Mercy Corps' legal details Full name: Mercy Corps Europe Registered Charity Number: SC030289 European Headquarters: 96/3 Commercial Quay, Leith, Edinburgh, EH6 6LX
How will Mercy Corps use my gift?
You can be assured that at Mercy Corps we will use your kind gift where it is most needed. We cannot predict the future but we know it will doubtless bring famine, disaster and conflict. Gifts in Wills give us the flexibility to respond to the changing landscape and help people when we may not otherwise have the resources to do so.
Can you help me make or amend my Will?
Leaving a gift in your Will is easier than you might think. You do not need a solicitor but to ensure that your Will is valid and legal formalities are followed we recommend using one. If you already have a Will but wish to make an amendment to include a gift to Mercy Corps we also advise contacting your solicitor. They will draw up a legal document (codicil) which will change the existing Will.
The following resources can help you find the right solicitor for you:
England & Wales: www.lawsociety.org.uk.
Scotland: www.lawscot.org.uk.
Northern Ireland: www.lawsoc-ni.org..

What type of gifts can I leave Mercy Corps?
Once you have remembered your friends and family, there are three main types of gifts that you can leave in your Will:
Pecuniary Legacy: A specific sum of money; if you want to leave a lump sum, you specify this amount in your Will.
Residuary Legacy:This is a gift of either a percentage share or the whole of your estate after all other beneficiaries have been provided for.
A specific item: Stocks and shares, a painting, a first edition book, a piece of jewellery, or any item that you think will be of some value to Mercy Corps when sold.
Can I change my mind?
Yes, you are able to change your mind at any time; simply get in contact with your solicitor who will help you amend your Will. Letting us know you plan to leave a legacy gift doesn't commit you to doing so. It would be really helpful though, if you tell us you have changed your mind.
If I've already left a gift in my will, should I tell you?
Yes please, by telling us now we can say thank you and keep you informed about our ongoing work. It also helps us to plan for the future. Your legacy gift will save lives, renew hope and rebuild communities for decades to come.
Can a gift in my will help me pay less tax?
Potentially, yes. Gifts to UK registered charities are exempt from Inheritance Tax. We recommend that you discuss tax issues with a solicitor.
How can I get in touch?
If you would like to discuss your giving options please contact us.
Thank you for reaching out to Mercy Corps. We are delighted that you are interested in further information.