Advancing Adolescents: Evidence on the Impact of Psychosocial Support for Syrian Refugee and Jordanian Adolescents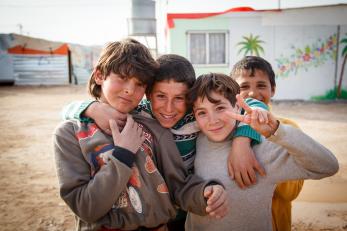 December 28, 2016
Jordan is hosting one of the largest populations of Syrians in the region — more than 650,000 people, of which 28% are between the ages of 11 and 25. This refugee population faces severe challenges. A staggering 93% of refugees living outside the camps are under the Jordanian poverty line. Most are living in host communities absent strong family and social networks. Syrians also face tensions with Jordanians in host communities that are competing for scarce resources ranging from access to water, jobs and education. As is the case in the majority of crises, young people are disproportionately affected by the fallouts. Only 5% of Syrian adolescent refugees are registered in formal secondary education, stymying their prospects for safe and equitable employment and their ability to support themselves and their families.
Against this backdrop, resources for psychosocial support programs are particularly scarce, with the percentage of programming addressing this issue in Jordan just over 1% of the total joint UN appeal for the country in 2016. Yet, our evidence suggests that without addressing mental health issues, other programming investments in young people's education, social and economic development cannot reach their full potential.
Humanitarian and development actors are recognizing the need to provide targeted psychosocial support to young people in protracted, complex emergency settings to tap into their ambition and potential, and mitigate negative individual and societal impacts. However, little credible evidence exists on which to base the design of such interventions aimed at ensuring adolescents' safety, social ties, and emotional well-being. To fill this evidence gap, Mercy Corps undertook a rigorous impact evaluation of its Advancing Adolescents program in Jordan and found measurable impacts on young people's ability to form friendships, perceptions of safety and security, and confidence in the future. Taken together, the findings from this impact evaluation point to the efficacy of holistic, science-based psychosocial support interventions in complex emergency settings.
Recommendations
Prioritize and increase funding for programming that addresses psychosocial and mental health needs of adolescents in complex emergencies — these interventions are and should be considered lifesaving in nature.
Cultivate support and buy-in from local institutions and key stakeholders on approaches that facilitate meaningful engagement of young people in their communities. These should build young people's sense of voice and belonging, and reduce their isolation and other grievances that have linked to risk of engagement in violent acts, including violent extremism.
Tailor adolescent programming to meet the needs of boys and girls and increase commitments and resources required to ensure hard-to-reach boys and girls have equal access to programs and services.
Improve accountability of investments and coordination of initiatives to promote youth development in complex crises by tracking funding by sex age and sector as part of joint appeals in complex emergency settings to establish a baseline and track changes in financial support for adolescent and sectoral programming over the life of the response.