Some of the worst violence we've seen in more than seven years of war is happening right now in Syria's Eastern Ghouta region, several miles northeast of the capital of Damascus. Some 400,000 people have been trapped here since 2013, with little to no access to food, medicine or sanitary supplies. Escalating violence over the past several weeks has left more than 1,500 people dead and even more injured.
Despite a resolution from the United Nations Security Council demanding a cease-fire and the declaration of daily humanitarian pauses, there has barely been a lull in the violence.
Mercy Corps is one of only a few organizations working in this area through local Syrian partners. Our partners are taking advantage of any reductions in explosions to get clean water and other supplies to people hiding in crowded basements and underground shelters.
Read on to learn more in this interview with our Senior Global Communications Officer, Christy Delafield. For more information on the seven-year crisis, visit our Syria quick facts page.
What is your first priority when there are temporary halts to the bombings?
Our partners' first priority is to get clean water and food to people. Many of the basements and underground shelters in which people are sheltering do not have proper ventilation, water or sanitation systems. The pauses have not resulted in as much reduction in violence as we had hoped, and our partners are doing their best to reach people despite very dangerous conditions.
Are we able to get any supplies in, and deliver aid to people during lulls in violence?
Our partners are seeing some lulls in violence, no new routes to deliver aid into the region have been opened, and only one new humanitarian convoy has been approved.
What is the greatest civilian need you are seeing? Who needs the most help in the community right now?
People need food, water, shelter, hygiene kits, wood and fuel for cooking. Even the basics are scarce. Everyone in the community is in need, including the aid workers who are trying to help people.
We read that families are seeking shelter underground—how long are they staying there without coming out? What are the living conditions like in underground shelters and basements?
Families have been hiding in basements and underground shelters without proper ventilation, water or sanitation systems for more than a week. A lot of families are digging their own underground shelters. Most of them are only partially constructed and weren't designed for people to live in — they don't have toilets or mattresses.
Now each basement might be housing dozens of people. People have tried to bring blankets and mattresses from their homes when they can, but many report that their homes and possessions have been destroyed.
People sleep when the sounds of the explosions are less loud. They stay underground all day and all night, with nothing to do but wait.
Are people able to access urgent necessities like food and water while in hiding?
Mercy Corps is working through partners to get clean water and food to people living in these shelters. Not much is available for purchase and there are only a few hours a day in which partners can work — when the explosions are less frequent.
What was life like in Eastern Ghouta before these most recent attacks?
This area was a breadbasket in Syria before the crisis. Damascus is one of the oldest inhabited cities in the world, growing from original settlement by an oasis formed by the Barada River. Eastern Ghouta, in the Damascus suburbs, was rich in agricultural resources thanks to irrigation and land development surrounding that oasis.
Since 2013, Eastern Ghouta's communities have been under siege, and in just the past year, communities in South-Central Syria, on average, suffered the deaths of 65 members, and the destruction of 25 homes and five community structures each.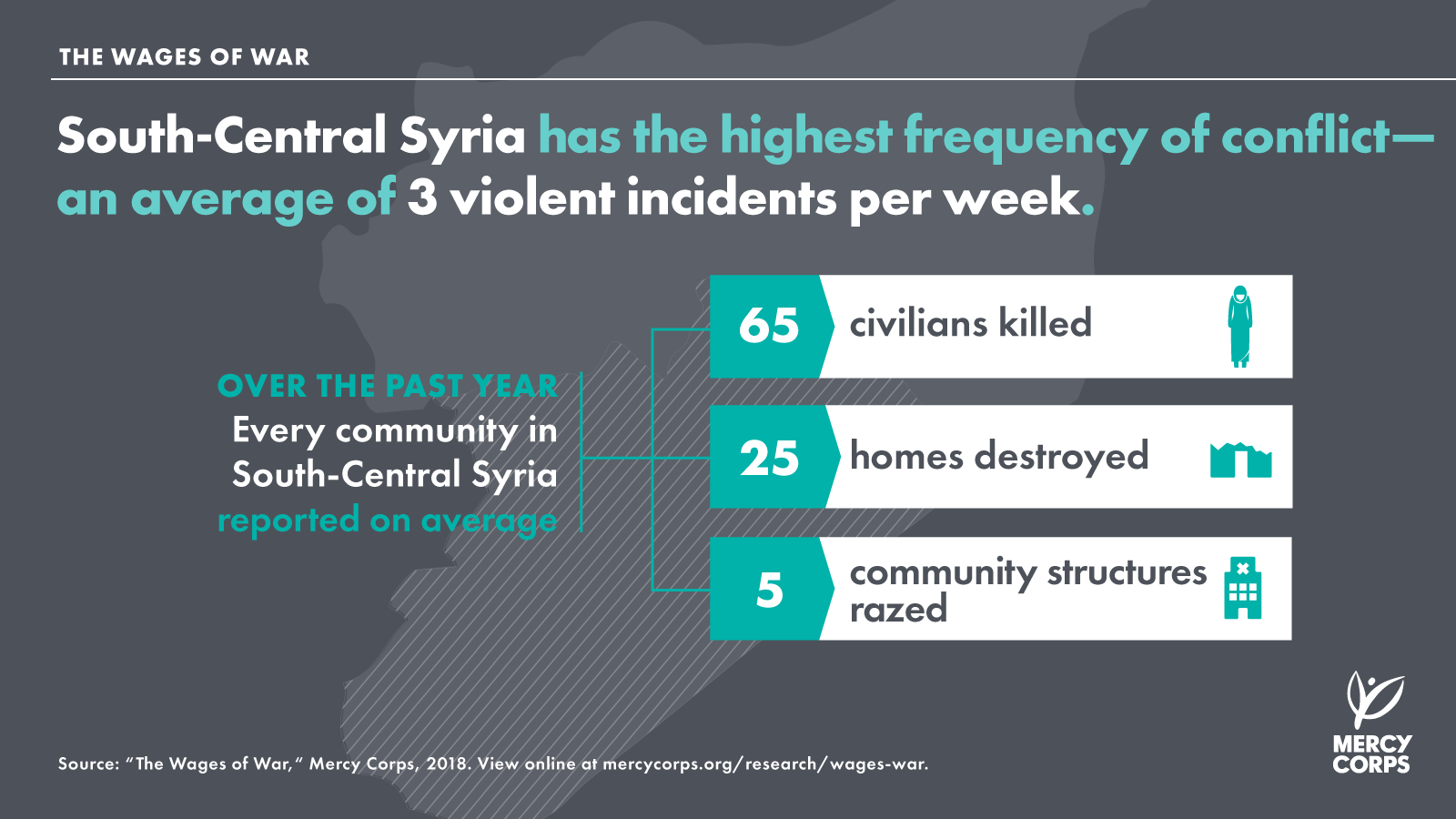 Syrians also had a hard, cold winter. Every year people have fewer resources and fewer options. Bread prices in Eastern Ghouta have skyrocketed to almost 22 times the national average. The UN reports that Eastern Ghouta is suffering from some of the highest levels of child malnutrition of any time in the Syria crisis.
What about the humanitarian corridors recently established? Will you be able to use those to get aid in, and people out?
We fully support a safe way for people to leave if they choose. While at first, the fighting hadn't abated enough for people to get from their houses to the location announced for the proposed corridor, at least 20,000 people have now left via the corridor. Our partners tell us that people aren't using it unless they know it is safe and they will be taken care of when they leave.
Is this as bad as Aleppo?
How do you quantify pain and suffering? We can't measure this kind of thing, but there are more people trapped in Eastern Ghouta than were in Aleppo, and the siege has lasted far longer. It certainly feels as bad, or worse.
HEAR THEIR STORIES: Syria's war has rocked the lives of millions of people. Read their stories in this special series commemorating seven years of crisis ▸
Help us provide even more support to families in crisis around the world.
Ask your friends to contribute to our effort to help families survive, recover and rebuild.