Picture this: Rebuilding livelihoods in Mosul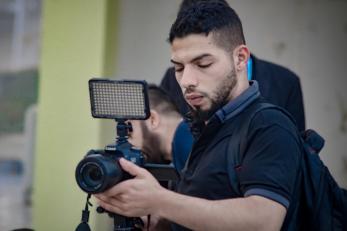 March 16, 2023
In northern Iraq, Mosul continues to recover after years of conflict. Historical sites with rich cultural heritage are under restoration. Thousands of saplings have been planted across the city once known for its verdant landscape. And in the Al-Zahraa neighbourhood of east Mosul, Ibrahim Abdulkadir Muhammed is building a livelihood by capturing special moments of the people in his community.
"This shop has changed my life totally," said Ibrahim. From filming weddings and snapping family portraits to restoring damaged photos, Ibrahim proudly shares his work from his photography studio. Ibrahim had been interested in photography since he was a young man and feels fortunate to be able to turn his hobby into a small business. But for many years before he opened shop, he didn't know if he would have the opportunity since uncertainty was pervasive with life in Mosul.
In 2016, Ibrahim fled his family's home in Mosul along with his parents and siblings. They were a part of an estimated 900,000 people who left the city in the wake of destruction of homes, businesses, and schools. The violence in the area drove Ibrahim's family an hour away to Khazir camp for displaced people. Along with many young people who had fled Mosul, he was forced out of school and unable to continue his studies since his family could no longer afford the fees.
Ibrahim and his family returned to Mosul after the conflict subsided. He married, had a child, and began to pursue a dream of having a home of his own. Though he wanted to return to school and pursue a university degree, he needed to earn an income to build stability for his family.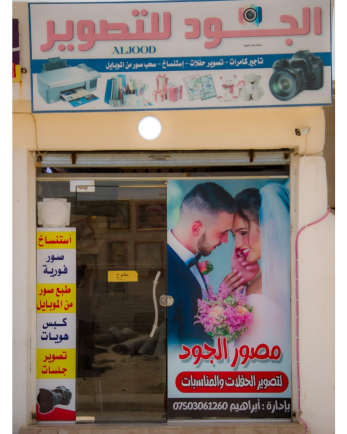 His passion for photography was sparked by his prior experience working at a print shop, where he honed his skills using various software, including photo editing. Through a local Mercy Corps partner, Ibrahim learned about Mercy Corps Iraq's Taghir programme supporting residents who had been displaced, and their host communities, in the aftermath of the conflict.
After participating in a business management workshop where he learned how to work with clients and put together a business plan, Ibrahim received a grant from Mercy Corps to buy cameras, photography equipment, and tools for his shop. He also used the funds to enroll in classes to learn more photo editing software. "I'm supporting my parents with some of the income from my shop and have no debts, which I used to have a lot in the past," he said.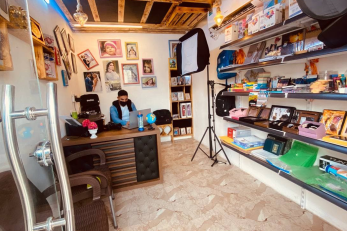 With grants from Mercy Corps, 131 new businesses were launched and 224 existing businesses expanded in Ninewa province. The programme, funded by the Swedish International Development Agency, created campaigns to increase social unity and hosted workshops that offered mental health support in addition to offering livelihood training. Since 2003, Mercy Corps has been working to pave the way for a more resilient and peaceful Iraq. In the aftermath of the conflict in 2017, Mercy Corps provided access to clean water, essential supplies, and cash aid for families who had lost everything. The emergency response shifted from addressing immediate needs to fostering more sustainable growth, like reviving people's livelihoods.
Ibrahim is now on his way to building a home for his family. "I can buy properties and now I applied to buy a property with installments to build my own house," he said. With the growth of his business, Ibrahim is now considering going back to school and earning a degree. He remains optimistic about his business's success and the future of Mosul.
Join us in building a more equitable world.